September/October Magazine of Fantasy & Science Fiction Now on Sale
September/October Magazine of Fantasy & Science Fiction Now on Sale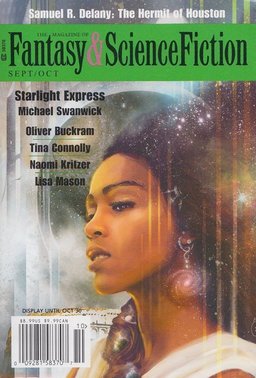 The September/October F&SF is the 68th Anniversary issue, and it contains some nice special atractions, including fiction by Robert Reed, Michael Swanwick, Tina Connolly — and, most surprising of all, a brand new novelette by the brilliant Samuel R. Delany, who hasn't appeared in F&SF in 40 years. Here's a snippet from Charles Finlay's intro.
Throughout his career, Delany's work has pushed the boundaries of sf to address more adult situations and issues, particularly at the intersections and language and memory, sexuality and society. He returns to these themes again in his first new science fiction story in a decade… this new story would get an NC-17 rating at the movies and is not appropriate for younger readers.
It's tough to compete with the return of a Grand Master, but Michael Swanwick manages it with his cover story, "Starlight Express." Here's Jason McGregor's review at Tangent Online.
Via Flaminio's eyes we learn about Roma in the far, far future and the woman who seemed, not to go to the carrier beam of the transmission station relic as suicidal people often do, but to come from the carrier beam where, as far as most people know, people haven't come from for millennia. How her universe has changed, and how she changes his, makes the bulk of the tale.

I could understand seeing this as a dull and underplotted story if the poetry of it all doesn't speak to you but, if it does, it's a really remarkable story (if more bitter than sweet) which strongly evokes deep time and vast space and an enduring humanity… beautiful. Recommended.
Read Jason's complete review here.
I note that the cover price has increased a buck this issue, to $8.99 — still a bargain, if you ask me. Here's the complete Table of Contents.
NOVELETS
"Leash on a Man" – Robert Reed
"The Hermit of Houston" – Samuel R. Delany
"Children of Xanadu" – Juan Paulo Rafols
SHORT STORIES
"Evil Opposite" – Naomi Kritzer
"We Are Born" – Dare Segun Falowo
"Tasting Notes on the Varietals of the Southern Coast" – Gwendolyn Clare
"The Care of House Plants" – Jeremy Minton
"On Highway 18" – Rebecca Campbell
"Hollywood Squid" – Oliver Buckram
"Still Tomorrow's Going to Be Another Working Day" – Amy Griswold
"Bodythoughts" – Rahul Kanakia
"Riddle" – Lisa Mason
"The Two Choice Foxtrot of Chapham County" – Tina Connolly
"Starlight Express" – Michael Swanwick
DEPARTMENTS
Books to Look For – Charles de Lint
Books – James Sallis
Science: Vanishing Act – Pat Murphy and Paul Doherty
Films: On Finding Her Inner Kaiju – Kathi Maio
Coming Attractions
Curiosities – Robert Eldridge
CARTOONS
Danny Shanahan, Nick Downes, Arthur Masear, S. Harris
The cover this issue is by Maurizio Manzieri for "Starlight Express."
The Magazine of Fantasy and Science Fiction is edited by C.C. Finlay, and published by Gordon van Gelder. The cover price is $8.99, for a thick 258 pages. Check out the complete TOC and additional free content at the F&SF website.
This issue is on sale until October 30. We last covered F&SF with the July/August issue.
Our July Fantasy Magazine Rack is here, and all of our recent magazine coverage here.