Celebrate the Optimism of Old-School Science Fiction, With a Twist: The Stars at my Door, edited by George Ilett Anderson and Neil Baker
Celebrate the Optimism of Old-School Science Fiction, With a Twist: The Stars at my Door, edited by George Ilett Anderson and Neil Baker
The Stars at my Door is the latest (and last) original anthology in Neil Baker's Short Sharp Shocks line. Here's co-editor George Ilett Anderson, from his excellent intro:
The Stars at my Door harkens back to an age where science fiction was about the limitless possibilities of space and the pioneering spirit burnt bright and clear; a time of inquisitiveness, exploration and endeavor where the impossible seems possible and adventure lies in wait for the intrepid soul but also rewards the foolish and unwary.

I think we have a fantastic selection of stories for your reading pleasure, from tales of exploration to more intimate tales of challenging boundaries with excursions and side trips into space opera and the more practical side of life amongst the stars. I'm certain there will be something to tantalize your taste buds.
Publisher and co-editor Neil Baker adds a brief intro of his own, wrapping up his impressive anthology series.
The Stars at my Door is the latest, and final, Short Sharp Shocks anthology, and I honestly think I am ending the series in the best possible way.

The 'SSS' series has been a self-indulgent one and I have been able to publish stories shot through with my favorite topics: madmen, giant monsters, ripping yarns, Hammer horror, and now the sort of pulpy sci-fi I grew up with.

I am very proud of the 80+ stories I have shared with you  through these five books and I am eternally grateful to all of the authors who chose to publish with April Moon. At the end of the day, being a small press is nothing more than an expensive hobby — if I wanted to make money I would be releasing crypto-zoological erotica, true crime or cook books (or a stunning combination of the three). Instead, all I have ever wanted to do is tell stores and these five books have scratched that itch. I hope I've managed to scratch yours too.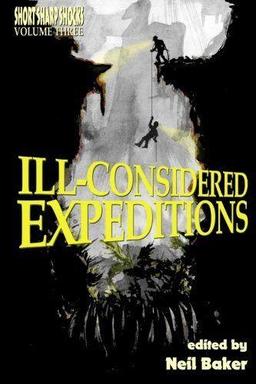 The Stars at my Door features 15 new stories from William Meikle, Christine Morgan, John Linwood Grant, David Conyers, Glynn Owen Barrass and many more. The stories celebrate the optimism of old-school science fiction, but with a twist.
Although I certainly understand the reasons for Neil moving on from small press anthologies (boy, do I), I'll greatly miss his Short Sharp Shocks series. These books flew in the face of commercial realities and were a joyous celebration of Neil's childhood influences, and emphasized old-school storytelling and the kinds of stories that kept you glued to the television on Saturday afternoon. Up to now my favorite has been Volume III: Ill-considered Expeditions ("the exploits of hapless colonials hacking their way through unforgiving jungles"), but I think this one my topple it.
Here's the complete Table of Contents for The Stars at my Door.
Introduction: I Blame Carl Sagan, George Anderson and Neil Baker
"The Polynautilus Parallel," David Longshore
"An Age of Reason ," John Linwood Grant
"The Needs of the Many," William Meikle
"The Girl Who Flew to Space," Christine Morgan
"The Spread," D. A. Madigan
"Shakedown," Doug Blakeslee
"The Midnight Sun," John S. Barker
"The Space Wardens," Daniel Marc Chant
"Cylinder B-57," Glynn Owen Barrass
"Halcyon-Noyclah," Patrick Loveland
"Cryptworld," John McCallum Swain
"Going Up," by Bokerah Brumley
"Tiny Invaders," Konstantine Paradias
"Nomad Flora," David Conyers
"Tom Corbett: The Mystery of Kepler 186F," R. Allen Leider
The Short Sharp Shock anthologies from April Moon Books are:
Volume I: Amok! edited by Neil Baker
Volume II: Stomping Grounds, edited by Neil Baker
Volume III: Ill-considered Expeditions, edited by Neil Baker
Volume IV: Spawn of the Ripper, directed by Neil Baker
Volume V: The Stars at my Door, edited by George Ilett Anderson and Neil Baker
The Stars at my Door was published by April Moon Books on August 12, 2017. It is 346 pages, priced at $14.99 (including shipping). The cover is by Eileen Laitinen. Order copies directly from the publisher here.