Microsoft Xbox One vs PS4 Pro
Microsoft Xbox One vs PS4 Pro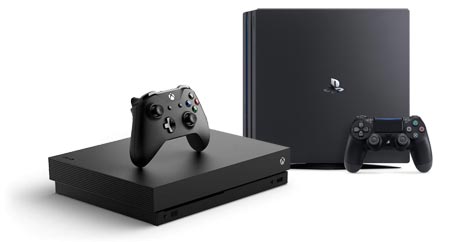 "War, war never changes." It's a quote that opens the Fallout series of video games, and is often used to describe the video game console business.
The console wars, it's been called. Since the first video game console, the Magnavox Odyssey, many different companies have entered this war. Each competing for games enthusiasts time and money. Each promising to be the absolute best console to experience the joy of playing, and to increase player immersion in the game.
At this year's E3 video game conference, Microsoft unveiled its newest video game console in its war with Sony. It's a mid-cycle update to the Xbox One called the Xbox One X, positioned to compete with Sony's mid-cycle update to its PS4, the PS4 Pro.
Sony released the original Ps4 on November 15, 2013. A few days later, on November 22nd, 2013, Microsoft released the original Xbox One. Both received updates with "slim" versions and customized versions a few years later. These versions contained no technical advancements, only cosmetic changes.
The Xbox One X and the PS4 Pro are both successors to the original consoles released in 2013. These new consoles contain technical enhancements in processing power, additional RAM, and graphical capabilities. Due to the pace of technical advancements in TVs, console makers are trying to keep pace.
These new consoles are specifically targeted at displaying games in 4K, the newest TV standard. 4K TVs are approaching price points that an average buyer can afford, and the video game console industry is always keen to match these enhancements.
Microsoft and Sony spent much of their conferences touting the ability for their newest consoles to display games in 4K. The 4K narrative was heavily remarked on by both companies, and both displayed game trailers tailored to that narrative.

At the 2017 E3 Microsoft Conference, Microsoft revealed the Xbox One X. Originally code named Project Scorpio, The Xbox One X is, according to Microsoft, the "World's Most Powerful Console". Microsoft stated that the console underwent 3 years of engineering, and that the focus on creating the console was power, compatibility, and craftsmanship.
Microsoft Xbox One X Specs
CPU\GPU: Called the Scorpio Engine, runs at 6 Teraflops, clocked at 1.172 GHz, with 326 GB/s of Memory Bandwidth, enclosed in high vapor liquid cooling chamber.

12GB GDDR5 at 326 GB/s

8GB Flash Memory

1TB HDD Internal Storage

4K UHD Blu-ray Optical Disc Drive for UHD Playback

HDMI 2.0b (out) 2160p @ 60Hz, AMD FreeSync

True 4k, 8 million pixels, High Dynamic Range, Wide Color Gamut

Premium Sound with Dolby Atmos (DTS 5.1 DOLBY Digital 5.1,TrueHD)

4K Game DVR
Microsoft also talked about the importance of compatibility. All current Xbox One titles can be played on the Xbox One X. It will upgrade each of those games with better visual fidelity, anisotropic filtering, and faster load times. Even if you don't have a 4K TV, the Xbox One X will greatly improve how your current Xbox One games appear on a 1080p TV.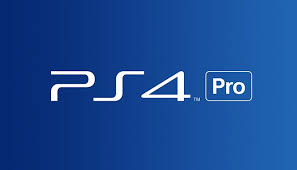 At Sony's 2017 E3 Conference, Sony focused its presentation on games, and specifically games being released in 4K. Since the PS4 Pro came out last year (November 10th, 2016), Sony did not speak about the console itself. Sony stated that one out five PS4's sold is a PS4 Pro. Most sales figures have the Playstation 4 console (regular and Pro) outselling the Microsoft Xbox One by about 2:1. Sony stated in June that it had sold 60 million PS4 consoles over the past 3.5 years. Sony also has a very robust library of first party games: Horizon Zero Dawn, Nioh, Bloodborne, Uncharted, and more.
PS4 Pro Specs
CPU: x86-64 AMD "Jaguar," 8 cores

GPU: 4.20 Teraflops, AMD Radeon™ based graphics engine

HDMI™ out port (supports 4K/HDR)

GDDR5 8GB

1TB Hard Drive

BD/ DVD drive (read only) BD × 6 CAV DVD × 8 CAV
Unlike the Xbox One X, the PS4 Pro does not include a 4K Blu-ray player. For Ps4 owners, watching a Blu-ray 4K disc will require buying or using a different device. However, with 4K streaming content on the rise, the lack of a dedicated 4K Blu-ray player may not be a problem.
The Xbox One X handily beats the PS4 Pro in power. It has a more powerful CPU, GPU, and more RAM. This should translate into better looking, better running games. Any consumer looking for the newest and most powerful console created might be drawn to the Xbox One X.
However, Microsoft's advantage in power may not translate into substantially better graphics. Running both consoles side by side may not lead to a user being able to make a visual distinction between the two.
The PS4 has certain advantages in the marketplace. Sony has, by far, the most first party, console-exclusive games. It has also sold nearly twice as many PS4s. Most adopters to these new consoles may choose to stick with the ecosystem they are financially invested in. Another advantage the PS4 has is its price point. The PS4 Pro costs $100.00 less than the Xbox One X.
The Xbox One X and the PS4 Pro are both very powerful consoles. They will both most certainly provide a fantastic environment for games enthusiasts. Given their trailing position in the market the stakes are a little higher for Microsoft, but with their dedication to quality they may pull closer to PS4 in the newest console war.
The date of release for the Xbox One X is November 7th, at a price of $499.
The PS4 pro is available now for $399.00, or $449.00 for a special edition Destiny 2 PS4 Pro.
---
Matt Drought lives in Milwaukee. His last article for us was Delivering on the Promise of a True Open World: The Legend of Zelda: Breath of the Wild.