New Treasures: Scourge by Gail Z Martin
New Treasures: Scourge by Gail Z Martin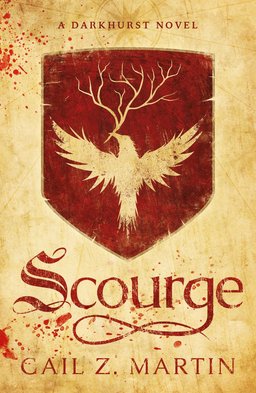 According to the publicity material I have on hand, Gail Z. Martin is a bestselling writer… but that doesn't mean I know which of her various novels have actually cracked the bestseller lists. There's a lot of possibilities. She's produced no less than four series in the last ten years, including seven volumes in the Chronicles of the Necromancer, four in the Ascendant Kingdoms series, three Deadly Curiosities books, and Iron and Blood, the opening book in a new steampunk series co-authored with her husband Larry N. Martin.
Her latest is Scourge, in which three brothers must find out who is controlling the abominations in a city beset by monsters. It's the opening novel in the brand new Darkhurst series, on sale now from Solaris.
The city-state of Ravenwood is wealthy, powerful, and corrupt. Merchant Princes and Guild Masters wager fortunes to outmaneuver League rivals for the king's favor and advantageous trading terms. Lord Mayor Ellor Machison wields assassins, blood witches, and forbidden magic to assure that his powerful patrons get what they want, no matter the cost.

Corran, Rigan, and Kell Valmonde are Guild Undertakers, left to run their family's business when guards murdered their father and monsters killed their mother. Their grave magic enables them to help souls pass to the After and banish vengeful spirits. Rigan's magic is unusually strong and enables him to hear the confessions of the dead, the secrets that would otherwise be taken to the grave.

When the toll exacted by monsters and brutal guards hits close to home and ghosts expose the hidden sins of powerful men, Corran, Rigan and Kell become targets in a deadly game and face a choice: obey the Guild, or fight back and risk everything.
Scourge was published by Solaris on July 11, 2017. It is 400 pages, priced at $15.99 in trade paperback and $6.99 in digital format.