Future Treasures: Iron and Blood by Gail Z. Martin and Larry N. Martin
Future Treasures: Iron and Blood by Gail Z. Martin and Larry N. Martin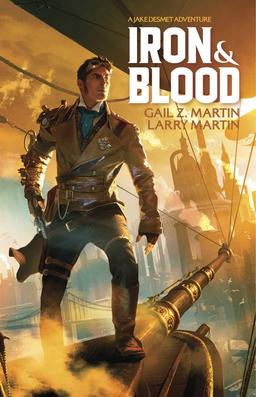 Gail Z. Martin is the author of Chronicles of the Necromancer, The Ascendant Kingdoms Saga, and Deadly Curiosities, among other fine novels of heroic fantasy. Her first collaboration with Larry N. Martin was "Airship Down: A Sound and Fury Adventure," a short story in Patricia Bray and Joshua Palmatier's 2014 anthology Clockwork Universe: Steampunk vs Aliens.
That apparently worked out well, because the husband and wife writing team has launched a new series together: The Jake Desmet Adventures. The first installment, Iron & Blood, is due next month from Solaris. And it looks pretty darned interesting.
New Pittsburgh, 1898 –- a crucible of invention and intrigue. Born from the ashes of devastating fire, flood and earthquake, the city is ruled by the shadow government of The Oligarchy. In the swarming streets, people of a hundred nations drudge to feed the engines of progress, while in the abandoned tunnels beneath the city, supernatural creatures hide from the light, emerging only to feed.

Jake Desmet and Rick Brand travel the world to secure treasures and unusual items for the collections of wealthy patrons, accompanied by Jake's cousin, Veronique LeClerque. But when their latest commission leads to Jake's father's murder, the three friends are drawn into a conspiracy where dark magic, industrial sabotage and the monsters that prey on the night will ultimately threaten not just New Pittsburgh, but the whole world.
Iron and Blood will be published by Solaris on July 7, 2015. It is 432 pages, priced at $9.99 in paperback and $7.99 for the digital edition. Read more at the Solaris website.