The Public Life of Sherlock Holmes: On Screen Before Norwood
The Public Life of Sherlock Holmes: On Screen Before Norwood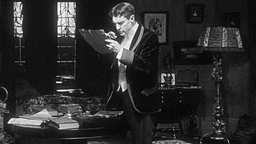 Screen depictions of the great detective have been a staple topic here at The Public Life of Sherlock Holmes. And because you assuredly read this post (actually, you might have: this has turned out to be my most popular PloSH post. I think it's an error in the counting macro, but I'll take it!), you know that in 1921 Eille Norwood and Stoll Films began their very popular series of Holmes silent films.
So today, we'll look at the pre-Twenties career of Holmes in films.
There had been plays featuring Sherlock Holmes in 1893 and 1894. Then, William Gillette made his lasting debut as Holmes in his own play in 1898. Which you know since you read this post (I'm awfully self-assured people read this column, aren't I?).
The restored Gillette film was screened in San Francisco the first week of June and will be available on DVD this Fall (I don't plan on paying $34.95 for a copy, myself. I'll wait until the price comes down.).
Then, in 1900, we saw the first appearance of Holmes in the fledgling media of film.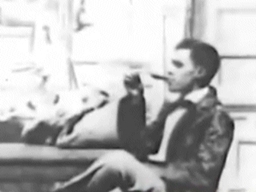 Sherlock Holmes Baffled was a mere forty-nine seconds long. A burglar is in a room filling up his sack. A thin figure in a dressing gown, bearing a resemblance to William Gillette, enters. Using what was then trick photography, the burglar disappears and reappears several times, finally leaving with his ill-gotten gains via the window. The gowned figure, apparently Sherlock Holmes, is baffled; hence the title.
That's the whole film, folks. Unfortunately, it is unknown who played Holmes. Available as a hard to discern VHS bootleg for some time, a cleaned up version is on youtube.
In 1905, New York's Vitagraph released Sherlock Holmes, also titled Held For Ransom. It was the first Holmes film shown in the detective's own country. Unlike the prior film, it had something of a story line (reputedly based on The Sign of Four), and Maurice Costello gave the first credited performance of Sherlock Holmes on film.
There would follow a few Holmes films made in various countries that had very little, if anything, to do with the detective. However, having his name in the title brought recognition in a fledgling industry.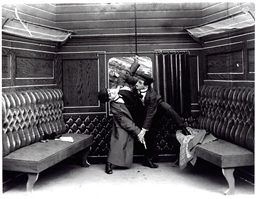 Italian pioneer Arturo Ambrosio made four Holmes films between 1907 and 1913. The first, Rival Sherlock Holmes, may not have actually featured the detective, but the remaining three (Griffards Claw, Tweedledum and the Necklace, and Fricot Als Sherlock Holmes) did, albeit satirized in the latter two.
The whole Denmark – German thing is a bit tedious, but slog through. You'll likely never come across this stuff again…
In 1908, Denmark's Nordisk became the first company to seriously produce Holmes films. In 1908 and 1909 they made six films that starred and were produced by Viggo Larsen. Unfortunately, none of the films survived, though some stills do exist.
A few had sensational titles, such as Sherlock Holmes Risks His Life and Sherlock Holmes in the Gas Cellar. However, it is reported that The Gray Lady followed the plot elements of The Hound of the Baskervilles, but substituted a female ghost for the hound. It seems to me that's quite a big change! Holmes even pursued Raffles (noted fictional thief of the time) in the second installment of the series.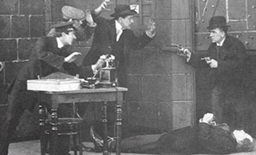 Larsen left Denmark to become a star in Germany and both he and Nordisk would make more Holmes films. Meanwhile, in 1908, America got Sherlock Holmes in the Great Murder Mystery. This one featured a crime committed by a gorilla (Holmes in a Poe story?), with Holmes saving an innocent suspect at the last moment.
Larsen signed with Vitascope in Germany and he made five films for them in 1910, starring and directing again. These featured Holmes contesting with Germany's crook-hero, Arsene Lupin.
Nordisk was not pleased to lose Larsen and made several more films with various actors, including Alwin Neuss and Holger Rasumessen, as the great sleuth. Like Larsen, Neuss would move on to Germany and make more Holmes movies.
Larsen would make one last film in the Lupin-Holmes series, then a final appearance, battling Professor Moriarty this time.
Éclair Films of France made two Holmes film in 1911, one starring Henri Gouget. Then, Éclair would make the next major step in bringing Holmes to movie screens.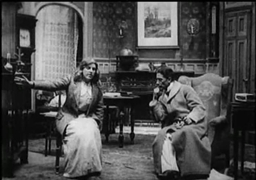 Éclair bought the rights to several Doyle stories and set up shop at the Kursaal at Bexhill-on-Sea in England. The entire cast was British, except for Holmes! French actor Georges Treville had the lead role. Eight films were made in 1912 and 1913 and all were to some extent based on Doyle's original stories, which was a step in the right direction.
Among the titles used were "The Speckled Band" and "Silver Blaze." Oddly enough, Watson was not even in the first film. It is believed that the version of The Copper Beeches is the oldest surviving Sherlock Holmes film (excepting the not-really Holmes Baffled mentioned previously). I know that at least four of the eight have survived; possibly more.
Several early parodies were made of Holmes. These included 1908's Miss Sherlock Holmes, the Sheerluck Finch series (starring Charles Calvert), and two series' featuring the legendary Mack Sennet).
American company Thanhuaser made a reportedly faithful adaptation entitled Sherlock Holmes Solves the Sign of the Four. Harry Benham starred. Interestingly, it was promoted in England as the latest installment in the Treville series, which it had nothing to do with.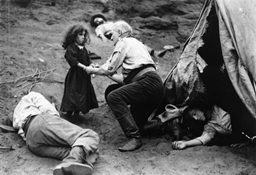 1914 saw the first British production of a Holmes movie. G.B. Samuelson formed his own company and hired George Pearson as his director. Their first movie was the original Holmes story, A Study in Scarlet. Contemporary reviews were very positive for the film. But I'm not telling you anything you don't already know about this production, including the mystery Holmes, right?
Another version of that story was made in America that same year. Francis Ford directed and starred as Holmes. Ford appeared in over 200 movies, and directed more than fifty, but is best known as the older brother of legendary American Western film maker, John Ford, who played Watson in this one. The movie opened in America only one day after Samuelson's film premiered in England.
Holmes had always been a subject of interest in Germany. In 1910, Otto Lagoni appeared at least once as the master sleuth, starring in The Confidence Trick.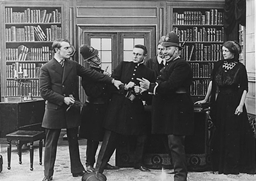 World War I did nothing to lessen German interest in Sherlock Holmes. There were at least twenty films about him between 1914 and 1920. Notable among them was a series starring Alwin Nuess, who had moved there from Denmark. He made five films, including the first version of The Hound of the Baskervilles. Legal wrangling and mergers followed by breakups marked the German Holmes era.
Hugo Flink made four films in 1917 and 1918 for Kowo-Film. Viggo Larsen came back for one more try as Holmes, while Ferdinand Bonn made five films. Other actors such as Kurt Brenkendorff took their turns in German productions.
Not all productions were happening in Germany, however. In 1916, the aforementioned once lost, now found, William Gillette film was shot by Essenay.
That same year, G.B. Samuelson returned to Holmes and made a British production of The Valley of Fear with H.A. Saintsbury cast in the lead role. He was known throughout England for his performances in Gillette's play and was a shrewd choice.
It's Elementary – Arthur Wontner and Ronald Howard (and Christopher Lee, some would say), based efforts on The Valley of Fear. It's proven far less favorable for adaptation than The Hound of the Baskervilles and The Sign of Four.
He would also star in Doyle's play of The Speckled Band, which I wrote about here.  This was the only film Saintsbury appeared in, as he did not like the medium.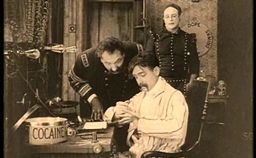 1916 saw an odd film entitled The Mystery of the Leaping Fish. The legendary Douglas Fairbanks, Sr. played a detective named Coke Ennyday. He was a caped parody of Holmes and the comedy centers around drugs. It survived and can be seen on youtube.
In 1918, Ebony films made A Black Sherlock Holmes. Sam Robinson played a man who thought he was the great detective and it marked the first all-black cast for a Sherlock Holmes movie.
A 1920 German film called The House Without Windows – The Hound of the Baskervilles VI, would be made. I mention this because the next Holmes film would forever change the detective's film career and make Doyle's creation a viable movie topic for the rest of the century.
Because in 1921, Eille Norwood would cast his stamp upon the name of Sherlock Holmes.
---
You can read Bob Byrne's 'The Public Life of Sherlock Holmes' column here at Black Gate every Monday morning.
He founded www.SolarPons.com, the only website dedicated to the 'Sherlock Holmes of Praed Street' and blogs about Holmes and other mystery matters at Almost Holmes.