Clarkesworld 105 Now on Sale
Clarkesworld 105 Now on Sale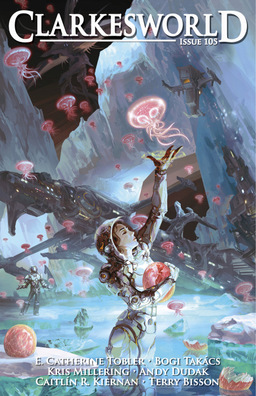 So much news from Clarkesworld this month. The big news is that it is now accepting fiction up to 16,000 words — great news for those of us who enjoy longer stories. Its rates have increased as well: it's now paying 10¢ per word for the first 5,000 words, and 8¢ for each word over 5,000. And at the Nebulas last weekend, I met editor Neil Clarke and learned he had no less than three stories he'd edited up last for awards — more than any other editor in the field.
Issue #105 is now on sale, and it's a great time to try Clarkesworld if you haven't before. It contains four new short stories, plus reprints from Terry Bisson (the first Wilson Wu and Irving story) and Caitlin R. Kiernan.
Short stories featured this issue are:
"Somewhere I Have Never Traveled (Third Sound Remix)" by E. Catherine Tobler
"Asymptotic" by Andy Dudak
"This Wanderer, in the Dark of the Year" by Kris Millering
"Forestspirit, Forestspirit" by Bogi Takács
"The Hole in the Hole" by Terry Bisson (from Asimov's Science Fiction, February 1994)
"Riding the White Bull" by Caitlin R. Kiernan (from Argosy Magazine, January-February 2004)
Non-fiction includes "The Day-Glo Dystopia of Poly Styrene: Punk Prophet and Science Fiction Priestess" by Jason Heller, "The Paradox of the Telescope: A Conversation with Robert Charles Wilson" by Alvaro Zinos-Amaro, "Another Word: The Vaguely Picaresque Adventures of a New Writer" by John Chu; and an editorial, "Once Again Down the Rabbit Hole" by Neil Clarke, in which he analyzes the results of his reader survey. This issue also includes two podcasts.
Clarkesworld is a three-time winner of the Hugo Award for Best Semiprozine. In 2013 Clarkesworld received more Hugo nominations for short fiction than all the leading print magazines (Asimov's, Analog, and The Magazine of Fantasy & Science Fiction) combined, and last November the magazine was awarded a World Fantasy Award.
We last covered Clarkesworld with Issue 104.
Clarkesworld is edited by Neil Clarke and Sean Wallace, and published by Wyrm Publishing. The contents are available for free online; individual issues can be purchased for $3.99, and monthly subscriptions are $2.99/month. A 6-month sub is $17.94, and the annual price is $35.88. Learn more and order individual issues at the magazine's website.
This issue's cover, "Spring Day is Coming," is by Liu Junwei. See the complete issue here.
See our June Fantasy Magazine Rack here, and all of our recent magazine coverage here.