Clarkesworld 104 Now on Sale
Clarkesworld 104 Now on Sale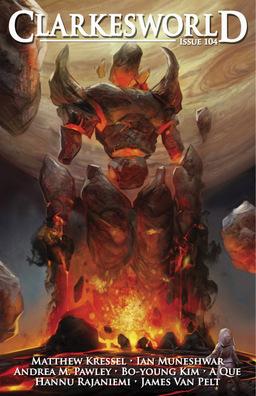 The newest issue of Clarkesworld, one of the best genre mags on the market, is now on sale. Issue 104 contains five new short stories, plus reprints from James Van Pelt and Hannu Rajaniemi.
Short stories featured this issue are:
"The Garden Beyond Her Infinite Skies" by Matthew Kressel
"For the Love of Sylvia City" by Andrea M. Pawley
"Mrs. Griffin Prepares to Commit Suicide Tonight" by A Que, translated by John Chu
"Ossuary" by Ian Muneshwar
"An Evolutionary Myth" by Bo-Young Kim
"Solace" by James Van Pelt (from Analog, June 2009)
"Tyche and the Ants" by Hannu Rajaniemi (from Edge of Infinity, Nov 2012)
Non-fiction includes "Destination: Mars" by Andrew Liptak, who's also been writing a fine series of pulp and classic SF retrospectives SF at Kirkus Reviews over the last few months (see a partial list here); "Another Word: It's Good to Be Lazy and Foolish" by SF author Ken Liu; an interview with author and editor Cat Rambo; and an editorial, "Overload!" by Neil Clarke, in which he talks about (among other things) his upcoming Year's Best Anthology: The Best Science Fiction of the Year, Volume 1, to be published "sometime in 2016" by Night Shade Books. This issue also includes two podcasts.
Clarkesworld is a three-time winner of the Hugo Award for Best Semiprozine. In 2013 Clarkesworld received more Hugo nominations for short fiction than all the leading print magazines (Asimov's, Analog, and The Magazine of Fantasy & Science Fiction) combined, and last November the magazine was awarded a World Fantasy Award.
If it weren't for the Sad Puppy/Rabid Puppy slate, which pushed aside all other contenders, Clarkesworld would almost certainly have been a heavy contender at this year's awards as well. However, it was completely locked out of the awards, for the first time in many years.
We last covered Clarkesworld with Issue 103.
Clarkesworld 104 was edited by Neil Clarke and Sean Wallace, and published by Wyrm Publishing. The contents are available for free online; individual issues can be purchased for $3.99, and monthly subscriptions are $2.99/month. A 6-month sub is $17.94, and the annual price is $35.88. Learn more and order individual issues at the magazine's website.
This issue's cover, "Io Emissary," is by Julie Dillon. See the complete issue here.
See our Late April Fantasy Magazine Rack here, and all of our recent Magazine coverage here.