Clarkesworld Magazine Now Accepting Novelettes
Clarkesworld Magazine Now Accepting Novelettes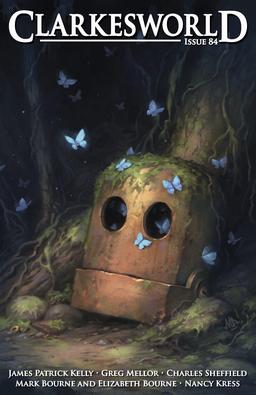 Neil Clarke has had quite a year. His magazine Clarkesworld published its 100th issue in January — an extraordinary milestone for any fiction magazine, let alone one of the earliest online venues — and in November he and fellow Clarkesworld folks Sean Wallace and Kate Baker received a Special Award from the World Fantasy Convention. And at the Nebulas this past weekend, Neil had no less than three stories he'd edited up for awards — more than any other editor. But I think the biggest news from Neil was this low-key announcement on his blog on June 2:
For several years now, I've capped the upper limit on Clarkesworld's original fiction at 8,000 words. There were several good reasons for doing that, but they were mostly financial. This past week, we passed our latest Patreon goal and secured funding for a fourth original story in every issue… Assuming the Patreon pledge levels hold, this puts us in a situation that provides me with some flexibility.

I'm considering raising our upper limit to 16,000 words. That would take us firmly into novelette territory. (Right now, we barely scrape it.) Each issue would feature no more than one novelette… We would also accompany this change with an increase in pay rate on the 4000+ side of our scale.
And in a very brief post the next day, Neil confirmed that Clarkesworld would now publish fiction up to 16,000 words. Its rates have changed as well: it now pays 10¢ per word for the first 5,000 words, and 8¢ for each word over 5,000.
This is very good news for fantasy writers of all kinds. Clarkesworld is one of the most acclaimed publications in the industry, and the fact that it published exclusively short fiction was a source of continued frustration for many writers. So if your great fantasy novelette has been languishing in your desk drawer for years without a home, now's the time to take it out and polish it up. Clarkesworld's submission page is here, and we covered the May issue here.