Game Informer 290, June 2017: The Top 100 RPGs of All Time
Game Informer 290, June 2017: The Top 100 RPGs of All Time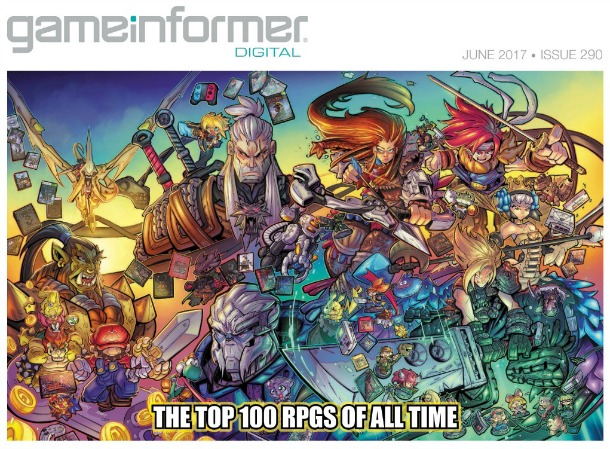 It's a lazy Saturday afternoon here in St. Charles, and I spent much of it on the porch, listening to the rain and reading the latest issue of Game Informer.
I'm told Game Informer is the top-selling video game magazine in the US, and that's not a big surprise. It's my favorite of the current crop as well. While I subscribe to other gaming periodicals (PC Gamer, The Official XBox Magazine), they're each devoted to a single platform. I own several gaming systems, and I like to keep on all of them, and Game Informer delivers. The June issue has the usual assortment of highly readable articles, including multi-platform news, reviews, and previews, plus features on the best indie PC titles, the bankruptcy of accessory maker Mad Catz, Microssoft's lagging First Party development, and a peek at their upcoming 4K console Scorpio.
But the big draw this issue is a massive 34-page feature on the Top 100 RPGs of All Time. Pieces like this are always controversial of course (where's SSI's Eye of the Beholder, or Dungeon Master? Or Oblivion?) But we don't read these big survey articles to agree with them… or at least, I don't. I read them for the surprises, to see what games I've overlooked, and which ones history has judged kindly. I'm pretty old-school in my RPG-love but, somewhat to my surprise, I found myself nodding along as I made my way through the list.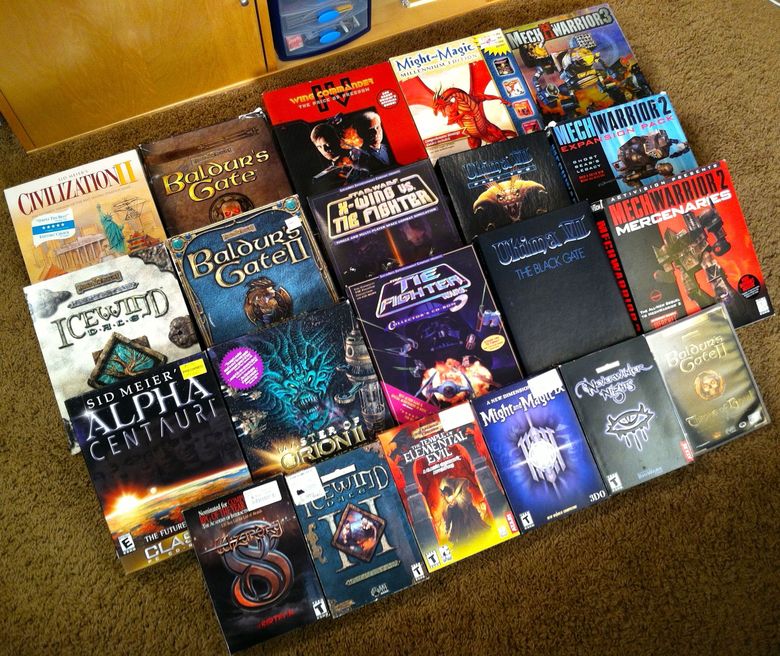 The editors have done an excellent job and, minor irritations aside, I agree with their selection. They've paid homage to all the great RPG franchises, including Ultima, Final Fantasy, Fallout, Persona, Baldur's Gate, Icewind Dale, Diablo, Dark Souls, Dragon Age, Mass Effect, Xenogears, Dragon Quest, Disgaea, the Chrono series, and many others. Long before I got to the top of the list I made my guesses which titles would be in the Top Five, and I was right about four (and I should have guessed the fifth).
The list spans a surprising 36 years, with the oldest title (Wizardry: Proving Grounds of the Mad Overlord)  from 1981, and the most recent (Zelda: Breath of the Wind, Horizon Zero Dawn and Persona 5) all from 2017. Overall the list tended to favor newer games, which I think is to be expected. By far the most prolific platform was the PC, which was home to 55 games out of the 100 on the list.
Overall, the list is a great introduction to the hobby — and a fun topic to debate with your friends. I have no idea if the issue is still on the shelves, but you can order copies right from the Game Informer website, and get digital copies here. Print copies are $5.95 for 96 pages in full color, or $19.98 for a 12-issue subscription. Digital subscriptions are just $14.99/year.
Our previous coverage of computer and video RPGs includes:
Vintage Bits: How G.O.G. Rescued the Classic Forgotten Realms Computer Games
Vintage Bits: The 10 Greatest Dungeons and Dragons Videogames
Seven Lessons I Learned from RPG Games of Yore by mariebilodeau
Take a Crash Course in the History of Computer Role Playing in The Ultimate RPG Handbook
My Favorite Game: Mount and Blade/Warband – Part One by Bob Byrne
My Favorite Game: Mount and Blade/Warband – Part Two: Playing the Game! by Bob Byrne
The RPG Fusion of Dragon's Dogma by Josh Bycer
Shin Megami Tensei and a Different Take on JRPGs (Part 1) by Josh Bycer
Shin Megami Tensei and a Different Take on JRPGs, Part 2: The Side Stories by Josh Bycer
Diablo 3: Fourth (Season)'s the Charm by Josh Bycer
Darker and Deeper: Darkest Dungeon Update — Fiends and Frenzy by Josh Bycer
Art of the Disappearing MMORPG by Scott Taylor
What No Man's Sky Can Learn from SFF Worldbuilding by Carlos Hernandez
How No Man's Sky Has Reinvigorated a Gaming Generation (No, Not That One) by Neil Baker
The Bard's Tale IV Kickstarter Fully Funded After 12 Days
Our Late May Fantasy Magazine Rack is here. See all of our recent fantasy magazine coverage here..