Try the Science Fiction Value Packs from Asimov's and Analog for Just $6.95
Try the Science Fiction Value Packs from Asimov's and Analog for Just $6.95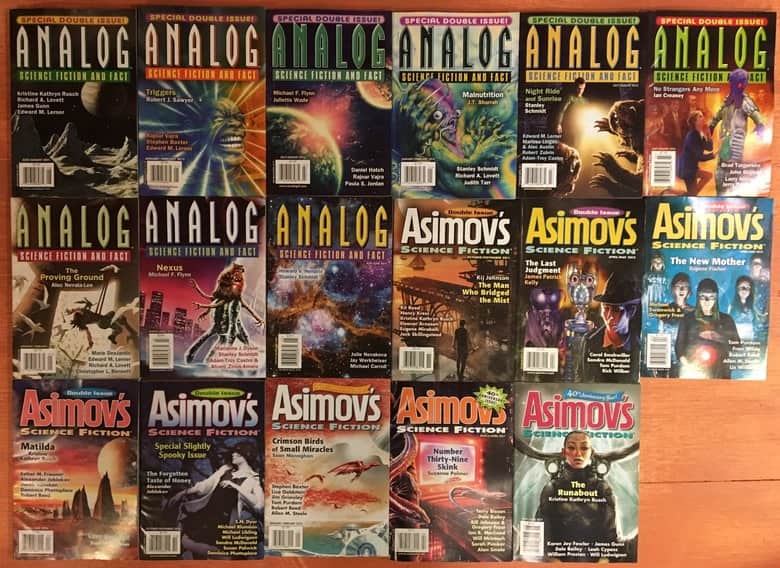 Get a dozen double issues of Asimov's and Analog — a $96 value — for just $15.95!
I was checking the subscription rates for Analog Science Fiction last week, as I was prepping an article on the May/June issue, when I stumbled on two curious new entries on the subscription page:
Science Fiction Value Pack-8 — $6.95
Science Fiction Double Issue Value Pack-12 — $15.95
For a limited time Dell Magazines, publishers of Asimov's and Analog (as well as Ellery Queen's Mystery Magazine and Alfred Hitchcock's Mystery Magazine) is selling packs of back issues at steep discounts. You can get an 8 pack (total value nearly $40) for just $6.95 — less than a dollar an issue! — or an even dozen double issues (value $96) for just $15.95. All the stock is brand new.
[Click the images for bigger versions.]
This is a pretty tremendous opportunity to try some recent issues of both of the leading print SF magazines on the market.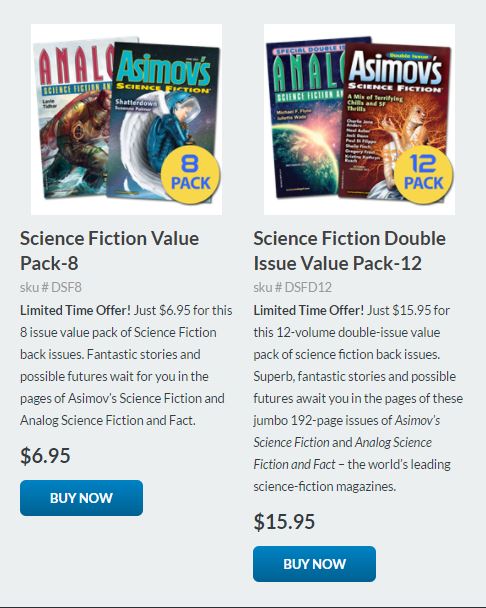 Obviously, there are caveats. You can't pick the back issues — you can't even pick between Analog or Asimov's; they just send you a mix. And if you order multiple lots, as I did, you're going to get a few duplicates. And (at least for now) the offer is limited to Dell's science fiction magazines; the mystery magazines are not included.
I'm always on the lookout for back issues in good condition, and this offer proved irresistible. The order form allows you to order multiple lots, so that's exactly what I did. I ordered 3 double packs, and 4 single packs (68 magazines in total), for $75.65, plus $24.00 in shipping. That's 68 magazines for $99,65, or just under $1.50 per issue.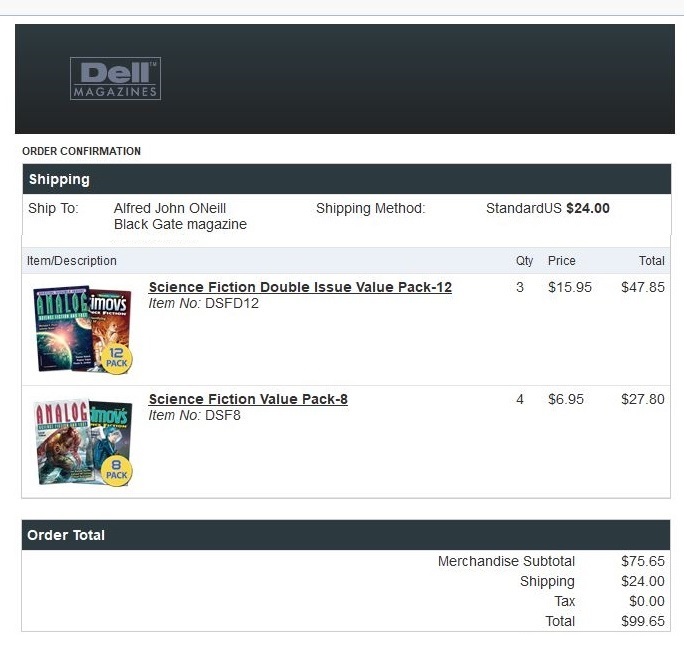 And here's what I received: 72 single issues and 17 double issues. I didn't quite get the 36 double issues I ordered; I assume they didn't have that many in stock. You can see the ones I did receive at the top of this article (click the image for a bigger version.)
But the packers made up the difference — and then some — by throwing in additional single issues. There were 72 in the box instead of the 32 I ordered, my math equates that to 20 double issues. That makes up for the 19 issues they were light. 72 issues of a digest magazine makes quite a pile, as you can see from the pic below.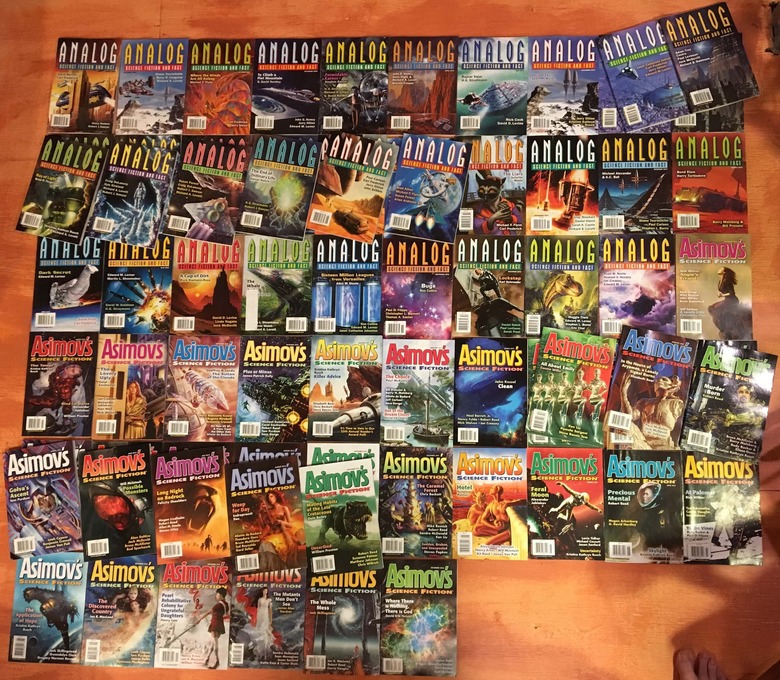 That's a whole lot of magazines for not much money
Overall I received 16 duplicates. Discounting the dupes, I received 73 magazines in total, for $99.65. That's a whole lot of magazines for not much money.
The magazines were all in pristine shape (although one did have a blank mailing label plastered to the cover). Overall I'm very happy with the purchase.
What's in this instant collection of modern science fiction magazines? The oldest issue is from 2009; the most recent are from June 2017. It's a roughly equal mix of Analog and Asimov's.
There's fiction here from hundreds of authors — including Connie Willis, Ken Liu, Robert Reed, James Patrick Kelly, Michael Swanwick, Karl Schroeder, Aliette de Bodard, Barry N. Malzberg, Allen M. Steele, Paul Di Fillipo, Howard V. Hendrix, Brian Stableford, Elizabeth Bear, Paul McAuley, Jack McDevitt, Neal Barrett, Jr., John Kessel, Pamela Sargent, Steve Rasnic Tem, Mary Robinette Kowal, Kristine Kathryn Rusch, James Van Pelt, Will McIntosh, Dale Bailey, Chris Willrich, Nancy Kress, Kit Reed, Lavie Tidhar, Carrie Vaughn, Ian R. MacLeod, Henry Lien, Sandra McDonald, Tom Purdom, Jack Skillingstead, and many, many others. There is many months of great reading here.
Of course, the magazines don't just contain fiction. There's also columns, reviews, science articles, art, and more. Want to know a little more about what's in a typical issue? We include both Asimov's and Analog in our monthly magazine coverage; here's links to the current issues, and a review of a recent Asimov's by Mike Penkas:
May/June 2017 Analog
May/June 2017 Asimov's Science Fiction
March/April 2017 Asimov's Science Fiction — A review by Mike Penkas
And here's a recent survey I did of Asimov's from the 90s (plus a picture of my cat):
If you've ever been even remotely curious about modern science fiction magazines, this is the deal for you. You can try 8 issues for less than the price of a paperback — or, if you're a little more adventurous, get a dozen fat double-sized issues for just $15.95. You won't find a better value this month. I guarantee it.
Our Late May Fantasy Magazine Rack is here. See all of our recent magazine coverage here..