May/June 2017 Analog Now on Sale
May/June 2017 Analog Now on Sale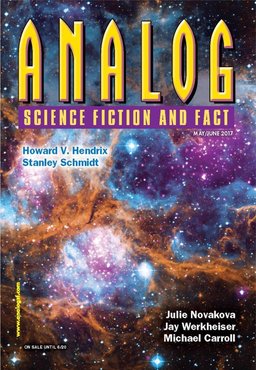 Howard V. Hendrix is experiencing a bit of a comeback in the pages of Analog magazine. He launched his career with a well-respected SF trilogy in the late 90s [Locus Award nominee for Best First Novel Lightpaths (1997), Standing Wave (1998), and Better Angels (1999)], but he hasn't published a novel since Spears of God in 2006.
But since September 2007 he's published no less than eight stories in Analog Science Fiction and Fact, including two novellas:
"Palimpsest " – September 2007
"Knot Your Grandfather's Knot" -March 2008
"Monuments of Unageing Intellect" – June 2009
"Red Rover, Red Rover" – July-August 2012
"Other People's Avatars" – July-August 2013 – novella
"The Perfect Bracket" – March 2016 (with Art Holcomb)
"The Infinite Manqué" – May 2016
"The Girls with Kaleidoscope Eyes" – May-June 2017 – novella
The May/June Analog contains that last one, the novella "The Girls with Kaleidoscope Eyes." Victoria Silverwolf, in her Tangent Online review, summarizes it as follows.
A government agent investigates an apparent attempt by a teacher to kill a classroom full of girls with a bomb, although at the last second he protected them from the explosion, seriously injuring himself in the process. She interviews the teacher while he is in custody in a hospital. He reveals his strange motive for his aborted crime, stating that "before there can exist a world of machines that can pass for people, there first must be a world of people that can pass for machines…"
Silverwolf praised several other stories this issue, including work by Julie Novakova, Eric Choi, Manny Frishberg and Edd Vick, Lavie Tidhar, and Bud Sparhawk. Here's a few of her story descriptions I found most intriguing.
"In the Mists" by frequent collaborators Bill Pronzini and Barry N. Malzberg takes the form of a journal kept by an astronaut who has been alone on an alien planet for seventeen years. He wonders if he is dead or alive, and sane or insane. The story blends Malzberg's New Wave style with themes from hard SF.

"Where the Flock Wanders" by Andrew Barton involves two space explorers searching for ancient alien artifacts in the rings of Saturn. Instead they find a damaged spaceship left over from a war between Earth and colonists of the outer solar system…

"Proteus" by Joe Pitkin features a woman who is a spy investigating a habitat floating in the atmosphere of Venus, where illegal human genetic engineering is suspected to be taking place. She must eventually decide what to do about what she discovers. The setting is a fascinating one, perhaps more so than the plot…

"Kepler's Law" by Jay Werkheiser winds up the issue with a tale of survival on an alien world. An all-female crew sent to a distant, inhabitable planet with a cargo of frozen embryos arrives to discover an unexpected threat. What makes their mission even more critical is the fact that they fled an Earth which seems to have been on the brink of total disaster, so they may be the last remnants of humanity…
And here's Analog editor Trevor Qachari on the contents of the entire May/June issue.
We kick off the summer with a blockbuster techno-thriller from Howard V. Hendrix: One enterprising FBI agent discovers that the Singularity may not only work in one direction, but will that information cost her life? Find out in "The Girl With Kaleidoscope Eyes."

Then our fact article comes from Michael Carroll: in our search for alien intelligence, it's entirely possible (if not likely) that the only civilizations we'll find will be long dead ones. If that's the case, then we may need a specialized field to study them; perhaps something like "Alien Archeology."

And the short fiction is as varied and unexpected as always: a very real disease begins cropping up in troubling ways, in Stanley Schmidt's "The Final Nail"; harsh environments sometimes make for harsh interpersonal relationships, but will we carry our old prejudices with us? "Kepler's Law" from Jay Werkheiser suggests one scenario. Then the famous parable turns out to be both figuratively and literally true, in Julie Novakova's "To See the Elephant."

We round out the issue with a host of shorter pieces, from authors such as Sam Schreiber, Dave Creek, Eric Choi, Bill Pronzini & Barry Malzberg, Igor Teper, Andrew Barton, Bond Elam, Lavie Tidhar, Joe Pitkin, Ken Brady, Gord Sellar, Manny Frishberg & Edd Vick, Dominica Phetteplace, Marissa Lingen, and Bud Sparhawk, as well as all our regular and rock solid columns.
The cover this issue is another astronomy shot, a close up of Region NGC 6357. Here's the complete Table of Contents.
NOVELLA
"The Girls with Kaleidoscope Eyes," Howard V. Hendrix
NOVELETTES
"To See the Elephant," Julie Novakova
"The Final Nail," Stanley Schmidt
"Kepler's Law, Jay Werkheiser
SHORT STORIES
"The Chatter of Monkeys," Bond Elam
"A Grand Gesture," Dave Creek
"Decrypted," Eric Choi
"Seven Ways to Fall in Love with an Astronaut," Dominica Phetteplace
"Focus," Gord Sellar
"Ténéré," Manny Frishberg & Edd Vick
"The Speed of Faith in Vacuum," Igor Teper
"Facebook Screamed and Screamed, Then I Ate It," Sam Schreiber
"Vulture's Nest," Marissa Lingen
"In the Mists," Bill Pronzini & Barry N. Malzberg
"The Return," Bud Sparhawk
"Lips Together," Ken Brady
"The Banffs," Lavie Tidhar
"Where the Flock Wanders," Andrew Barton
"Proteus," Joe Pitkin
SCIENCE FACT
Alien Archaeology, Michael Carroll
POETRY
Strangers, Allina Nunley
Our Religious Conversion, Ken Poyner
DEPARTMENTS
Guest Editorial: Science Fiction and the Virtue of Simplicity, Richard A. Lovett
The Alternate View, John G. Cramer
In Times to Come
The Reference Library, Don Sakers
Brass Tacks
Upcoming Events, Anthony Lewis
Analog Science Fiction and Fact is edited by Trevor Qachari and published by Dell Magazines. The cover price is $7.99 for 208 pages; a one-year subscription is $34.97 (US) or $49.97 (International). It is also available in a variety of digital formats. Check out the complete TOC, story excerpts, and additional free content at the website.
The May/June issue is on sale until June 20.
We last covered Analog with the March/April 2017 issue. See all our Analog coverage here.
Our Late May Magazine Rack is here. See all of our recent fantasy magazine coverage here.