March/April 2017 Analog Now on Sale
March/April 2017 Analog Now on Sale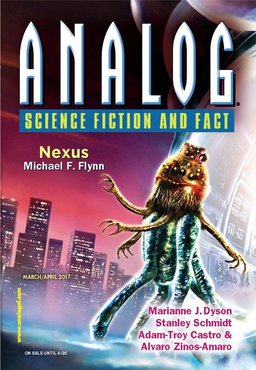 I'm getting used to Analog and Asimov's new bimonthly publication schedule. For one thing, the magazines have added an additional 16 pages, which is a substantial bonus.
Here's Analog editor Trevor Qachari on the impact of the change, and what we can look forward to in the March/April issue.
Effective immediately, with the very magazine you hold in your hands, Analog will be publishing only double issues — six of them per year. Right off the bat, you'll see more novellas, longer book review columns, and more variety in the themes that thread through the stories. (For example, our next issue will have both the usual lighter April fare as well as a selection of time-travel pieces.)

The main advantage is that this format allows us to hold current subscription prices a bit longer. (You may have already noticed that this issue is 208 pages instead of our customary 192 for double issues; we worked hard to make sure that there wouldn't be any loss of content.)

So, what kinds of things can you expect in this brave new world? Well, we have two novellas: "Nexus" by Michael F. Flynn, and John Alfred Taylor's "Plaisir d'Amour"; "Sustainability Lab 101," our fact article from Stanley Schmidt; and a trio of novelettes — "Europa's Survivors" by Marianne J. Dyson; "Host" by Eneaz Brodski; and "The Human Way" by Tony Ballantyne — as well as almost a full "single" issue's worth of short stories, some light-hearted, like "Ecuador vs. the Bug-Eyed Monsters" by Jay Werkheiser, and "Concerning the Devastation Wrought by the Nefarious Gray Comma and Its Ilk," by Tim McDaniel; and some that involve a relative rarity in these pages: time travel. "Eli's Coming," by Catherine Wells; "Grandmaster" by Jay O'Connell; "Alexander's Theory of Special Relativity" by Shane Halbach; "Time Heals" by James C. Glass; and "The Snatchers" by Edward P. McDermott — all struck a chord with me (for different reasons), and I bet at least some of them will for you, too.
The cover art this issue is by Tomislav Tikulin. Here's the complete Table of Contents.
NOVELLAS
"Nexus," Michael F. Flynn
"Plaisir D'Amour," John Alfred Taylor
NOVELETTES
"Europa's Survivors," Marianne J. Dyson
"Host," Eneasz Brodski
"The Human Way," Tony Ballantyne
SHORT STORIES
"Eli's Coming," Catherine Wells
"Time Heals," James C. Glass
"Shakesville," Adam-Troy Castro & Alvaro Zinos-Amaro
"The Snatchers," Edward McDermott
"Unbearable Burden," Gwendolyn Clare
"Grandmaster," Jay O'Connell
"Alexander's Theory of Special Relativity," Shane Halbach
"Concerning the Devastation Wrought by the Nefarious Gray Comma and Its Ilk: A Men in Tie-Dye Adventure," Tim McDaniel
"Ecuador vs Bug-eyed Monsters," Jay Werkheiser
SCIENCE FACT
Sustainability Lab 101: Cuba as a Simulation of Possible Futures, Stanley Schmidt
PROBABILITY ZERO
Hidden Intentions, Mary E. Lowd
POETRY
Barriers, J, Northcutt Jr.
Hypothesis/Assertion, Daniel D. Villani
DEPARTMENTS
Guest Editorial: Future-Propfing the Near Future: Design Fiction for Global Education, Nickolas Falkner
The Alternate View, John G. Cramer
In Times to Come
The Reference Library, Don Sakers
Brass Tacks
Upcoming Events Anthony Lewis
Analog Science Fiction and Fact is edited by Trevor Qachari and published by Dell Magazines. The cover price is $7.99 for 208 pages; a one-year subscription is $34.97 (US) or $49.97 (International). It is also available in a variety of digital formats. Check out the complete TOC, story excerpts, and additional free content at the website.
The March/April issue is on sale until April 25.
We last covered Analog with the January/February 2017 issue. See all our Analog coverage here.
Our Late March Magazine Rack is here. See all of our recent fantasy magazine coverage here.