4,976 Pages of Asimov's Science Fiction (and a Cat)
4,976 Pages of Asimov's Science Fiction (and a Cat)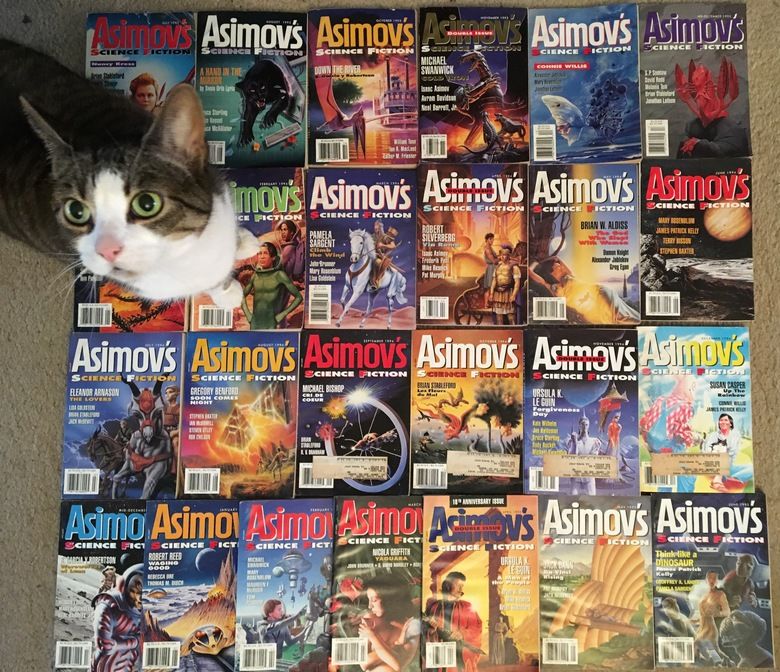 When Cats Read Science Fiction
Okay, my cat doesn't really read science fiction. But she does wander over to see what's going on when I'm photographing eBay purchases. She even knocked over part of my collection as I was prepping a piece on Robert E. Howard a while back (yeah, that's her white paw on the far right). Cats. They don't care.
But if Jazz did read science fiction, I'd tell her the early 90s was probably my favorite era of Asimov's Science Fiction magazine. Not because the fiction was necessarily better — although there was some really great stuff! — but because it was before I started producing publications of my own, and thus it was the last time I had enough free time to read the magazine even semi-regularly. I have a (complete?) run of the magazine from 1977, but most of my copies are in storage. So when I saw the set above (minus the cat) for sale on eBay, I put in a low bid, and won the entire lot for around ten bucks. Most of them are in terrific shape, and only a few have mailing labels, so overall I'm thrilled with the purchase. (Although the February 1994 issue now has a pair of cat prints on the cover.)
[Click the images for bigger versions.]
It's a virtually complete run from July 1993 to June 1995. 25 issues, 4,976 pages of top-notch science fiction. I don't think there's any real debate that Asimov's, under then-editor Gardner Dozois, was the finest genre magazine on the stands in the early 90s. Analog, under editor Stan Schmidt, was chiefly packaging hard science as short stories, Scott Edelman's Science Fiction Age, founded in 1992, was just getting underway, and the venerable Amazing Stories sputtered and died in early 1995. Only F&SF (edited by Kristine Kathryn Rusch) and Pulphouse (also Rusch, believe it or not) gave the magazine any real competition.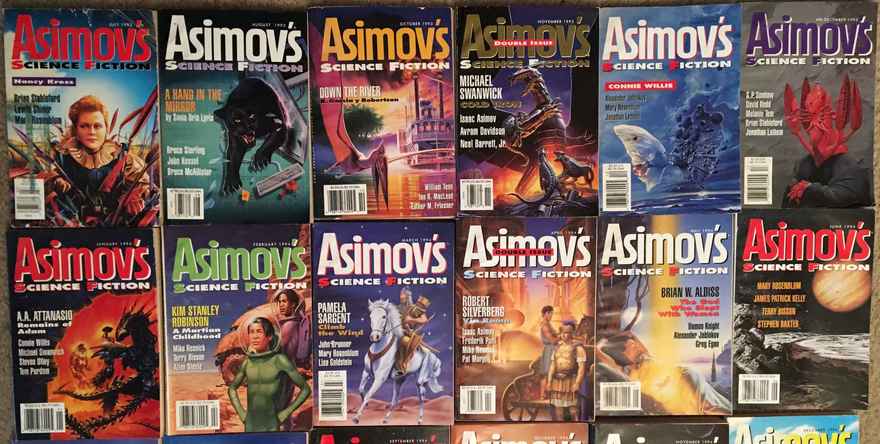 How thoroughly did Asimov's dominate the genre in the 90s? Here's a list of the 1996 Hugo nominees for short fiction.
Best Novella
"The Death of Captain Future" by Allen Steele [Asimov's Oct 1995] — winner
"A Woman's Liberation" by Ursula K. Le Guin [Asimov's Jul 1995]
"Bibi" by Mike Resnick and Susan Shwartz [Asimov's mid-Dec 1995]
"A Man of the People" by Ursula K. Le Guin [Asimov's Apr 1995]
"Fault Lines" by Nancy Kress [Asimov's Aug 1995]
Best Novelette
"Think Like a Dinosaur" by James Patrick Kelly [Asimov's Jun 1995] — winner
"When the Old Gods Die" by Mike Resnick [Asimov's Apr 1995]
"The Good Rat" by Allen Steele [Analog mid-Dec 1995]
"Must and Shall" by Harry Turtledove [Asimov's Nov 1995]
"Luminous" by Greg Egan [Asimov's Sep 1995]
"TAP" by Greg Egan [Asimov's Nov 1995]
Best Short Story
"The Lincoln Train" by Maureen F. McHugh [F&SF Apr 1995] — winner
"A Birthday" by Esther M. Friesner [F&SF Aug 1995]
"TeleAbsence" by Michael A. Burstein [Analog Jul 1995]
"Life on the Moon" by Tony Daniel [Asimov's Apr 1995]
"Walking Out" by Michael Swanwick [Asimov's Feb 1995]
That's right — of the 16 short fiction nominees, all but four were from Asimov's. Ladies and gentlemen, that's a near-monopoly.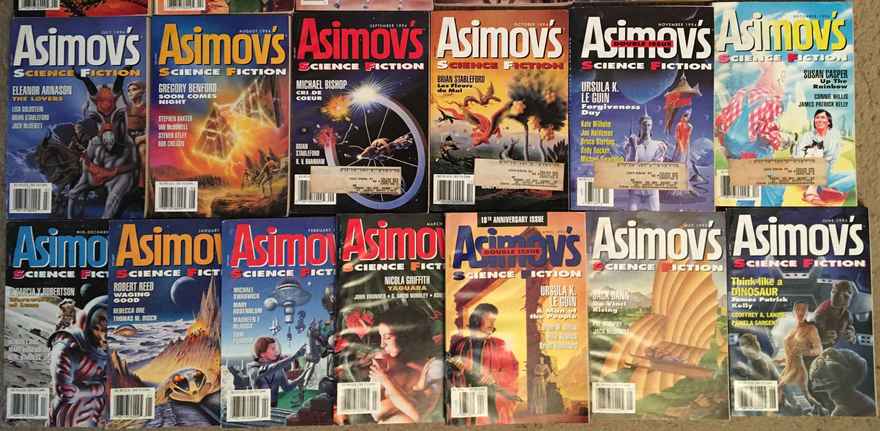 Flipping through the issues now, with 20 years of hindsight, is fascinating. Writers who went on to stellar careers were just getting their start in the pages of Asimov's — like Jonathan Letham, Robert Reed, Jack McDevitt, Jeff Vandermeer, Nisi Shawl, Tony Daniel, Nicola Griffith, Greg Egan, Allen Steele, Stephen Baxter, Kathleen Ann Goonan, Kij Johnson, Chris Willrich, Ray Vukcevich, Richard Parks, Wil McCarthy, and Ian R. MacLeod.
They appeared side by side with giants of the field like Ursula K. Le Guin, Frederick Pohl, John Brunner, Brian Aldiss, Joe Haldeman, Kim Stanley Robinson, Robert Silverberg, William Tenn, Avram Davidson, Brian Stableford, Thomas M. Disch, Connie Willis, Gregory Benford, Bruce Sterling, Michael Swanwick, Kate Wilhelm, Nancy Kress, Lewis Shiner, and Damon Knight.
There's even a couple of new stories by Isaac Asimov himself, who died in 1992.
Something else I find delightful is the marvelous artwork. This was an era of lush covers for Asimov's, with cover art by Mark Harrison, Todd Lockwood, Keith Parkinson, Wojtek Sludmak, Wayne Barlowe, Gary Freeman, Pamela Lee, Jim Burns, Bob Eggleton, Kinuko Y. Craft, Chris Moore, Peter Peeples, Gary Overace, and many others.
Under Art Director Terri Czeczko, the magazine also had terrific interior art (something I very much miss in the current incarnation, although I understand the economic necessities of it) from Todd Lockwood, Alan M. Clark, Jonathan and Lisa Hunt, Dell Harris, Steve Cavallo, Laurie Harden, Peter Bartczak, Mike Aspergren, Pat Morissey, Steve Rader, and many others.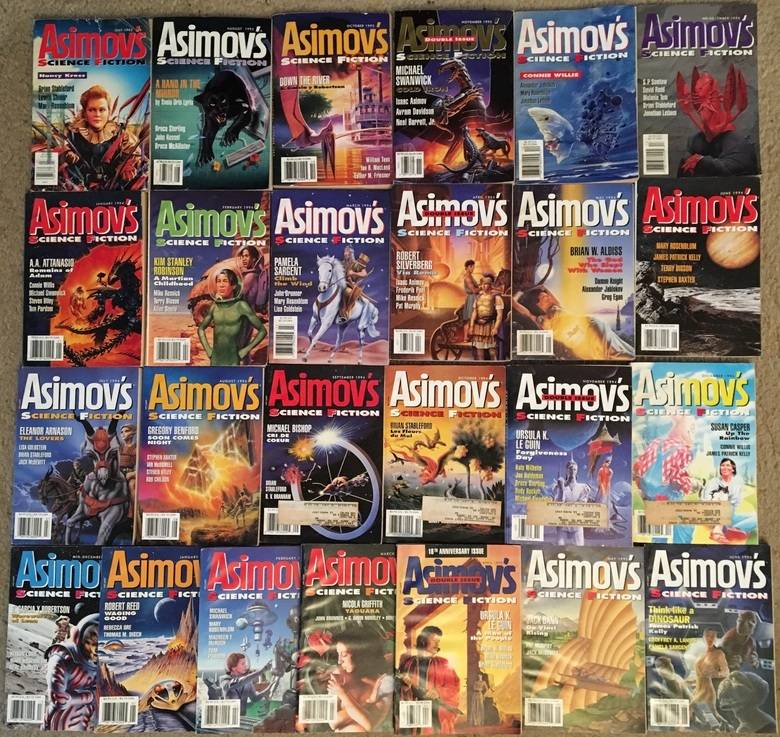 Here's a picture without my cat (click for bigger version)
As a special bonus, the last issue in the set, June 1995, contains one of my all-time favorite science fiction stories, James Patrick Kelly's Hugo Award-winning "Think Like Dinosaur," which imagines what it might actually like to be a transporter operator… with a twist.
I think my point in all this is that, if you're looking for a really terrific reading experience, something you can really sink your teeth into, here's a suggestion: why not consider 4,976 pages of top-notch science fiction from the best writers in the industry — for under ten bucks? That's the best reading value you're going to find online, trust me.
We live in an era where you can find and purchase multiple sets like the one I found online, every day of the week. Some of them are overpriced. Most are not. You can browse, select and happily purchase one in less time than it takes to listen to "Stairway to Heaven."
Prefer hard science fiction? Try Analog! Enjoy fantasy? Pick up some Fantasy & Science Fiction. Bored with all the same names? Try the independent magazines, like Space & Time, Interzone, Crank!, TaleBones, and countless others.
There are folks out there passing their collections on for a song. Give them a good home. Believe me, you'll be happy you did.