Monsters, Murder and Magic in Victorian London: Storm and Ash by Elizabeth Cady
Monsters, Murder and Magic in Victorian London: Storm and Ash by Elizabeth Cady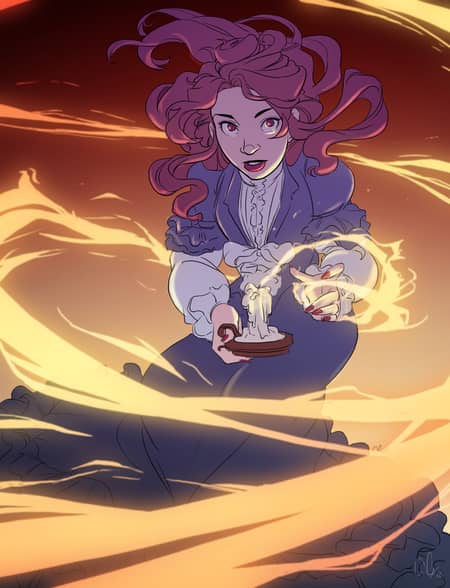 Black Gate blogger Elizabeth Cady (whose last article for us was a review of Seanan McGuire's Every Heart a Doorway), has launched a captivating web serial titled Storm and Ash. The Greysons, a powerful and respected British family, is thrown into turmoil at the death of eldest son Edmund's fiancee. When it's revealed the cause of her death was necromancy, the family must adapt quickly to a world they never even dreamed existed. (As Elizabeth tells me privately, it's Buffy meets Sherlock — monsters, murder and magic in Victorian London.) Here's the full blurb.
Just a few months ago, the Greysons appeared to be an utterly unremarkable family. Wealthy, well-regarded, but by the standards of London society, not extraordinary. Oldest son Edmund had taken over the family's affairs after the death of their father. Rafe, the troublesome middle child, alternated his wanderings between the far side of the ocean and the underside of London's streets. Youngest son Stephen was finishing his studies at university and preparing to join Edmund in business, while his twin sister Wilhelmina was planning her official debut into society.

The first blow came when Edmund's fiancee, Charlotte, died unexpectedly. Grief turned to horror when the true cause of her death was revealed. And while the culprit may have been found, they were left with far more questions than they could have imagined.

Still, necessity is the mother of discovery. They have new allies, new skills, and a newfound faith in each other. Just in time, because the longest night of the year is coming, and the bodies have begun to appear again.
Chapter 6 went live on June 17; new chapters are posted twice a week, on Tuesday and Friday. The promo image above is by Jayd Ait-Kaci. Check it out at www.stormandash.com, or dive right into the first chapter here.