The Public Life of Sherlock Holmes – A New Solar Pons Omnibus
The Public Life of Sherlock Holmes – A New Solar Pons Omnibus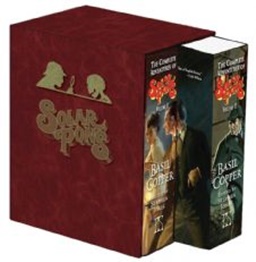 If you want to read my thoughts on the season four (and hopefully series) finale of BBC's Sherlock, click on over and read it at my blog. Because today The Public Life of Sherlock Holmes is going to talk about Solar Pons.
August Derleth, the creator of Solar Pons, passed away in 1971. Derleth's final collection, The Chronicles of Solar Pons, a mix of previously released stories and ones never published, came out in 1973. Surprisingly, Pons would be back within a decade! In 1979, Basil Copper would release three collections of tales: The Dossier of Solar Pons, The Further Adventures of Solar Pons and The Secret Files of Solar Pons. There would be three more collections, as well as a novella. Copper had written horror books for Derleth's Arkham House imprint and he seemed like a good choice for continuing the stories.
Unfortunately, Copper's Pons connection did not have a happy ending. He helped Arkham House editor Don Turner compile an omnibus edition of all of Derleth's released Pons stories. However, Copper chose to do some 'corrective editing' of the originals, which caused a furor among the Pontine faithful. You can read Jon Lellenberg's essay on this topic in The Solar Pons Gazette (page 45). Peter Ruber also wrote an excellent account, but I don't have permission to reprint that.
Also, Copper himself was not pleased with edits that had been made to his stories before release (which is kinda ironic), and Arkham declined to put out Solar Pons & the Devil's Claw. Copper essentially flipped the bird at the Derleth folks and he released Solar Pons: The Final Cases, which contained his preferred versions of five previously released stories, plus a Holmes pastiche, The Adventure of the Persecuted Painter. He also put out Devil's Claw, without permission from the Estate.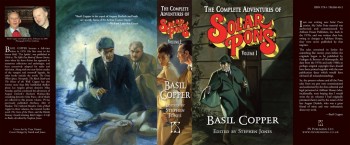 Used copies of Copper's Pons tales can be found at somewhat reasonable prices, but it takes some effort and some books are harder to get than others. The Pinnacle paperbacks, which have cool covers, can often be found online, as can both other paperback editions and hardback versions of a few collections. But it's not always easy or cheap.
I like the Copper stories. They are at least twice as long as Derleth's originals, which makes them tougher to read in one sitting (something I like to do with Pons). But I think they definitely feel like Pons stories and I recommend them.
Which brings us to the new release from PS Publishing: The Complete Adventures of Solar Pons by Basil Copper.
Over in the Solar Pons Gazette (page 40), I shared my thoughts on Sarob Press issuing over-priced, limited run editions of The Final Cases & The Devil's Claw. I wasn't very complimentary. So, I'm of two minds on this new edition.
First, I'm pleased that all of the Copper stories are being bundled together, including The Devil's Claw, which I've not read yet myself. And the covers look great and I'm sure the additional artwork will be fine. But a print run of only 100 copies, with a price tag of over $200, this isn't exactly doing much to get Copper's Pons stories out there. I would expect purchases will be made by those who have already read Copper's tales.
The project was started before Copper's death and each volume contains a signed slipcase. Thus, the limited run. For me, I couldn't care less about autographs. It's just somebody's signature. I would have preferred an unsigned, cheaper edition. Which leads me to:
Second, I sincerely hope that PS gives some thought to a second print run in a much more affordable package, getting the Copper stories out to a much broader audience. I don't see why this would be a problem, whatever the price point may be.
I ordered a set and I'm looking forward to placing it on the shelves next to my Copper-edited omnibus of the Derleth stories. But I really do hope a less extravagant version will be put out there for everybody else.
Visit ww.SolarPons.com to learn more about the Sherlock Holmes of Praed Street.
I've written about Pons several times before here at Black Gate:
Meet Solar Pons
The Science Fictional Solar Pons
Why Solar Pons?
Solar Pons & the Dorak Affair
Vincent Starrett's Intro to The Adventures of Solar Pons
Solar Pons & The Case of the Dead Fishmonger (original story)
Solar Pons & Cthulhu
---
You can read Bob Byrne's 'The Public Life of Sherlock Holmes' column here at Black Gate every Monday morning.
He founded www.SolarPons.com, the only website dedicated to the 'Sherlock Holmes of Praed Street' and blogs about Holmes and other mystery matters at Almost Holmes.
He has contributed stories to The MX Book of New Sherlock Holmes Stories – Parts III, IV and V.