A Detective With the Mind of a Criminal: The Casefiles of Mr. J G Reeder, by Edgar Wallace
A Detective With the Mind of a Criminal: The Casefiles of Mr. J G Reeder, by Edgar Wallace
Wordsworth Editions published dozens of titles in their Tales of Mystery and the Supernatural imprint (or, as we like to call them, TOMAToS), featuring classic tales of detection, horror and ghostly doings from Robert E. Howard, Rudyard Kipling, Sheridan Le Fanu, William Hope Hodgson, W.F. Harvey, Edith Nesbit, Oliver Onions, E.F. Benson, and many others.
Wordsworth has revamped the entire series (see their website for the dramatic redesign), and they're letting all the older titles gradually go out of print… which means it's definitely time to snatch up those I still don't have. Like The Casefiles of Mr. J G Reeder, an omnibus collection of three pulp-era books by popular British thriller writer Edgar Wallace.
How on earth did you piece together all this? he asked in wonder. Mr Reeder shook his head sadly. I have that perversion, he said. It is a terrible misfortune. I see evil in everything. I have the mind of a criminal.

Let us introduce you to the enigmatic J. G. Reeder, a timid, gentle middle-aged man who carries a furled up umbrella and wears an old-fashioned flat-topped bowler hat. He is one of the great unsung sleuths of mystery fiction, created by the prolific Edgar Wallace, the King of Thrillers. Despite his insignificant appearance, Reeder is a cold and ruthless detective who credits his success to his criminal mind which allows him to solve a series of complex and audacious crimes and outwit the most cunning of villainous masterminds.

This volume is a rich feast for crime fiction fans, containing the first three volumes in the Reeder canon: two novels, Room 13 and Terror Keep; and the classic collection of short stories, The Mind of J. G. Reeder.
Edgar Wallace was an enormously popular mystery and thriller writer of the 20s and 30s. More than 160 films have been based on his work, and The Edgar Wallace Mystery Magazine was a popular digest magazine in the mid-60s. But perhaps his most famous creation was the script for King Kong (1933); he died of complications of diabetes while working on revisions with director Merian C. Cooper.
I'm not all that familiar with Wallace's fiction, truth be told, but it didn't take long to find the dust jackets for the original hardcover editions of all three books contained in this omnibus — and they look marvelous. Here they are.
To start, here's the original Doubleday dust jacket for Terror Keep (1927).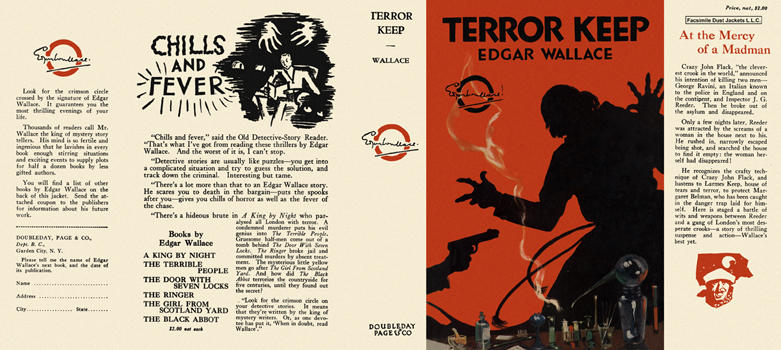 Terror Keep was published in Britain in a hardcover edition by Hodder and Stoughton, who also published a number of Wallace's books in 1927, including the Inspector Wade novel The Feathered Serpent and The Traitor's Gate.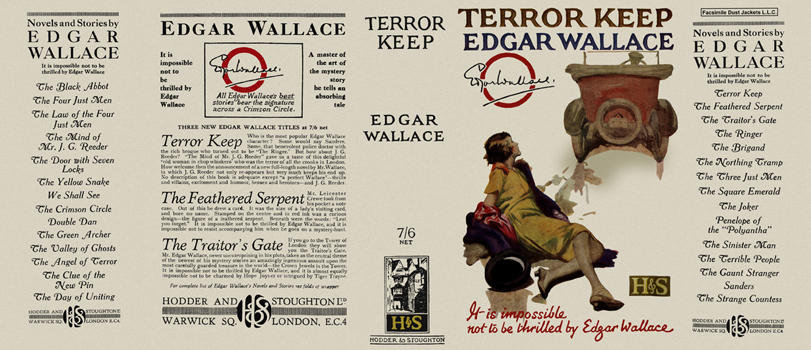 The short story collection The Mind of Mr. J. G. Reeder was published in 1925. (The US title was The Murder Book of Mr. J. G. Reeder.) Click for a bigger version.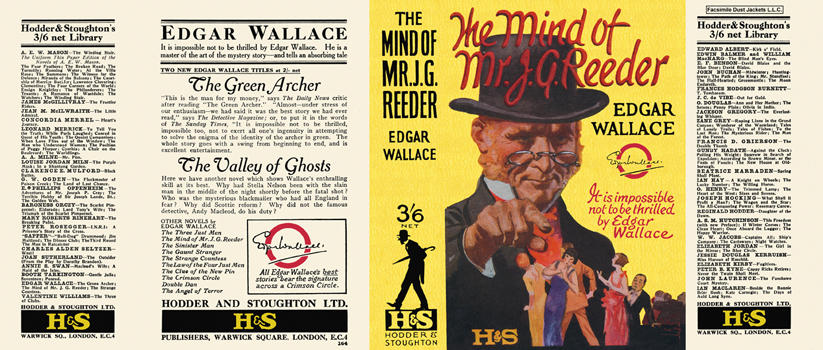 Finally, here's a look at a modern edition of the children's novel Room 13.
For those whose eyes aren't up to reading that plot description on the back, here's a more legible version.
Room 13 is a children's novel written by the acclaimed award winning children's author Robert Swindells. Published in 1989, it is based from a real school trip and awarded the Children's Book Award, the novel centres around a group of friends, on a school trip, who stay in a creepy guest house on Whitby's West Cliff. The novel takes advantage of Whitby's sinister and Gothic ties and weaves a story of suspense that has earned its place as a firm favourite of children wanting the thrill of a little horror and suspense. Once again Whitby finds itself inextricably connected to a vampirish encounter.
We're big fans of Wordsworth's Tales of Mystery And The Supernatural imprint here at Black Gate. They include handsome and affordable high quality reprints of some of the best gothic horror and ghost stories ever written. We've covered several so far, including:
Night Terrors: The Ghost Stories of E.F. Benson
A Night on the Moor & Other Tales of Dread by R. Murray Gilchrist
The Crimson Blind and Other Stories by H.D. Everett
Couching at the Door by D.K. Broster
The Casebook of Carnacki The Ghost Finder by William Hope Hodgson
The Beast with Five Fingers by W.F. Harvey
The Power of Darkness — Tales of Terror, by Edith Nesbit
Alice and Claude Askew's Aylmer Vance, The Ghost-Seer
The Black Veil & Other Tales of Supernatural Sleuths edited by Mark Valentine
Voodoo Tales: The Ghost Stories of Henry S. Whitehead
Sherlock Holmes: The Game's Afoot, edited by David Stuart Davies
The Casebook of Sexton Blake, edited by David Stuart Davies
The Dead of Night: The Ghost Stories of Oliver Onions
The House by the Churchyard by Sheridan Le Fanu
Like many volumes in Wordworth's Tales of Mystery and the Supernatural, The Casefiles of Mr. J G Reeder has an introduction by series editor David Stuart Davies.
The Casefiles of Mr. J G Reeder was published by Wordsworth Editions on June 15, 2010. It is 434 pages, priced at $4.99 in paperback, and $0.99 for the digital edition. The cover was designed by Robert Mathias, with artwork by Nathan Clair. It is currently out of print.