At Long Last, the World Begins to Appreciate Claire Suzanne Elizabeth Cooney
At Long Last, the World Begins to Appreciate Claire Suzanne Elizabeth Cooney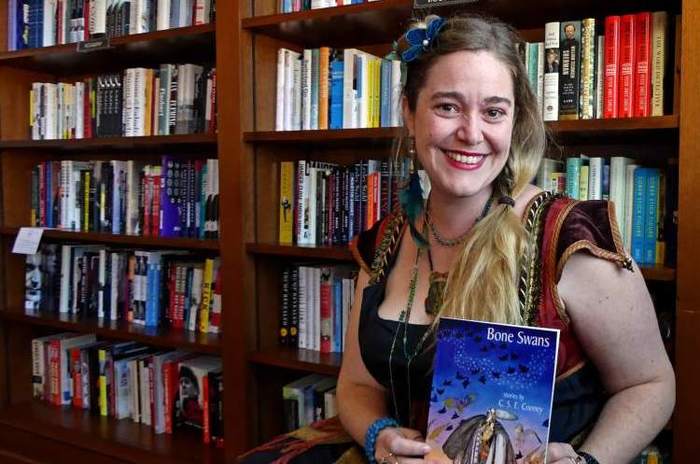 Claire Cooney, who writes under the name CSE Cooney, was Black Gate's first website editor, and we published two of her short stories, "Godmother Lizard" and "Life on the Sun," as part of our Black Gate Online Fiction library. I was sitting next to Claire three weeks ago when she won the World Fantasy Award for her groundbreaking debut collection Bone Swans, and I watched in pleasant surprise as the crowd around us exploded in cheers. It seems that, at long last, the world is starting to appreciate what those of us in the BG community have long known: CSE Cooney is one of the genre's most gifted writers.
Today The Westerly Sun published a fine feature on Claire, titled "World award is no fantasy for Westerly author Claire Cooney." Here's a snippet.
"I had no expectation of winning so I didn't prepare any comments," said Cooney, whose stories take readers on fantastical journeys through reimagined fairy tales and myths. "I just sat there saying 'No way' … until my friends started screaming."

Cooney describes her writing as secondary world fantasy, similar in genre to the work of J.R.R. Tolkien and C.S. Lewis. Her writing features flying carpets, strange clowns and pied pipers, she said, with strong female characters and people who turn into things. "Swords and sorcery," said the writer who has been influenced by such fairy tales as the The Pied Piper and Rumpelstilskin…

The World Fantasy Award is one of the three big awards given in her fantasy genre, and Cooney faced stiff competition in a category that included a Pulitzer Prize finalist and two career retrospectives from well-established international writers.
Read the complete article, written by Nancy Burns-Fusaro, here, and read the Nebula-nominated title story "The Bone Swans of Amandale" online here.