Beneath Ceaseless Skies 210 Now Available
Beneath Ceaseless Skies 210 Now Available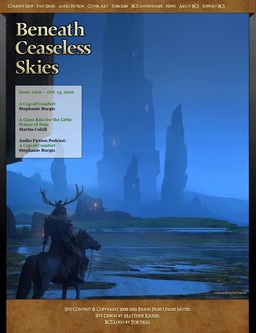 Issue #210 of Beneath Ceaseless Skies is now available, completely free on their website. It is dated October 13 and features fiction by Stephanie Burgis and Martin Cahill, a podcast by Stephanie Burgis, and a reprint by Siobhan Carroll. Here's the complete Table of Contents.
"A Cup of Comfort" by Stephanie Burgis
"Of course I will come," said the Dragon Queen. Her voice was muted beneath the layers of dark cloth that covered her, but a ripple of amusement sounded as she added, "I should hope my old friend has not forgotten my favorite blend, after all these decades. I shall be disappointed if there isn't a fresh pot awaiting me."

"A Glass Kiss for the Little Prince of Pain'" by Martin Cahill
His grip tightens. He looks up at me with an honesty reserved for saints and the soon to be executed. "If you do this, it'll ruin you. Please, come back with me to the school, give up this alliance with the Empress, and together we can find a way to save the boy. Armila, please, this kind of murder, to one so young? You can't come back from that kind of corruption."

Audio Fiction Podcast

"A Cup of Comfort" by Stephanie Burgis (Duration: 28:08 — 19.32MB)
"Nonsense. You are my guest." The dragon reached out with long, sharp, delicately curving claws and tipped the teapot.

From the Archives

"In the Gardens of the Night" by Siobhan Carroll
If the General wants her dead, he must agree to my requests.
Read issue 210 online completely free here.
Beneath Ceaseless Skies is edited by Scott H. Andrews and published twice a month by Firkin Press. Issues are available completely free online; you can also get a free e-mail or RSS subscription.
Firkin Press also sells a Kindle/e-Reader subscription, which includes automatic delivery to your Kindle or other device. A 12-month subscription comes with 26 issues and costs only $15.99. Single issues are available on Kindle and at Weightless Books for 99 cents. Subscribe here.
The magazine supports itself though subscriptions, and also by selling anthologies, including the annual Best of BCS volumes and occasional themed books such as the steampunk anthology Ceaseless West. The anthologies each contain 15-18 stories and cost only $2.99-$3.99.
This month's cover, "Ambush," is by Raphael Lacoste. We last covered Beneath Ceaseless Skies with issue #210.
See our October Fantasy Magazine Rack here, and all of our recent Magazine coverage here.