Beneath Ceaseless Skies 207 Now Available
Beneath Ceaseless Skies 207 Now Available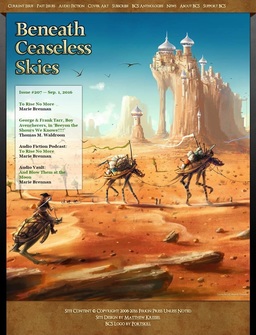 Black Gate is up against Beneath Ceaseless Skies for a World Fantasy Award this year, and I don't mind telling you, that's some stiff competition. BCS has been publishing since October 2008 — nearly 8 years — hitting its bimonthly schedule without missing a beat. Speaking as someone who managed one issue a year, that's pretty impressive. It's become one of the top markets for Adventure Fantasy, and has published stories by Aliette de Bodard, Gemma Files, Catherynne M. Valente, Fran Wilde, Kameron Hurley, E. Catherine Tobler, Tina Connolly, Sarah Pinsker, Cat Rambo, Yoon Ha Lee, K.J. Parker, Rachel Swirsky, Bruce McAllister, Saladin Ahmed, Carrie Vaughn, and many others.
Of particular note to Black Gate readers, they've also published a fair number of BG authors, including Derek Künsken, Rosamund Hodge, Richard Parks, Brian Dolton, and Chris Willrich.
If you haven't made the time to check it out, it's not too late. Issue #207 of Beneath Ceaseless Skies is now available, completely free on their website. It is dated September 1 and features fiction by Marie Brennan and Thomas M. Waldroon, a podcast by Marie Brennan, a Audio Vault podcast by Marie Brennan, and a Novel Excerpt by James Morrow. Here's the complete Table of Contents.
"To Rise No More" by Marie Brennan
Ada shook her head, staring once more at the Thames. "I do not think what I had in mind will work. The size of the wing, if it is to be large enough to lift me—my body cannot possibly generate enough force to move it. Not with the speed required." Especially not when she kept growing. Every inch meant more weight for the wings to lift, without a commensurate gain in strength.

"George & Frank Tarr, Boy Avencherers, in 'Beeyon the Shours We Knowe!!!!'" by Thomas M. Waldroon
Where's it all come from? George wondered. Where you think it comes from? Frank scoffed. It's fields and roads and house lots. It's America, running westwards to somewhere else, anywhere else, someplace maybe better, like Great-Grandpaps did, and like Papa did, and just like we're doing.
Audio Fiction Podcast

"To Rise No More" by Marie Brennan (Duration: 41:40 — 28.62MB)
No matter how many times she watched it, Ada could not see how the transformation happened.

Audio Vault

"And Blow Them at the Moon" by Marie Brennan (Duration: 1:06:13 — 45.47MB)
Introduced by the author, explaining how she works the plots of her Onyx Court historical fairie novels and stories into history without sidelining the actions taken by real people, using the moral dilemmas faced by the characters.

Novel Excerpt

Galápagos Regained by James Morrow
Chloe's first instinct was to hustle Willy and Annie out of the zoo, lest they learn prematurely there was such a thing as atheism.
[Click for bigger images.]
Read issue 207 online completely free here.
Beneath Ceaseless Skies is edited by Scott H. Andrews and published twice a month by Firkin Press. Issues are available completely free online; you can also get a free e-mail or RSS subscription.
Firkin Press also sells a Kindle/e-Reader subscription, which includes automatic delivery to your Kindle or other device. A 12-month subscription comes with 26 issues and costs only $15.99. Single issues are available on Kindle and at Weightless Books for 99 cents. Subscribe here.
The magazine supports itself though subscriptions, and also by selling anthologies, including the annual Best of BCS volumes and occasional themed books such as the steampunk anthology Ceaseless West. The anthologies each contain 15-18 stories and cost only $2.99-$3.99.
This month's cover, "Tortoise Caravan," is by Marek Hlavaty. We last covered Beneath Ceaseless Skies with issue #203.
See our mid-August Fantasy Magazine Rack here, and all of our recent Magazine coverage here.