New Treasures: Dr. Fell and the Playground of Doom by David Neilsen
New Treasures: Dr. Fell and the Playground of Doom by David Neilsen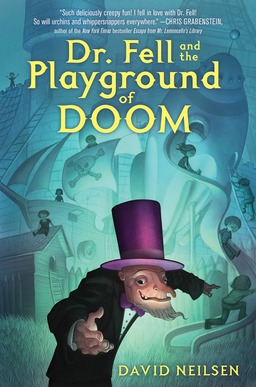 Ah, Halloween. That gorgeous, short-lived season when publishers cram a year's worth of spooky fiction into a single month.
If you pay attention for the next few weeks, you'll see a delicious flood of horror for all ages in your local bookstore. New novels and collections by Stephen King, Laird Barron, Silvia Moreno-Garcia, Robert Aickman, and many others.
There's plenty for younger readers, too (after all, they tend to embrace the Halloween spirit even more than us old folks). One of the more intriguing releases for younger readers to cross my desk recently was Dr. Fell and the Playground of Doom, by David Neilsen. It's a Middle Grade horror story written by someone who does one-man performances based on the work of H.P. Lovecraft… who can resist that??
When the mysterious Dr. Fell moves into the abandoned house that had once been the neighborhood kids' hangout, he immediately builds a playground to win them over. But as the ever-changing play space becomes bigger and more elaborate, the children and their parents fall deeper under the doctor's spell.

Only Jerry, Nancy, and Gail are immune to the lure of his extravagant wonderland. And they alone notice that when the injuries begin to pile up on the jungle gym, somehow Dr. Fell is able to heal each one with miraculous speed. Now the three children must find a way to uncover the doctor's secret power without being captivated by his trickery.

"Recommended for school libraries that need to breathe life into their traditional mystery collections." —School Library Journal
Dr. Fell and the Playground of Doom was published by Crown Books for Young Readers on August 9, 2016. It is 240 pages, priced at $16.99 in hardcover and $10.99 for the digital version.