September 2016 Asimov's Science Fiction Now on Sale
September 2016 Asimov's Science Fiction Now on Sale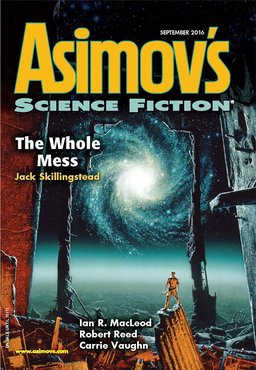 The September issue of Asimov's Science Fiction looks like a very solid issue, with fiction from Carrie Vaughn, Ian R. MacLeod, Robert Reed, Rich Larson, Jack Skillingstead, and others. Here's the full description from the website:
Jack Skillingstead's September 2016 novelette takes us on a terrifying journey across universes. Pursued by malevolent forces, a brilliant mathematician struggles to clean up "The Whole Mess." Failure means destruction and subjugation. The penalty for success could be worse.

New York Times best selling author, Carrie Vaughn exposes the debilitating consequences space travel holds for some in "The Mind Is Its Own Place"; appearing in Asimov's with her first professional sale, Tegan Moore shines a light on some dark and twisted relationships in "Epitome"; Human and Alien intelligence slowly learn to communicate in Rich Larson'spoignant excavation of "All that Robot…"; World Fantasy Award winner Ian R. MacLeod introduces us to the enigmatic "Visitor from Taured"; Peter Wood runs  us around in some vicious, yet funny and perhaps all too recognizable, "Academic Circles"; and Robert Reed tells the old tale of migration and the promised land — this time with aliens — in "Dome on the Prairie."

Robert Silverberg's hilarious Reflections column reveals why it's not a good idea to exclaim, "'Darn,' He Smiled"; Peter Heck reviews works by Charlie Jane Anders, Laura Anne Gilman, Fred Chappell, and others; plus we'll have an array of poetry and other features you're sure to enjoy.
The cover is by the great Michael Whelan.
Over at Tangent Online Bob Blough raves about the issue, and especially Ian M. McLeod's "A Visitor from Taured," which he calls "a potential award nominee."
Ian M. McLeod is one of the best prose writers in the genre. I don't read widely outside the genre but I think he is the equal of David Mitchell, Margaret Atwood or Kate Atkinson. In "A Visitor from Taured" he continues this lucid writing. This is not a flashy SF story – I am not sure he has ever written one of those, but it is a slow building story that takes place in the near future and follows the fortunes of two people in the world that they help to create. It concerns two graduate students – Rob and Lita – who meet in school and get to know each other and their academic worlds; the death of written literature for Lita and quantum cosmologies for Rob. The relationship and the interests combine in fascinating and beautiful ways so that these two human beings become as well known to the reader as they can be in a short story. The ending is haunting and perfect… if you enjoy beautiful prose with characters that live off the page and within a thoroughly believable future world then this is the author for you. Give him a try.
Read Bob's complete review here.
Here's the complete Table of Contents.
NOVELETTES
"The Mind Is Its Own Place," Carrie Vaughn
"Epitome," Tegan Moore
"The Whole Mess," Jack Skillingstead
"The Visitor from Taured, " Ian R. MacLeod
SHORT STORIES
"Dome on the Prairie," Robert Reed
"Academic Circles," Peter Wood
"All that Robot," Rich Larson
POETRY
Autosexuality, Chris Wozney
Long Argument, the Longest, Jane Yolen
Neurologic, Robert Frazier
A Dubious Talent, Bruce Boston
DEPARTMENTS
Editorial: Thirtieth Annual Readers' Awards' Results, Sheila Williams
Reflections: "Darn," He Smiled Robert Silverberg
Next Issue
On Books, Peter Heck
The SF Conventional Calendar, Erwin S. Strauss
See the current issue, with story excerpts and links to free online content, here.
The September issue went on sale August 30. It will be on sale until October 11.
Asimov's Science Fiction is edited by Sheila Williams and published by Dell Magazines. The cover price is $4.99 for 112 pages; a one-year subscription is $34.97 (US) or $49.97 (International). It is also available in a variety of digital formats.
We last covered Asimov's SF with the August 2016 issue.
Our September Fantasy Magazine Rack is here. See all of our recent fantasy magazine coverage here.