Goth Chick News: What's Not to Love About Love Stories (To Die For)?
Goth Chick News: What's Not to Love About Love Stories (To Die For)?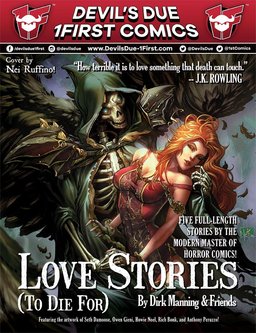 If you've hung around Goth Chick News for a while, then you know the special place I hold in my little black heart for the master of horror comics, Dirk Manning.
We first introduced you to Mr. Manning way back in 2011, courtesy of his nationwide tour promoting Nightmare World, his horror comic series.
As someone who spent a significant amount of my childhood reading contraband horror stories by flashlight under the covers, Manning's work struck a chord with his vintage-look illustrations and old-school storylines.
So it's no surprise that his art is displayed prominently on the bookshelves in the underground offices of Goth Chick News. Nor is it probably a shocker that due to his genre of choice (not to mention the black top hat), he's become a personal favorite as well.
So when I had a chance to hug my goth-boy honey at this year's Chicago Comic Con, he was anxious to tell me (us) about his latest venture.
Several years ago Manning published an online series of five 22-page full-length stories, each a different genre, each illustrated by a different artist or art team, and each one revolving around the combined themes of love and death.
That series was called Love Stories (To Die For) and according to Manning it remains one of his proudest moments as a writer.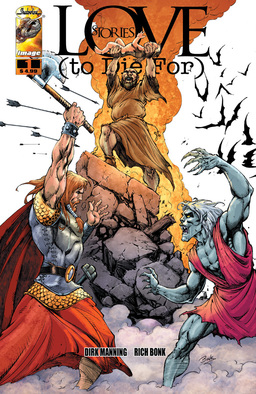 Two of the five stories were eventually released in a now long out-of-print one-shot from Image Comics, but today Manning is very pleased (though it's hard to tell behind that scarf) to announce that at long last, all five stories will be seeing print in one fantastic TPB collection via Devil's Due/1First Comics Publishing.
Manning explains:
What you'll see in this book is a story of three doomed astronauts stuck on an alien infested spaceship with an escape pod that will only hold two passengers; a professional wrestler who agrees to try and kill his mentor in the ring on live television in order to get the money needed save his son's life; an overly possessive and protective guardian angel; vampires versus Vikings; and a full blown zombie apocalypse story that I kept buried for years due to the meteoric rise of The Walking Dead.
Sweet.
You can get an early peek at Love Stories (To Die For) here, while you wait for your pre-order from your local comic shop. And Dirk tells us we should definitely get a move on,
I bring this up because, point blank, if you don't pre-order it there's no guarantee that your comic shop will be able to get you a copy… and not being able to have it the week it comes out like everyone else would be infinite sadness, right?
Though infinite sadness is part of my personal idiom, I get the point.
Love Stories (To Die For) will be available on September 16th and follow the continuing adventures of Dirk Manning on his personal web site, www.dirkmanning.com.