Results of a Writing Retreat in Tangier, Morocco
Results of a Writing Retreat in Tangier, Morocco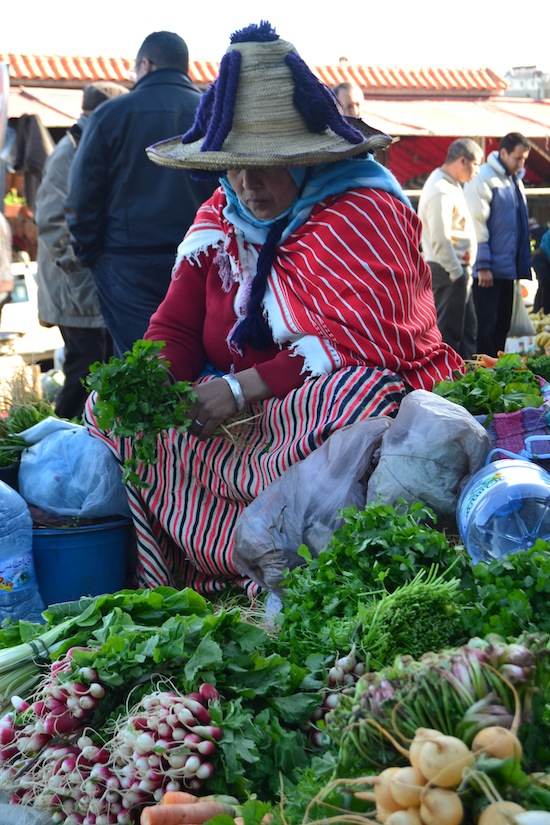 My local produce seller, a farmer from one of the villages in the Rif
When the writing gets tough, the tough writers go to Tangier…
One of the advantages of living in Europe is that you have North Africa right at your doorstep. Sadly that region, with all its diverse cultures and beautiful landscape and ancient sites, has largely become a no-go area. Algeria and Libya are war zones and Tunisia and Egypt are highly unstable as well. That leaves Morocco, a safe and stable country that's drawn me back several times to use as a writing retreat.
As I mentioned in a previous post about Living in a Moroccan Medina, I regularly go to the northern port of Tangier to get away from email and editors and take some time to do some serious writing. Not only does the city resonate with literary giants of the past like Paul Bowles, William S. Burroughs, and Mohamed Chukri, it also provides inspiration in the form of a large traditional medina, fine views over the Strait of Gibraltar, and a growing arts scene.
So what does a Canadian writer living in Madrid work on when he's in Morocco? Read on. . .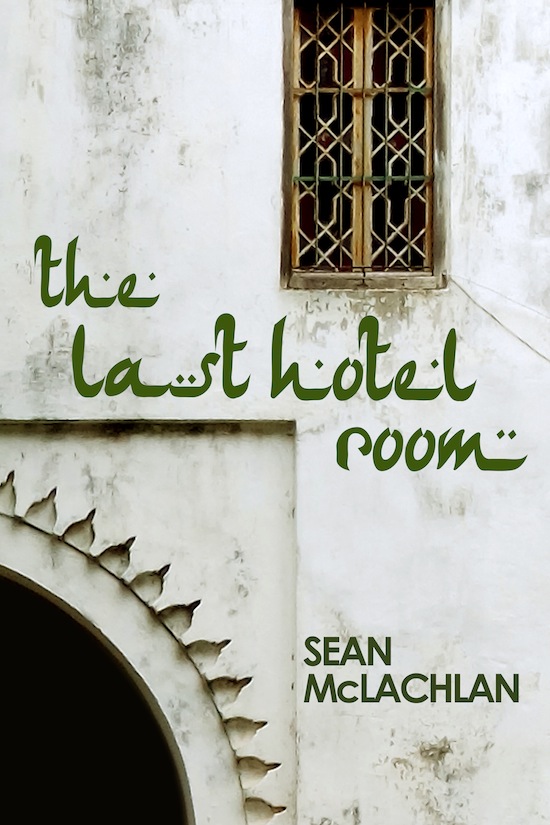 The main project for the past year has been my novel The Last Hotel Room, which follows the adventures of a bankrupt and suicidal American who ends up in a flophouse in Tangier, taking too many drugs and hustling tourists to survive. That all changes when he meets a Syrian refugee boy he wants to save from the streets.
The book is up for nomination on the Kindle Scout program, an Amazon popularity contest where writers put up their books for nomination and those that get the most votes are considered for an ebook contract. If it wins, the people who voted for it get a free copy and $500 of my advance will go to a charity for refugees. So far The Last Hotel Room has garnered some nominations but hasn't become "Hot and Trending," which is what Zonzilla is really looking for. Actually I've never been hot and trending, which is maybe why I'm still an unknown writer anonymously scribbling away in North African cities.
One of the ways I make a living is through ghostwriting. Currently I'm ghostwriting a series of adventure novels. Contractual obligations keep me from saying any more about the project (I have to be an unobtrusive ghost) but I've arranged it so the protagonists end up in Morocco. Why not? Being immersed in the culture and its sights, smells, and sounds enriches my text. In several passages in The Last Hotel Room and the ghostwritten novels, the background to the action is actually taken from street scenes I've witnessed in Morocco. You don't have to be in a place to write about it, but it sure helps.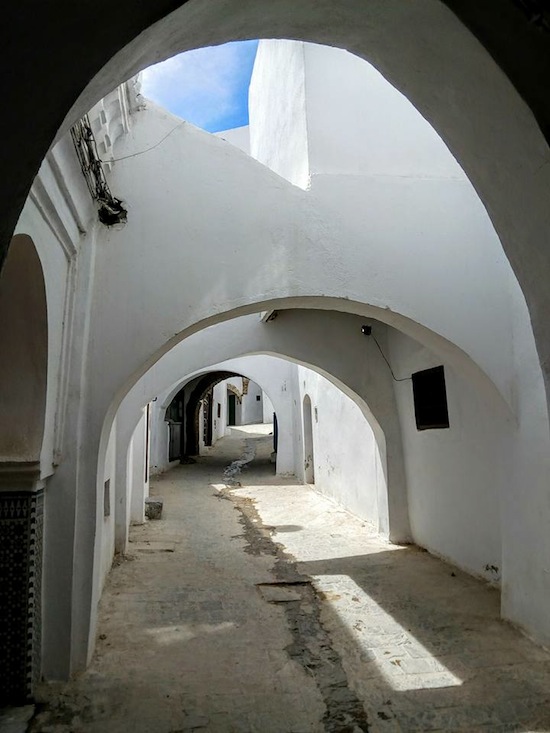 A back street in the medina of Tetouan, an easy day trip from Tangier
On this most recent trip I also started a new novel, Warpath into Sonora, a Western from the Apache point of view about a band of young warriors seeking vengeance against one of the professional scalp hunters that operated out of Mexico in the 19th century. The provincial governments of Sonora and Chihuahua offered bounties for Apache scalps — 100 pesos for a warrior's scalp, 50 pesos for woman's, and 25 pesos for a child's. At the time, a peso was worth roughly the same as an American dollar so hunting Apaches became akin to a gold rush. The Apache have always maintained that they never scalped enemies until the Mexicans started doing it to them, an assertion supported by many texts from the period, and the well-known Apache aversion to handling dead people or being in places where people have been killed.
The idea for this story sprung from my work on Apache Warrior vs US Cavalryman, a military history book for Osprey Publishing that's coming out in August. It provides a soldier's eye view of the Apache Wars from both sides. Osprey books are fairly compact, and I was left with a huge amount of material that couldn't fit in. It was then that I realized that I had researched a historical novel, and now all I needed to do was come up with characters and a plot.
So how do I cast my mind back to 19th century Mexico while writing in 21st century Morocco? Don't the minarets and markets make it hard for me to imagine cacti and isolated pueblos? They do, so I have my desk facing a blank wall!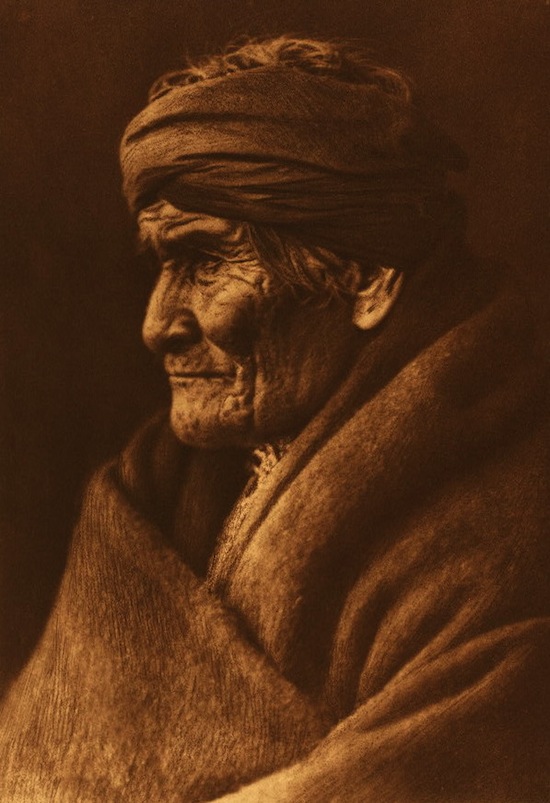 Portrait of Geronimo from the famous Western photographer Edward Curtis. The Apache leader
actually met some Moroccans when he attended the 1904 World's Fair. In his account of the fair,
he mentions some Moroccan swordsmen who entertained the crowd: "In one of the shows some
strange men with red caps had some peculiar swords, and they seemed to want to fight. Finally
their manager told them they might fight each other. They tried to hit each other over the
head with these swords, and I expected both to be wounded or perhaps killed, but neither one
was harmed. They would be hard people to kill in a hand-to-hand fight."
A well-meaning member of one of my online writing groups told me I shouldn't write this novel. Westerns, you see, aren't trendy, and she was afraid the book wouldn't sell. Perhaps, but I think it's fatal for a writer to constantly worry about what's trendy and what's not, because chasing existing trends means you're already late to the game and predicting future trends is pretty much impossible. Five years ago who would have imagined dinosaur porn would become a thing? I'm still having a hard time imagining it.
So I powered on into the novel, averaging 4,000 words a day between it and the ghostwriting. That sounds like a lot, but not having anything else I had to do meant that I actually wasn't working all that hard. Midway through my stay I got a fun break when my wife and ten-year-old son came down. This is my son's second trip to Morocco. I want to raise him aware that there's a world beyond the Western European bubble. He had a great time, feeling a lot more comfortable then his rather overwhelming first trip. He even ended up playing video games with the son of a friend, communicating with him in French and running off to the local cafe to watch the Ultra Hercules football match against Marrakech. Now he's bugging me to take him back.
So even if my novel doesn't get nominated for an Amazon contract, my ghostwriting client decides the characters should leave Morocco and go to New Jersey, and Westerns are never trendy again, at least my kid will grow up being familiar with North Africa.
---
Sean McLachlan is the author of the historical fantasy novel A Fine Likeness, set in Civil War Missouri, and several other titles, including his post-apocalyptic series Toxic World that starts with the novel Radio Hope. His historical fantasy novella The Quintessence of Absence, was published by Black Gate. Find out more about him on his blog and Amazon author's page.