Otto Binder on H.P. Lovecraft and Robert E. Howard
Otto Binder on H.P. Lovecraft and Robert E. Howard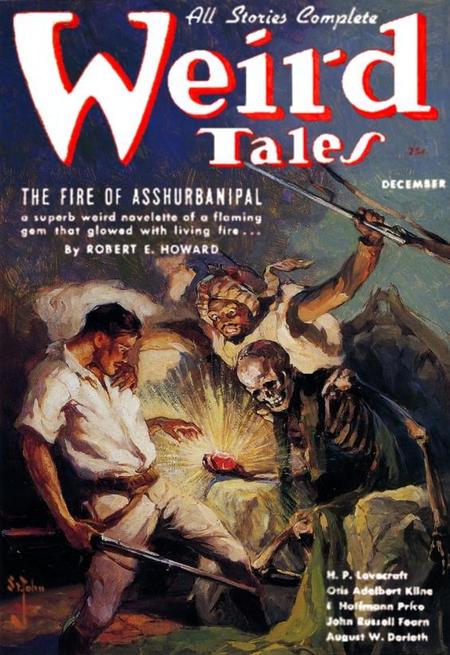 In late December 1935, science fiction author Otto Binder moved from Chicago to NYC to represent Otis Adelbert Kline's literary agency. Among the authors he represented for Kline's agency was Robert E. Howard. Binder had been to NYC previously, in late June and early July 1935, with his friends Clifford Kornoelje (better known in SF circles as Jack Darrow) and Bill Dellenback.
As I've mentioned before, back in 2001 I bought a few boxes of correspondence from Darrow's estate, including dozens of letters that Binder had written to Darrow over the course of many decades. In going through them last month, I pulled this one and thought I'd post it today.
Once in NYC, Otto quickly resumed his friendships with Mort Weisinger and Charles Hornig, and rapidly met more figures involved in the local science fiction community. Less than two weeks after he'd arrived, he was invited to a gathering at Frank Belknap Long's place, which was held on Friday, January 3, 1936. Binder and Long were fellow Weird Tales authors, with Binder and his brother, Earl, having sold WT some stories under their Eando Binder penname.
Among the others at the party were Donald and Howard Wandrei, Kenneth Sterling and, most interestingly of all, H.P. Lovecraft. Lovecraft impressed Binder greatly, as he relates in this letter to Darrow dated January 12, 1936. That would have been some gathering to attend!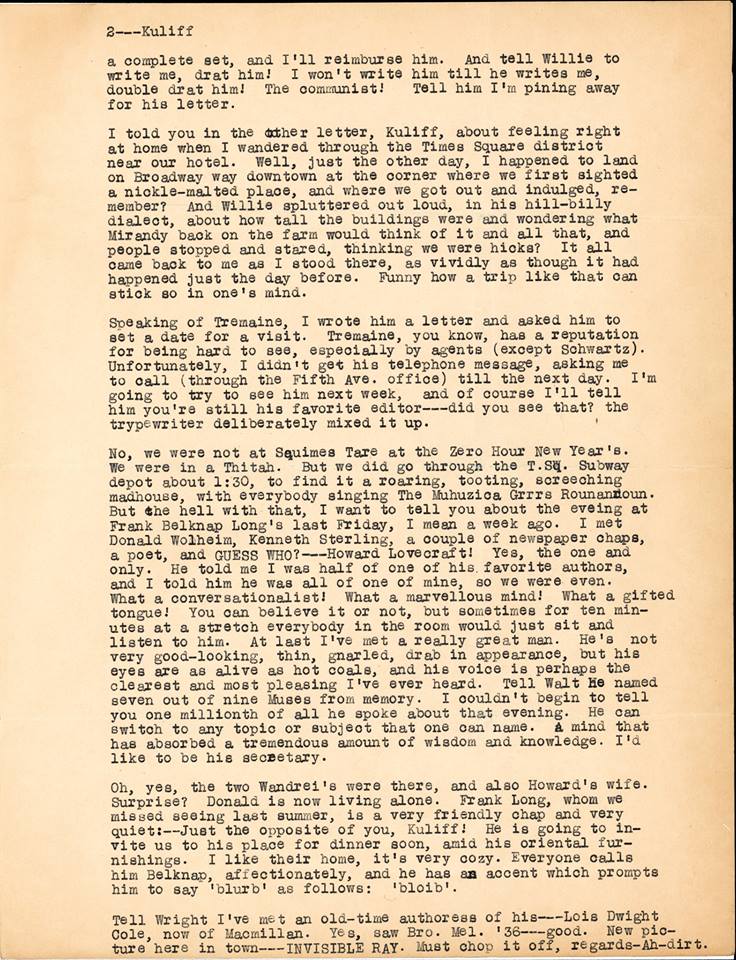 Below I'm posting two letters in which Binder discusses another great Weird Tales author, Robert E. Howard. In 1936, Binder was in NYC, representing Otis Adelbert Kline's literary agency. REH was a big client of theirs. In the first letter, dated June 7, 1936, from Binder to his brother, Earl (courtesy of Brian Cremins), Binder discusses REH's sales — and notes a personal habit of Howard's that I was unaware of!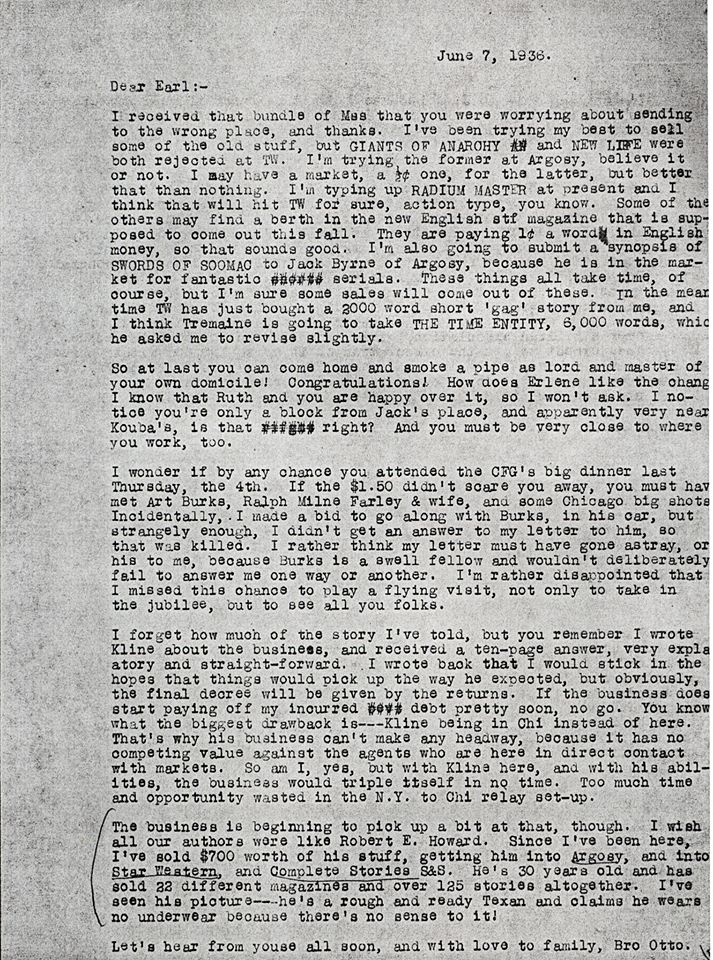 In this letter, dated three weeks later, June 28, 1936, Binder writes to Jack Darrow and discusses Howard's suicide.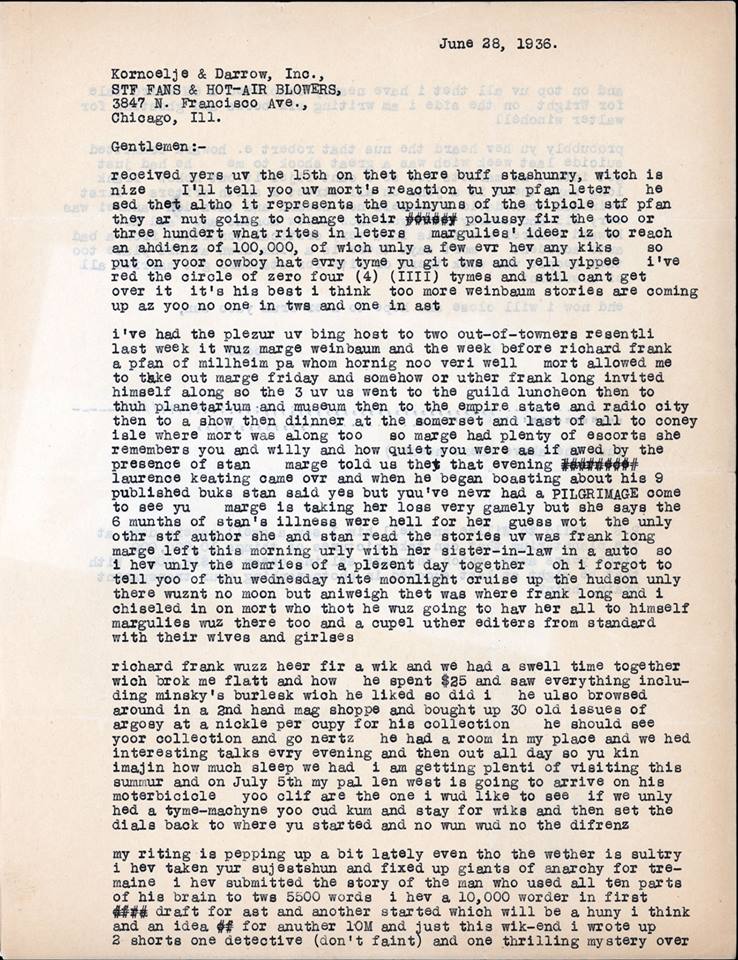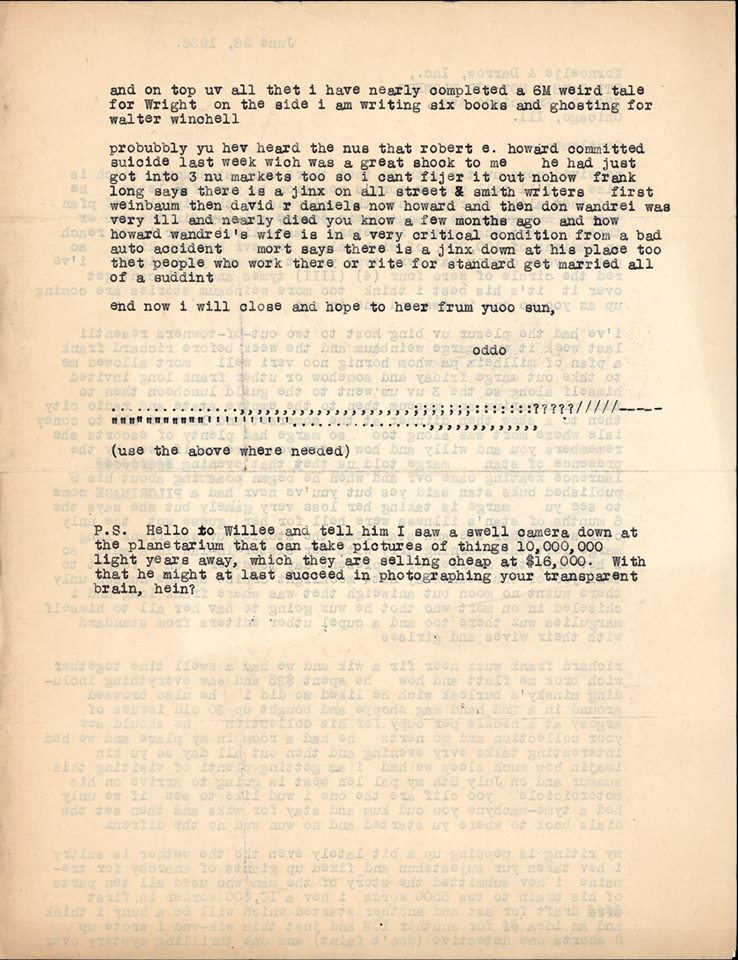 See the previous posts in this series:
Hubert Rogers' Astounding Covers — And His Fascinating Correspondence with Robert A. Heinlein and L. Sprague de Camp
Can You Help Date This John W. Campbell Pic?
The Great Pulp Gathering: That Time Jack Williamson, L. Sprague de Camp, Frank Belknap Long, Edmond Hamilton, John W. Campbell, Manly Wade Wellman, Otis Adelbert Kline and others met at Mort Weisinger's House in 1937
Jack Binder and the Early Chicago SF Fan Club
Otto Binder on John W. Campbell
---
Doug is a collector of pulps, as well as of pulp, science fiction and fantasy art. He co-founded and co-organizes the Windy City Pulp and Paper Convention. For many years his Tattered Pages Press published the pulp fanzine Pulp Vault, as well as other books on the pulps. He was one of the authors of The Adventure House Guide to Pulps, and has edited several pulp anthologies, including the Best of Adventure series. His book, Uncovered: The Hidden Art Of The Girlie Pulps, an in-depth study of the spicy pulps and their art, was named ForeWord Magazine's 2003 Popular Culture Book of the Year. In 2013, Bob Weinberg, Bob Garcia and he collaborated on The Collectors' Book of Virgil Finlay, a collection of Finlay's gorgeous art.