Otto Binder on John W. Campbell
Otto Binder on John W. Campbell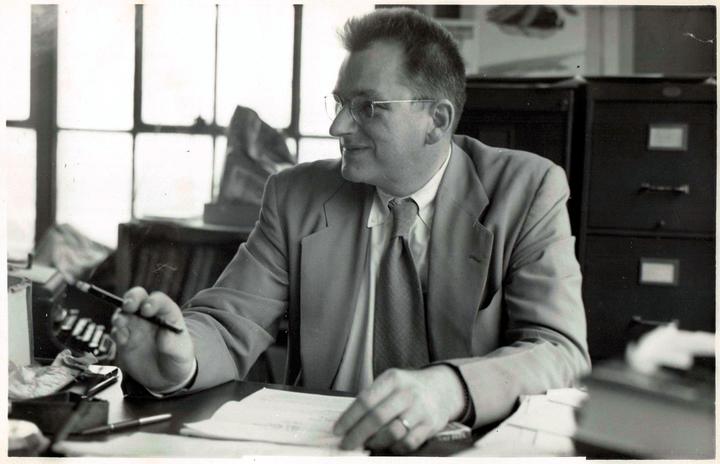 John W. Campbell (photo by Astounding cover artist Hubert Rogers)
Back to Otto Binder letters today. This one, from Binder to his friend, Jack Darrow, dated May 23, 1937, was written just before Binder was cut loose from Otis Adelbert Kline's literary agency, which happened on June 1 of that year. As a result of his job upheaval, Binder spent some time, unsuccessfully, trying to land a gig as an editor (and a few years later interviewed with Ziff-Davis re: the Amazing Stories opening before it was given to Ray Palmer).
The letter is primarily of interest due to its discussion of John W. Campbell, a few months before Campbell would become editor of Astounding. It's a shame that no more detailed record of the story telling game played at Binder's house between him, Dr. John Clark, Frank Belknap Long, Campbell and Campbell's wife exists; it would have been fascinating to sit in on this! Binder is clearly a fan of Campbell's fiction (later on, when he found it difficult to sell to him at Astounding, he was not nearly as much a fan of his editing).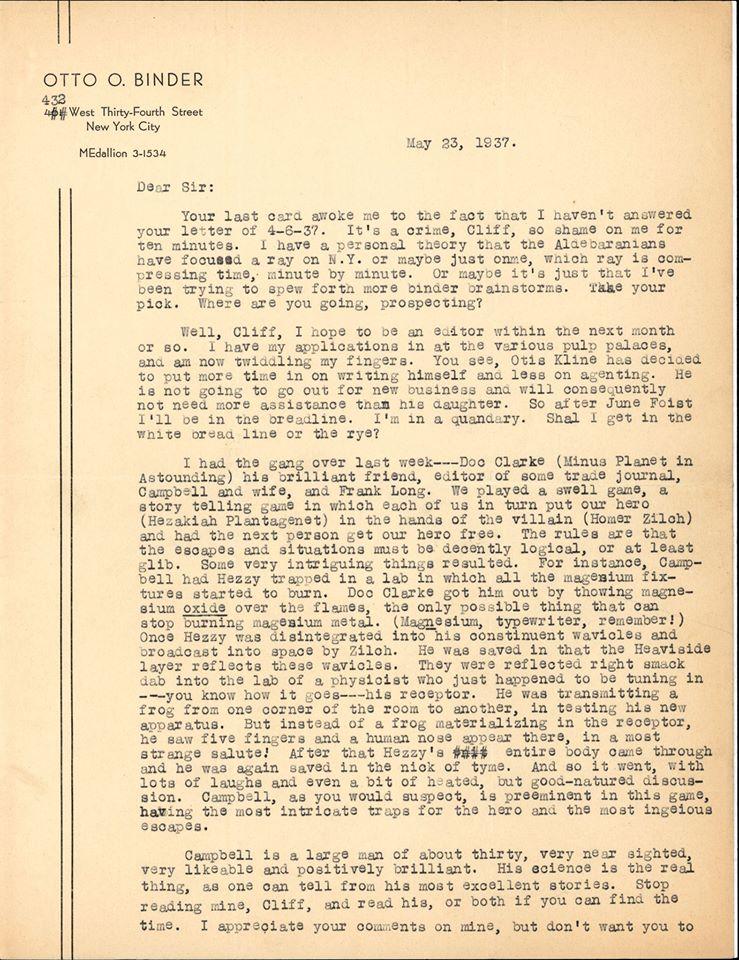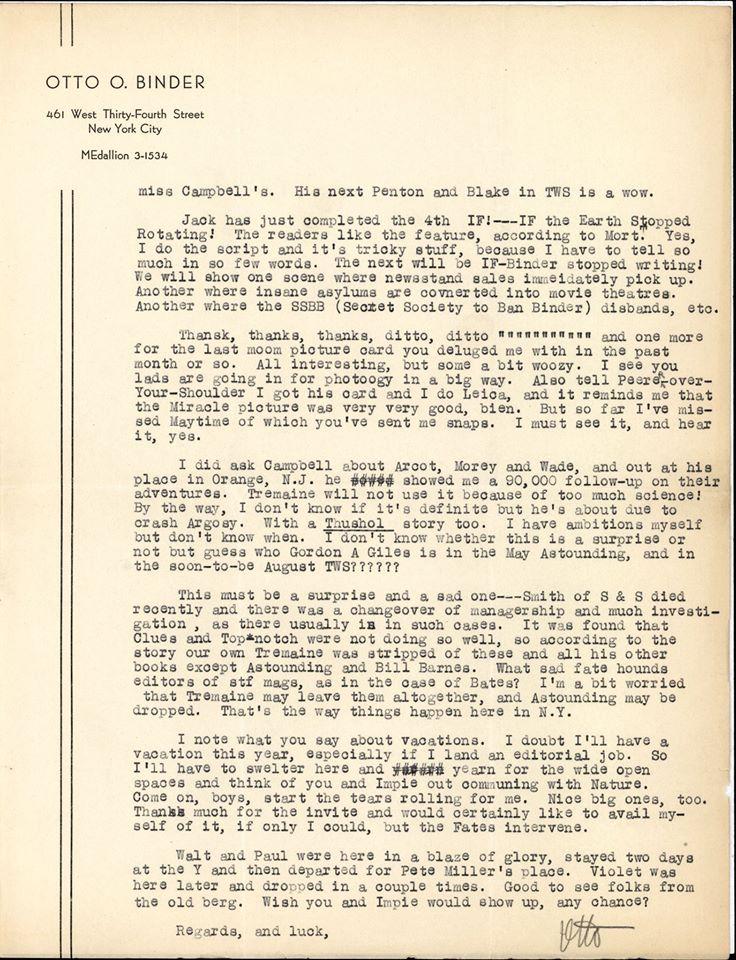 Of note is Binder's mention of a 90,000 word novel that Campbell had written about his heroes Arcot, Morey and Wade, which Tremaine had rejected. I don't believe this was ever published. Campbell's five published stories about this trio (in book form as The Black Star Passes, Islands of Space and Invaders From the Infinite) were all published in the pulps between 1930 and 1932.
Campbell's book, The Incredible Planet, which featured interlinked stories of Aarn Munro which Tremaine had rejected and which was first published in 1949, doesn't fit the description of this. My guess is that the manuscript is lost to history, but I'd love to see it turn up!
Among other folks mentioned merely by first name, Jack is Otto's brother, Jack Binder, while Walt and Paul are Walt Dennis and Paul McDermott, who were active in fandom in the 1930's.
See the previous posts in this series here:
Hubert Rogers' Astounding Covers — And His Fascinating Correspondence with Robert A. Heinlein and L. Sprague de Camp
Can You Help Date This John W. Campbell Pic?
Tracking Down Frank Kelly Freas' Planet Stories Cover for "The Ambassadors of Flesh"
The Great Pulp Gathering: That Time Jack Williamson, L. Sprague de Camp, Frank Belknap Long, Edmond Hamilton, John W. Campbell, Manly Wade Wellman, Otis Adelbert Kline and others met at Mort Weisinger's House in 1937
Jack Binder and the Early Chicago SF Fan Club
---
Doug is a collector of pulps, as well as of pulp, science fiction and fantasy art. He co-founded and co-organizes the Windy City Pulp and Paper Convention. For many years his Tattered Pages Press published the pulp fanzine Pulp Vault, as well as other books on the pulps. He was one of the authors of The Adventure House Guide to Pulps, and has edited several pulp anthologies, including the Best of Adventure series. His book, Uncovered: The Hidden Art Of The Girlie Pulps, an in-depth study of the spicy pulps and their art, was named ForeWord Magazine's 2003 Popular Culture Book of the Year. In 2013, Bob Weinberg, Bob Garcia and he collaborated on The Collectors' Book of Virgil Finlay, a collection of Finlay's gorgeous art.