Future Treasures: Asteroid Made of Dragons by G. Derek Adams
Future Treasures: Asteroid Made of Dragons by G. Derek Adams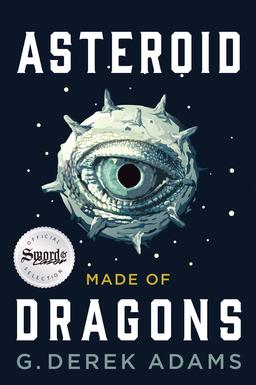 I love the small press — that's where a lot of the most creative and innovative work is being done today — but you do have to dig a bit to find the really good stuff. So when do you make of a small press, Kickstarter-funded fantasy novel that gets a write-up like this in Publisher's Weekly?
An unlikely band of heroes — some of whom are trying to kill one another — must gather together in order to save their world from the return of an ancient menace in an excellent, irreverent mix of sword-and-sorcery fantasy and SF. Adams's flippant tone recalls Terry Pratchett, taking the skewering of tropes down a very dark path as he establishes a fantasy world built from the ashes of a technological one.
That's the kind of notice that makes a guy sit up and pay attention. Asteroid Made of Dragons will be released by Sword & Laser in trade paperback next week. Here's the complete description.
When a lone goblin researcher stumbles across an artifact containing a terrifying message — that the world is in grave and immediate peril — she scrambles to find help. A very unusual asteroid (one constructed as a cage for dragons) is headed straight for the planet, and Xenon is the only person in the world who knows. As she clambers across hill and dale with her quill, journal, and dwindling coin purse to untangle the mystery, she'll need plenty of luck to find the right clues and the right sort of help.

Meanwhile, our heroes have their own problems. They have a bank to rob, a sea to cross, and a kingdom to infiltrate. Luckily, Rime is a wild mage — the laws of reality quiver when she gives them a stern look–and her guardian, Jonas, wields a reasonably sharp sword. But Rime is slipping ever closer to the abyss of madness, and Jonas is wanted for murder at their final port of call. To make matters worse, the mage-killing Hunt and its commander, Linus, follow the duo like a patient shadow, bent on Rime's destruction.

When the wise are underfunded, the brave are overbooked, and the cruel are unconcerned, can the world be saved from destruction?
G. Derek Adams is the author of Spell/Sword and its sequel, The Riddle Box. Asteroid Made of Dragons will be published by Sword & Laser on April 5, 2016. It is 278 pages, priced at $14.99 in trade paperback and $8.99 for the digital edition. The cover was designed by David Drummond.