Read Derek Künsken's Story "Flight From the Ages" in the April/May Asimov's SF
Read Derek Künsken's Story "Flight From the Ages" in the April/May Asimov's SF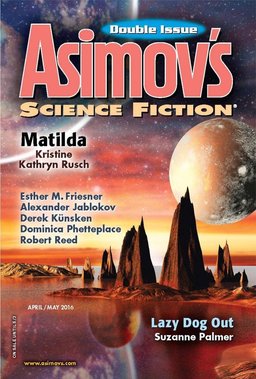 I bought Derek Künsken's story "The Gifts of Li Tzu-Ch'eng" for Black Gate 15; since then he's had a very impressive career, publishing over a dozen short stories in Asimov's, Analog, and other fine places. In 2013 he won the Asimov's SF Readers' Award for his story "The Way of the Needle," and "Persephone Descending," his cover story for the November 2014 Analog, placed #2 in the 2014 Analog Readers' Award for Best Novelette.
His latest story, "Flight From the Ages," appears in the April/May issue of Asimov's Science Fiction, now on sale at fine bookstores everywhere. It's the far-future tale of the artificial intelligence Ulixes-316, sole occupant of the customs and tariff ship The Derivatives Market. Here's a taste.
Ulixes emerged into a sepulchral rubble of asteroids, hard planetesimals, and shriveled, radioactive gas giants. This was the wreck of the Tirhene system, seen half an AU from the streams of dark lithium and carbon in the highest clouds of the red dwarf. This wasteland of planetary debris had been left by the long-ago Kolkheti-Sauronati War…

Another customs and tariff ship in the Tirhene system signaled with an encrypted Bank code. Poluphemos-156. Ulixes acknowledged the signal and they proceeded sunward…

"You're lit up with tachyons," Ulixes transmitted.

"It's new corporate tech," Poluphemos replied. "I'm in direct contact with the bank headquarters."

"What? Why wasn't I told?"

"It's need-to-know," Poluphemos said. "Now you need to know."
I like the subtle call-outs to the tale of Ulysses and Polyphemus. Derek is a regular Saturday blogger for Black Gate; his recent articles for us include his interview with Ken Liu, and "On Becoming a Full-Time Writer."
We'll cover the rest of this issue of Asimov's as part of our regular magazine coverage. See all our latest magazine news here.