Derek Künsken wins 2012 Asimov's SF Readers' Award
Derek Künsken wins 2012 Asimov's SF Readers' Award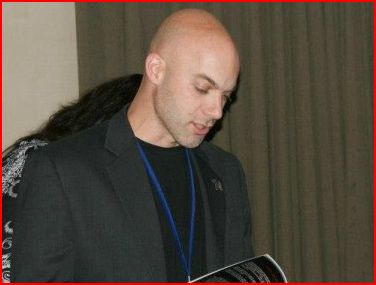 I flipped open the October/November issue of Asimov's SF this afternoon and the first words to catch my eye were from Sheila Williams's editorial, on the 27th Annual Readers' Award Results. They were:
Much praise was lavished on relatively new writer, Derek Künsken. Richard Harding spoke for many when he wrote, "the most striking story I read was 'The Way of the Needle.' Wonderful imagination combined with ethics and striving. Thank you very much.
I missed the original announcement on Derek's blog back in May, so I'm glad I caught it in print.
Congratulations to Derek! We were proud to publish his popular story, "The Gifts of Li Tzu-Ch'eng," in Black Gate 15 (and not just because Derek is a fellow Ottawa native). Sherwood Smith's SF Site review of the story said, in part:
Though he is famous in both history and legend, what finally happened to the warlord Li Tzu-Ch'eng is not known. A possible path is hinted at in this tale, which begins when Li is approached by a woman, Nü Wa, who claims to be a messenger of Heaven. She offers Li four gifts. When the reader discovers that Li may only use three of the gifts — the fourth will be used against him — and one of the gifts is love, it's clear that this will not be a straightforward tale of swords and war…
Other winners this year include Joe Haldeman (Best Poem), Robert Reed (Best Novella, for "Murder Born"), and Sandra McDonald and Megan Arkenberg, who tied for Best Short Story (for "Sexy Robot Mom" and "Final Exam," respectively.)
Artist Laura Diehl won for Best Cover for the December 2012 issue, which you can see here. Congratulations to all the winners!