December Asimov's Science Fiction Now on Sale
December Asimov's Science Fiction Now on Sale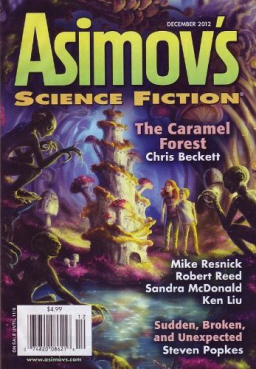 Okay, technically, it's probably no longer on sale. And we usually don't cover Asimov's anyway, since it's chiefly science fiction in content. But as I was putting this issue away, I was so struck by the moody and beautiful cover by Laura Diehl, illustrating Chris Beckett's fairy-tale inspired "The Caramel Forest," that I decided to make an exception and feature it here. So sue me.
I can't just feature the cover, though, as that would be kinda weird, and make for a very short article. So I typed up the contents of the entire issue. You're welcome.
NOVELLA
"Sudden, Broken and Unexpected" — Steven Popkes
NOVELETTE
SHORT STORIES
"The Caramel Forest" — Chris Beckett
"The Wizard of West 34th Street" — Mike Resnick
"The Black Feminist's Guide to Science Fiction Film Editing" — Sandra McDonald
"The Pipes of Pan" — Robert Reed
There's also poetry by Bruce Boston, Karin L. Frank, and Robert Frazier, and the usual features, including "Merry Armageddon," an editorial by Sheila Williams; a Reflections column by Robert Silverberg; book reviews by Peter Heck; and the SF Convention Calendar by Erwin S. Strauss.
Louis West at Tangent Online takes a look at the contents of this issue, including the cover story:
"The Caramel Forest," by Chris Beckett, traces Cassie's struggles to come to terms with her new, alien homeworld and its seemingly mindless indigenous creatures that speak in her mind. These "goblins" frighten the adults, and many settlers kill them without compunction. But Cassie is true to the old adage that children's minds are more plastic, more flexible at comprehending new concepts…
He seems much more taken with "Sudden, Broken, and Unexpected" by Steven Popkes:
This story is densely packed with intricate plots and character conflict. It's liberally sprinkled with details about music theory, computer architecture, behavioral theory, plus debates about what constitutes creative artistry and independent consciousness… Jacob, an exceptional but burnt-out musician, rails at his continued infatuation with Rose, especially when she shows up after a 12 year absence to offer him new work. Except his client is Dot, a divaloid, an electronic construct who is also a world-class rock star, facts that Jacob finds impossible to reconcile. But working together with Rose and Dot changes everything, and everybody, in ways Jacob could never have imagined. A brilliant piece. The genius of the author's musical experience effortlessly channels through Jacob, and the increasingly emotion-laden interaction between Jacob and Dot sometimes gets very intense. A must read.
Read the complete review here.
Asimov's SF is edited by Sheila Williams, and published ten times a year. Issues are 112 pages for $4.99 (more for double issues). See the complete details of the latest issue at the Asimov's website.
We last covered Asimov's Science Fiction, believe it or not, with the June 1984 issue. That's a little out of sequence, even for us. We'll do better, we promise.