Carrie Vaughn Steals the Show
Carrie Vaughn Steals the Show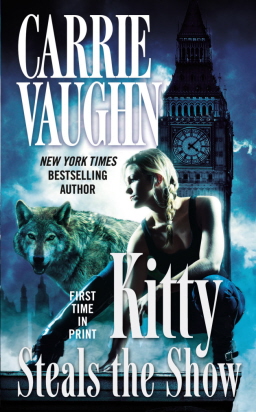 I was reviewing science fiction magazines for SF Site when I first encountered Carrie Vaughn. It was in the Fall 1999 issue of Patrick Swenson's Talebones, one of the best of the small-press magazines, that I read her story "The Girl With the Pre-Raphaelite Hair," which I noted in my review "delivers a wallop… A tightly-written tale with a powerful ending."
Not bad for her first science fiction story. Carrie published more than 50 over the next decade, carving out a name for herself. But it was her debut novel, Kitty and the Midnight Hour (2005), that truly catapulted her to stardom. Featuring late-night DJ (and secret werewolf) Kitty Norville — who hosts a Denver talk show about Werewolves, Vampires, and other supernatural creatures — the book was an instant success. The fourth in the series, Kitty and the Silver Bullet (2008), hit The New York Times Best Seller list, and she's repeated that impressive feat with at least four subsequent volumes.
This industry is hard on new writers, and over the last ten years I've seen it defeat more than a few talented authors. So it's a genuine pleasure to watch someone climb to the very top of the field, from her first short story to the tenth volume of her bestselling series, on nothing more than hard work and talent. If you haven't tried Carrie Vaughn yet, her latest effort, Kitty Steals the Show, makes a good jumping-on point:
Kitty has been tapped as the keynote speaker for the First International Conference on Paranatural Studies, taking place in London. The conference brings together scientists, activists, protestors, and supernatural beings from all over the world — and Kitty, Ben, and Cormac are right in the middle of it.

Master vampires from dozens of cities have also gathered in London for a conference of their own. With the help of the Master of London, Kitty gets more of a glimpse into the Long Game — a power struggle among vampires that has been going on for centuries — than she ever has before. In her search for answers, Kitty has the help of some old allies, and meets some new ones, such as Caleb, the alpha werewolf of the British Isles. The conference has also attracted some old enemies, who've set their sights on her and her friends.

All the world's a stage, and Kitty's just stepped into the spotlight.
Kitty Steals the Show was published on July 31 by Tor Books. It is 342 pages, priced at $7.99 for both the digital version and the mass market paperback.