September/October Magazine of Fantasy & Science Fiction now on Sale
September/October Magazine of Fantasy & Science Fiction now on Sale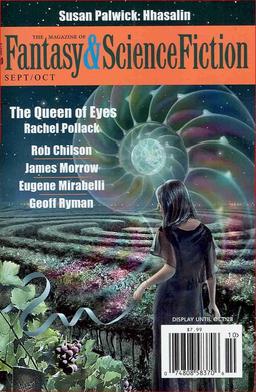 Okay, technically it's been on sale for over a month, but I just bought my copy last week. Good thing this is a bi-monthly magazine or I'd be hunting up back issues on eBay.
The striking cover this issue is by David A. Hardy for Eugene Mirabelli's short story, "The Shore at the End of the World." Chuck Rothman doesn't mention it in his Tangent Online review, but he does praise contributions from Rachel Pollack and Oliver Buckram:
Rachel Pollack contributes a first-class fantasy in "The Queen of Eyes," a story of Jack Shade, one of the Traveler's Aid Society – which, despite its mundane name, deals with supernatural events. He's something of a detective, and when a woman comes to him to report her mother is missing, he quickly realizes her mother is the Queen of Eyes, with the ability to see everything at once, and a major power in the world. The story describes Jack's search for her. It's filled with imaginative details and characters, treachery and mystery and is spellbinding from start to finish.

We next move to the purest space opera in "Un Opera Nello Spazio" – yes, an actual opera . It's a synopsis of an opera set on a spaceship, where Orlando the orangutan longs for Flora, a human. Arias are mentioned (I was especially tickled by Allarme Ross! (Red Alert). This is the type of story that is either a tour de force or which fails utterly, but Oliver Buckram avoids the potential pitfalls to create an entertaining diversion.
Albert E. Cowdrey returns after a long absence (one issue — but that's a long absence for Cowdrey, who hasn't missed being in the Table of Contents of F&SF for two years.) Here's the complete Table of Contents.
NOVELLAS
"The Queen of Eyes" – Rachel Pollack
NOVELETS
"Hhasalin" – Susan Palwick
"The Collectors" – Albert E. Cowdrey
"Bemused" – Marc Laidlaw
SHORT STORIES
"Myphone20" – Robert Grossbach
"Un Opera Nello Spazio" – Oliver Buckram
"The Shore at the Edge of the World" – Eugene Mirabelli
"Affirmative Auction" – James Morrow
"After the Funeral" – Daniel Marcus
"The Game Room" – KJ Kabza
"Rosary and Goldenstar" – Geoff Ryman
"Half as Old as Time" – Rob Chilson
Departments this issue include book columns by Charles de Lint and Michelle West, a film column by Lucius Shepard ("Beam Me Up, J.J."), Coming Attractions, and a Curiosities entry by Douglas A. Anderson.
The Magazine of Fantasy and Science Fiction is edited by Gordon van Gelder. The cover price is $7.99 for a thick 258 pages. Check out the complete TOC and additional free content at the F&SF website.
We last covered F&SF here with the July/August issue.