New Treasures: Transcendental and Transgalactic by James Gunn
New Treasures: Transcendental and Transgalactic by James Gunn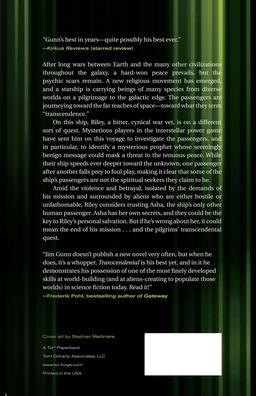 I'm always on the lookout for a good adventure SF series, and James Gunn's pair of connected novels, Transcendental and Transgalactic, definitely look like they fit the bill. The books follow the adventures of Riley, a burned out war vet, and Asha, a woman on a pilgrimage to the Galactic Edge, as they investigate a mysterious alien prophet at the head of a new religious movement — and deal with the strange powers their investigation eventually gives them.
Transcendental was published by Tor in 2013, and is now available in trade paperback (see the back cover at right; click for bigger version.) Transgalactic was released in March in hardcover; here's the description.
When Riley and Asha finally reached the planet Terminal and found the Transcendental Machine, a matter transmission device built by an ancient race, they chose to be "translated." Now in possession of intellectual and physical powers that set them above human limitations, the machine has transported them to two, separate, unknown planets among a possibility of billions.

Riley and Asha know that together they can change the galaxy, so they attempt to do the impossible — find each other.
Transcendental was published by Tor on August 27, 2013. It is $25.99 in hardcover, $15.99 in trade paperback, and $9.99 for the digital edition. The cover is Stephan Martiniere.
Transgalactic was published by Tor on March 22, 2016. It is $26.99 in hardcover, and $12.99 for the digital edition. The cover is by Thom Tenery.