Goth Chick News: The Chicago Comic and Entertainment Expo (C2E2 For You Cool Kids)
Goth Chick News: The Chicago Comic and Entertainment Expo (C2E2 For You Cool Kids)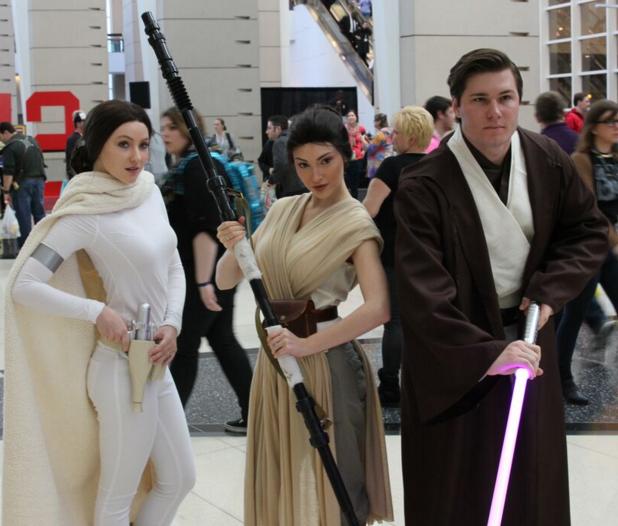 Ah, March in the Windy City.
The snow is (mostly) gone, the grass isn't really grass but mud mixed with the lovely remnants of road salt and temperatures have snuck just high enough to wear spandex without fear of frostbite; which can only mean one thing.
It's C2E2 time in Chicago.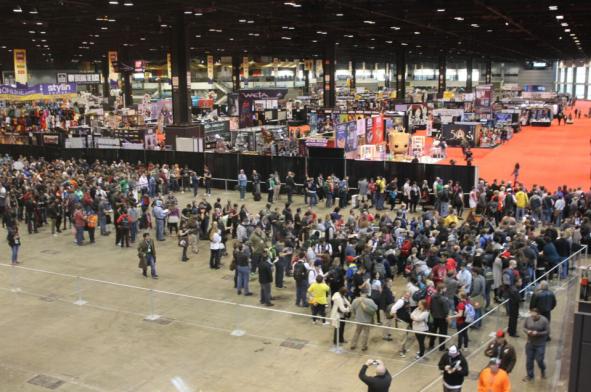 Friday attendees waiting to get in
The Chicago Comic & Entertainment Expo is a Chicago fan convention dedicated to comics, pop culture, graphic novels, anime, manga, video games, toys, movies, and television – but most importantly – Cosplay. Celebrating its seventh anniversary in our fair city, this year's event held March 18-20, broke all past attendance records, topping an estimated 80,000 guests over its three-day schedule.
Black Gate photog Chris Z and I waded into the 2016 bacchanalia with two distinct differences from the previous six years. First, we both took off time from our day jobs to attend on Friday and second, we were both on a comic book mission to obtain the recently released Marvel Haunted Mansion #1.
The benefits of attending C2E2 on opening day were immediately evident. The crowds, though substantial, were not the oppressive pressing of flesh against non-breathable fabrics that is a Saturday or Sunday. And though we wondered what these thousands of people did for a living, it was clearly lucrative as the quality of costumes on the hard-core Friday cosplayers was a wonder to behold.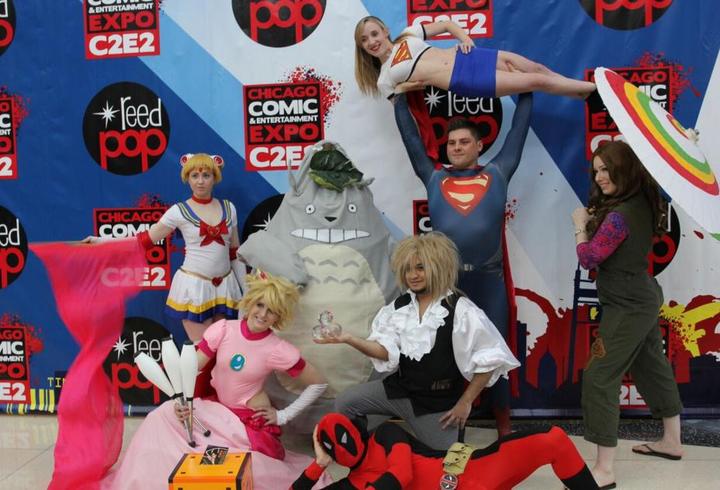 Chicago's McCormick Convention Center is the largest venue in town and C2E2 consumed half of it, so to describe everything we witnessed, or tried to, would be impossible. Yes, we were once again denied entry to the speed dating event, but you can't blame us for trying.
Still, here is a sampling of the coolest things we saw…
Weta Workshop is a multi-award winning design studio and physical manufacturing facility servicing the world's entertainment and creative industries. Although best known for the company's design and effects work on award-winning film projects, including The Lord of the Rings Trilogy, King Kong, The Chronicles of Narnia and Avatar, Weta Workshop now has a creative portfolio that spans a large number of other blockbuster movies and gaming properties including The Amazing Spider-Man 2, Godzilla and DOTA 2.
Their booth contained an impressive collection of armor from LotR and if you check out their website you'll find a treasure trove of interesting Hollywood special-effect info.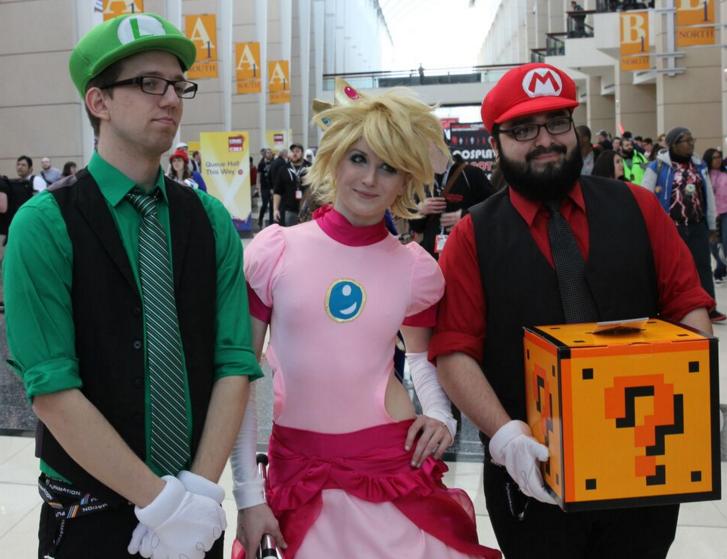 My besties at Quirk never fail to hook me up with the coolest of the odd in new literature, which is saying quite a lot. So it was with intense excitement that I collected three new titles they had been saving behind the booth, just for me.
My Best Friend's Exorcism and Horrorstor both by Grady Hendrix, and Last Call at the Nightshade Lounge by Paul Krueger will all be featured in upcoming GCN reviews.
There's nothing better than a publisher who "gets you."
Vamplets: The Nightmare Nursery
Millions of children across the world love and cherish their collection of plush, plastic ponies and pets created by famed Hasbro toy designer Gayle Middleton. Her designs have transformed Littlest Pet Shop and My Little Pony into billion dollar toy brands for the largest toy company in the world. But few realize that the iconic toy designer harbors a secret dark side and I am very pleased to tell you that we found it.
Says Middleton:
After years of designing adorable pets for Hasbro, Disney and others, I started doodling these odd, ghostly white vampire babies drinking undead dragon bottled blood in 2006. Maybe I was suffering from 'Cute Overload' and this was my way of dealing with it. I wanted to create babies that were cute but mischievous, something surprisingly off-center and bizarre. I soon became obsessed. Other breeds of creepy-yet-cute monster babies started appearing on my sketch pad, and after 3 years I had coined a name for them: Vamplets.
Some years later, Middleton took the next step with artist Amanda Coronado and co-author Dave Dwonch to create a comic with a backstory for her dark little creatures and The Vamplets: The Nightmare Nursery was born.
Teenager Destiny Harper is at a crossroads in her life. Graduation is coming and she has zero prospects for the future. Answering an ad for the Night Care Nursery seems like a great idea, until she is magically transported to Gloomvania, where dark creatures lurk in the streets, and the world is being mysteriously overrun by baby vampires called Vamplets! Can Destiny serve her term as governess of the Nightmare Nursery and return home? Fairy tales get a modern update in this coming-of-age tale of monsters, mayhem, and magic.
The Nightmare Nursery is up to book #6 these days and the line of plush toys has expanded. Check out the complete line at Amazon.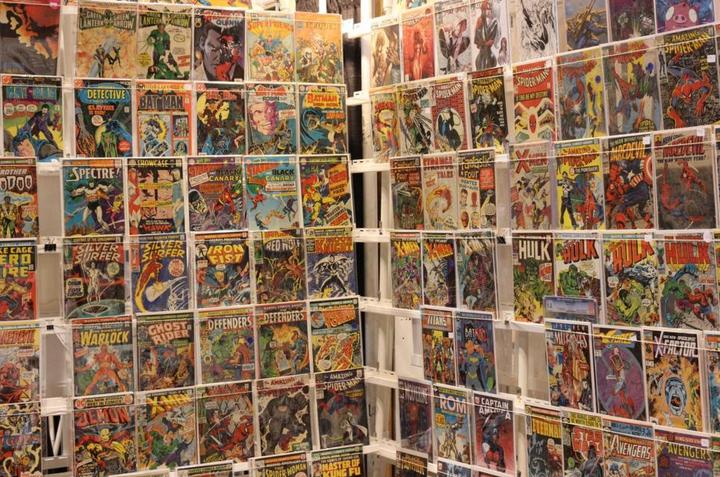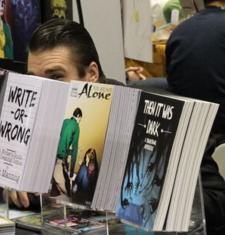 Over the years it has called Chicago home, C2E2 has morphed into a Goth Chick News family reunion of sorts where we have the great pleasure of connecting with wonderful creative friends from the past.
For instance, no comic events would ever be complete without a chat with the enigmatic "Mr. Rhee" himself, author Dirk Manning.
Dirk let us know that 2016 is going to be an exciting year for him which will see several new book releases including Tales of Mr. Rhee Volume 3 in April and our personal favorite, Nightmare World Volume 4 in October. As he has done in the past, these two works will be released via Kickstarter campaigns that will allow you to get deluxe editions of the books before the mass market editions are released through comic shops across the country.
Stay on top of all the news via Dirk's website.
We had a chance to catch up with our favorite Keeper of the Sins, author Chad Bednar to find out when another installment in the saga of the Vatican's favorite vampire, Marcus Victor Amfortas would be available for our reading pleasure. Turns out Chad is up to a couple of tasty projects including one that has something to do with dragons, but we couldn't tease more out of him than that.
Stay tuned, we'll crack him eventually…
I also added to my collection of Drew Blank "horror squares" with an awesome rendition of Ripley from the Aliens franchise. Drew has recently expanded his portfolio with a new series of fake vinyl albums such as "Fozzie Bear: The Waka Album" and "Odinson: Bring the Hammer Down". The insanely cool thing about these is that the covers contain actual vinyl albums.
Everything is available on the talented Mr. Blank's website.
So did we ever score a Marvel Comics The Haunted Mansion #1? You would think that a comic convention hosting roughly three hundred dealers would be the perfect place to do so. But as our day came to a close we had queried 299 of them to find everyone knew of the release but no one had it. Even the crowd of like-shirted minders in the gi-normous Marvel booth could not help us, being consumed as they were with all things super hero but nothing else.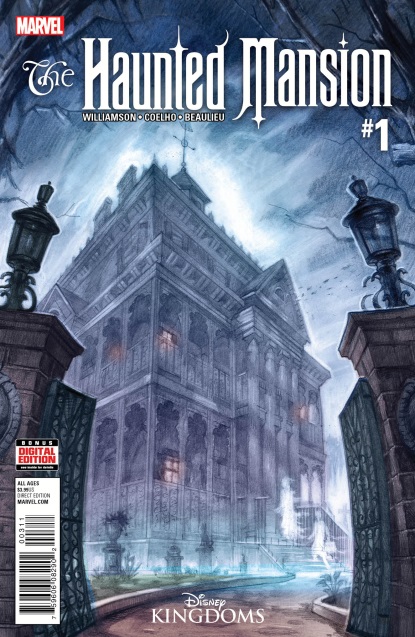 I began to understand, in a small way, the mania that drives attendance to conventions…
It was, of course, in the last comic vendor booth we checked, that we found two copies of the coveted issue which is a good thing, since by this time I'm pretty sure Chris Z and I would have come to blows over a single issue.
And I think we all know how that would have turned out…
Have a question or comment? Post it here or drop a line to sue@blackgate.com