Discovering Robert E. Howard: Howard Andrew Jones and Bill Ward Re-Read "Red Nails"
Discovering Robert E. Howard: Howard Andrew Jones and Bill Ward Re-Read "Red Nails"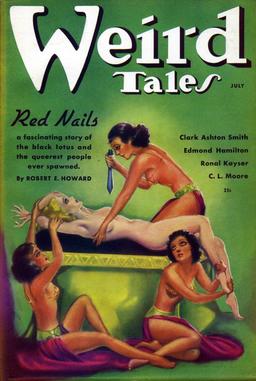 Howard Andrew Jones and Bill Ward wrap up their re-read of The Conquering Sword of Conan by Robert E. Howard with the novella "Red Nails," the last Conan tale REH ever wrote. In a letter to Clark Ashton Smith, Howard said:
Sent a three-part serial to Wright yesterday: "Red Nails," which I devoutly hope he'll like. A Conan yarn, and the grimmest, bloodiest and most merciless story of the series so far. Too much raw meat, maybe, but I merely portrayed what I honestly believe would be the reactions of certain types of people in the situations on which the plot of the story hung…
"Red Nails" was originally serialized in the July, August/September, and October 1936 issues of Weird Tales. Here's Bill and Howard:
Bill: Arguably, the final Conan stories seem to show a bit of a distancing between REH and his creation… I think anyone reading "Red Nails" who has some awareness of REH's life will at some point stop to ponder the question of whether or not he ever intended to return to Hyboria, or if perhaps the Cimmerian himself had run out of stories to dictate at REH's shoulder. Whatever the answer, "Red Nails" does serve as a fitting farewell to the character and world that have become so dear to so many, offering a story of adventure, intrigue, and exoticism…

Howard: [Valeria is] the closest we've come for a long time to seeing someone who is Conan's equal partner… although she's not, really. She IS the most formidable of the women who appear in Robert E. Howard's Conan stories… But what a masterful opening, with Valeria finding the lay of the land, then mystery following upon mystery. The strange skeleton, the lost city, and the exotic environment are all incredibly compelling.
Read the complete exchange here.
Bill and Howard's previous Conan re-reads include:
"The Hyborian Age"
"The Phoenix on the Sword"
"The Tower of the Elephant"
"Queen of the Black Coast"
"Black Colossus"
"Rogues in the House"
"The Devil in Iron"
"The People of the Black Circle"
The Hour of the Dragon
"Beyond the Black River"
"The Black Stranger"
See all of our Conan coverage here.