Grimdark Magazine 6 Now Available
Grimdark Magazine 6 Now Available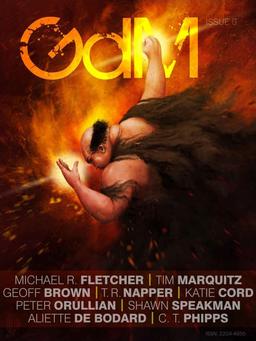 The latest issue of Grimdark, the quarterly magazine of dark fantasy, has brand new fiction from a quartet of hot new fantasy writers — including a Manifest Delusions tale by Michael R. Fletcher (set in the world of his novel Beyond Redemption), and a Vault of Heaven story by Peter Orullian (set in the world of Trial of Intentions). The issue also has fiction by T. R. Napper, and an excerpt from Mitchell Hogan's novel Blood of Innocents.
The latest issue went on sale January 13. Here's the complete Table of Contents.
Short Stories
"At the Walls of Sinnlos" by Michael R. Fletcher
"A Fair Man" by Peter Orullian
"Twelve Minutes to Vinh Quang" by T. R. Napper
Excerpts
Blood of Innocents by Mitchell Hogan
Reviews
Son of the Black Sword by Larry Correia (review by Malrubius)
Dishonoured (review by C.T. Phipps)
Interviews
Aliette de Bodard
Articles
The Grimdark Villain by C. T. Phipps
Publisher Roundtable with Tim Marquitz, Geoff Brown, Katie Cord, and Shawn Speakman
We previously covered Grimdark with issue #5.
Grimdark Magazine is edited by Adrian Collins and Mike Myers, and published quarterly in Mobi, epub, and PDF format; issues are also for sale through Amazon. Individual issues are $2.99, a bundle of their first four issues is just $9.99.
See all the details on issue #6  here. The cover this issue is Hassebrand by Jason Deem.
See our January Fantasy Magazine Rack here, and all of our recent magazine coverage here.