Vintage Treasures: The Weirwoods by Thomas Burnett Swann
Vintage Treasures: The Weirwoods by Thomas Burnett Swann
We haven't discussed Thomas Burnett Swann much here at Black Gate (a quick search pops up only one previous title, his 1972 paperback Wolfwinter). He is largely forgotten today.
His second novel, The Weirwoods, was serialized in two parts in Science Fantasy in 1965. It appeared in paperback from Ace Books in 1967 with a cover by Gray Morrow (above left, click for bigger version). The back cover of that edition is in the middle. It is a very slender novel, just 125 pages, with an original cover price of 50 cents. At right is the October 1977 Ace reprint, with a cover by Stephen Hickman.
Swann published some 16 novels, which together constitute a secret history of the magical races of classical mythology, starting in ancient Egypt in roughly 2500 BC, and the inexorable decline of magic in the face of the growth of Christianity and other world religions. The Weirwoods is set in the world of the Etruscans, the pre-Roman civilization that dominated Italy from 800 to 500 B.C., and tells the tale of nobleman Lars Velcha, whose city Sutrium sits beside the mysterious Weirwoods, home to witches, centaurs, fauns, water sprites, and far stranger things. When Velcha captures the weir-man Vel and makes him a slave, he triggers a war that brings disaster to his city.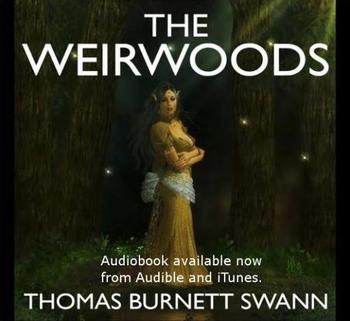 Here's the description from the inside front cover of the 1967 paperback:
Creature of Magic and Danger

The Etruscan city of Sutrium lay beside a deep forest known only as the Weirwoods — for in its mysterious depths lived the strange beings called the Weir Ones: Centaurs, Water Sprites, Fauns and Panisci. These were half-humans touched with magic, and between them and the Etruscans there was constant fear and distrust.

So when the nobleman Lars Velcha captured a creature of the Weirwoods and made him a slave of his house in Sutrium, he courted disaster. And it was not long in coming, as the Weir Ones massed together behind the spells of a Water Sprite sorceress and attacked the city with the overwhelming savagery of the wildest creatures of Earth's fantastic dawn.

Once again Thomas Burnett Swann tells a breathtaking tale of alien beauty and earthshaking warfare — a novel you'll never forget.
The Weirdwoods has been out of print since 1977. But John Betancourt of Wildside Press fame released a 5-hour audiobook version narrated by Timothy Patrick Hinkle, which is available through Amazon, Audible.com, iTunes, and other fine outlets. Check out a five-minute sample at YouTube.
See all of our recent Vintage Treasures here.