Clarkesworld 110 Now on Sale
Clarkesworld 110 Now on Sale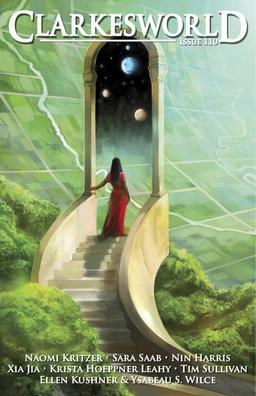 Mark Cole's nonfiction article "You Wouldn't Be Reading This If It Weren't For Buck Rogers," in the latest issue of Clarkesworld, is a fond look back at one of the most important characters in the history of science fiction, and the famous comic strip he spawned.
Buck got his start in a singularly dull novelette by Philip Nowlan, "Armageddon—2419 AD," in the August 1928 Amazing Stories (its cover looks so much like the classic images of Buck that no one notices it illustrates E.E. "Doc" Smith's story, Skylark of Space).

By now everyone knows the story: Rogers gets trapped in a mine filled with a mysterious radioactive gas and wakes up almost five hundred years later. But then it bogs down in endless descriptions of future technology, future history, and future language. Even the "exciting" action is told in a detached tone, more suitable for a history text than a pulp adventure.

Yet, within a year, it became one of the most popular comic strips ever.
Issue #110 of Clarkesworld has seven stories — five new, and two reprints — from Naomi Kritzer, Nin Harris, Sara Saab, Krista Hoeppner Leahy, Xia Jia, Tim Sullivan, and Ellen Kushner & Ysabeau S. Wilce.
Short stories featured this issue are:
"So Much Cooking" by Naomi Kritzer
"Your Right Arm" by Nin Harris
"In the Queue for the Worldship Munawwer" by Sara Saab
"The Hexagonal Bolero of Honeybees" by Krista Hoeppner Leahy
"If on a Winter's Night a Traveler" by Xia Jia
"Way Down East" by Tim Sullivan (from Asimov's Science Fiction, December, 2008)
"One Last, Great Adventure" by Ellen Kushner & Ysabeau S. Wilce (from Fearsome Journeys, 2013)
And the non-fiction:
"You Wouldn't Be Reading This If It Weren't For Buck Rogers" by Mark Cole
"Words with Wings: A Conversation with Fran Wilde" by Chris Urie
"Another Word: Chinese Science Fiction and Chinese Reality" by Liu Cixin
"Editor's Desk: Making My Holiday Wish List" by Neil Clarke
We last covered Clarkesworld with Issue 109.
Clarkesworld is edited by Neil Clarke and Sean Wallace, and published by Wyrm Publishing. The contents are available for free online; individual issues can be purchased for $3.99, and monthly subscriptions are $2.99/month. A 6-month sub is $17.94, and the annual price is $35.88. Learn more and order individual issues at the magazine's website.
This issue's cover, "Gate World," is by Julie Dillon.
See the complete issue here.
See our November Fantasy Magazine Rack here, and all of our recent Magazine coverage here.