Clarkesworld 109 Now on Sale
Clarkesworld 109 Now on Sale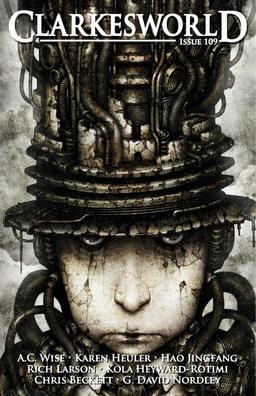 Neil Clarke's editorial in the latest issue of Clarkesworld (a sequel of sorts to last issue's editorial, "The Sad Truth About Short Fiction Reviews") is titled "The Sad Truth About Short Fiction Magazines."
Did you know that there are only three genre fiction magazines that completely support themselves from the revenue they generate? These are Analog, Asimov's, and the Magazine of Fantasy & Science Fiction, collectively known as the Big Three. Others, like Tor.com and Subterranean (now closed), are supported by the revenue of their parent companies. Below them are four more groups: the non-profits (like Strange Horizons and Beneath Ceaseless Skies); the hobbyists or beginners (typically characterized by low or no pay for authors); the aspirants (they pay authors SFWA-qualifying rates or better, but haven't found reliable way to cover that cost); and the conceivable (the aspirants that have learned to generate enough revenue to cover costs, but not adequately compensate their staff)…

Lately, I've started seeing projects to resurrect dead magazines or save those that couldn't get enough subscribers to sustain their ambitious goals. It's uplifting to see our community rallying around these causes, but are we setting ourselves up for a fall in the process? Are we simply delaying the inevitable, like what happened with Realms of Fantasy? (For those who don't know, Realms of Fantasy was a print magazine that kept coming back from the dead because there were people passionate enough about it to want to see it continue, but not enough to make it a viable business.)
When people debate the future of short fiction magazines in our industry, it tends to turn grim pretty quickly, and Neil's article is no exception. Still, it's impossible to argue with his final reasoning: if you care about the future of short fiction — and you definitely should — the most important thing you can do is try new magazines, find a few you enjoy, and support them.
Issue #109 of Clarkesworld has seven stories — five new, and two reprints — from A.C. Wise, Rich Larson, Kola Heyward-Rotimi, Karen Heuler, Hao Jingfang, G. David Nordley, and Chris Becket.
In his most recent Short Speculative Fiction Review Column here at Black Gate, Learned Foote called out Hao Jingfang's tale in this issue for special attention.
In this month's Clarkesworld, I very much enjoyed the short story "Summer at Grandma's House" by Hao Jingfang, originally published in 2007, and translated into English by Carmen Yiling Yan. You can read it for free right now at Clarkesworld.

Briefly, what it's about: a young man drifting aimlessly through life who visits his grandmother for the summer. This place is not what you'd expect: "The coffeepot is a penholder, the penholder is a lighter, the lighter is a flashlight, the flashlight is a jam container." The story has to do with what he learns about the meaning of life in this house… I'm particularly moved by this story because it's about destiny and the meaning of life in the most un-melodramatic way imaginable. It has something to say, a message if you like, but it goes about its didactic task with warm characterization and — most crucially — it's a story that makes sense.

The main character's aimless, and his aimlessness concerns everybody, including him. When he goes to live with his grandmother, his mother encourages him, but with implicit criticism in her words: "Find someplace to fix up your spirits… and come back ready for another go." The mother's message is clear: There's something wrong with you, kid.

However, Grandma makes an art out of aimlessness. She's a brilliant inventor who works with reverse transcription enzymes. As a scientist, she "rejects any form of teleology," such that "eyes grew eyelashes to keep dust out." We come from a long line of pointless mutations — so why ask what our destiny in life is? Or why not ask?

It's an age-old theme of science fiction to deal with our place in a big, scary, meaningless cosmos. This story fits firmly in the genre, not so much for the ways it pushes the boundary of science (though Grandma is an innovator), but for the questions it asks about how we live our lives in the universe that science reveals.
Short stories featured this issue are:
"And If the Body Were Not the Soul" by A.C. Wise
"Ice" by Rich Larson
"The Father" by Kola Heyward-Rotimi
"Egg Island" by Karen Heuler
"Summer at Grandma's House" by Hao Jingfang
"War, Ice, Egg, Universe" by G. David Nordley (from Asimov's Science Fiction, October/November 2002)
"The Peacock Cloak" by Chris Beckett (from Asimov's Science Fiction, June 2010)
And the non-fiction:
"Sunless Worlds" by Tomas Petrasek
"Radiant Metafiction: A Conversation with Catherynne M. Valente" by Chris Urie
"Another Word: Love Song for a Saturday Morning" by Alethea Kontis
"Editor's Desk: The Sad Truth About Short Fiction Magazines" by Neil Clarke
We last covered Clarkesworld with Issue 108.
Clarkesworld is edited by Neil Clarke and Sean Wallace, and published by Wyrm Publishing. The contents are available for free online; individual issues can be purchased for $3.99, and monthly subscriptions are $2.99/month. A 6-month sub is $17.94, and the annual price is $35.88. Learn more and order individual issues at the magazine's website.
This issue's cover, "A-boushi-ya," is by Shichigoro Shingo.
See the complete issue here.
Our mid-October Fantasy Magazine Rack is here. See all of our recent fantasy magazine coverage here.