Vintage Treasures: Wolfwinter by Thomas Burnett Swann
Vintage Treasures: Wolfwinter by Thomas Burnett Swann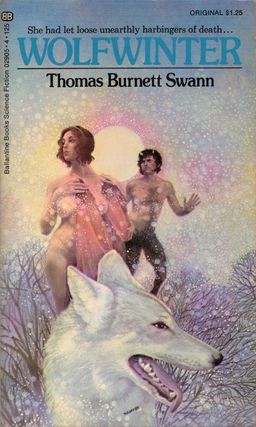 I know almost nothing about Thomas Burnett Swann… other than that he wrote a lot of fantasy novels in the decade between 1966 and 1976, most of them published as paperback originals by DAW. He died of cancer in 1976 at the age of 48, bringing a very promising career to an abrupt end.
Wildside Press has reprinted much of his work as print-on-demand trade paperbacks. But other than their efforts, virtually none of his novels remain in print today.
I didn't pay much attention to Swann in my formative years, despite that fact that he had numerous novels on the shelves. His work — peopled with satyrs, dryads, and minotaurs — had a classical, almost pastoral, fantasy feel to it, which did nothing to appeal to my hungry-for-adventure teen mind. His fans have done a much better job of summarizing it than I ever could in his Wikipedia entry:
The bulk of Swann's fantasy fits into a rough chronology that begins in ancient Egypt around 2500 BC and chronicles the steady decline of magic and mythological races such as dryads, centaurs, satyrs, selkies and minotaurs. The coming of more "advanced" civilisations constantly threatens to destroy their pre-industrial world, and they must continually seek refuge wherever they can. They see the advent of Christianity as a major tragedy; the Christians regard magic and mythological beings as evil and seek to destroy the surviving creatures… An undercurrent of sexuality runs through all of these stories. Many of Swann's characters are sexually adventurous and regard sexual repression as spiritually damaging. Casual and sometimes permanent nudity is common.
Swann is well-regarded as a writer with a fine poetic sense, by those who remember him, and every few years I promise myself I'll try one of his novels. I haven't managed it yet, but I did have the chance to buy a copy of one of his harder-to-find books: Wolfwinter, published by Ballantine in 1972.
Here's the back cover copy:
Her Sybarite husband had instructed the servants to expose the baby for the White Wolves to devour. But Erinna had other plans altogether — and they included finding her satyr and showing him his son. Thus, naive and courageous, she marched determinedly into the world of fauns, sibyls, dryads and the ancient powerful Gods…
I assume Wolfwinter is harder to find because of the rather surprising nudity on the cover, rather than anything to do with the text, but I admit I find the wraparound cover quite striking. For one thing, it's refreshing to find a woman of such normal curves, rather than another skinny supermodel.
Wolfwinter was published by Ballantine Books in November, 1972. It is 205 pages, originally priced at $1.25. It was never reprinted, and has been out of print for over 40 years. There is no digital edition.
See all of our recent Vintage Treasures here.