August 2015 Lightspeed Magazine Now on Sale
August 2015 Lightspeed Magazine Now on Sale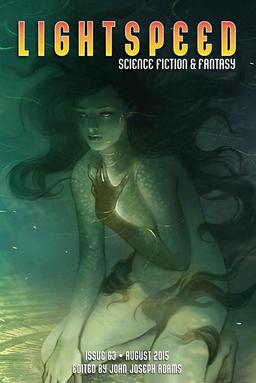 This month Lightspeed has original fantasy from Sam J. Miller and Genevieve Valentine, and fantasy reprints by Silvia Moreno-Garcia and Ursula Pflug, plus science fiction by Chen Qiufan, Sarah Pinsker, Vandana Singh and Vylar Kaftan. Plus their usual assortment of author and artist spotlights, book reviews, and a feature interview with author Kazuo Ishiguro (The Remains of the Day, The Buried Giant).
Here's the complete fiction contents of the August issue.
Fantasy
"To See Pedro Infante" by Silvia Moreno-Garcia (from Love and Other Poisons, 2014)
"Given the Advantage of the Blade" by Genevieve Valentine
"Python" by Ursula Pflug (from Album Zutique, No. 1, 2003)
"Ghosts of Home" by Sam J. Miller (available on 8/25)
Science Fiction
"The Smog Society" by Chen Qiufan. Translated by Ken Liu.
"Life-pod" by Vandana Singh (from Foundation, #100 Summer 2007)
"And We Were Left Darkling" by Sarah Pinsker
"Civilization" by Vylar Kaftan (from Glorifying Terrorism, February 2007; available on 8/25)
Readers of the eBook version also get a reprint of the novella "Equinoctial" by John Varley, along with excerpts from the recent novels Zero World by Jason M. Hough and Finches of Mars by Brian W. Aldiss.
Read the complete August issue here.
The cover this issue is by Reiko Murakami (click the image for a bigger version.)
Lightspeed is edited by John Joseph Adams. Most of the content is available free online; individual issues are available in multiple digital formats for $3.99. 6-month subscriptions are just $17.94 ($6 off the cover price), or $35.88 for 12 months ($12 off the cover price). Purchase copies and sample free content at the website.
We last covered Lightspeed with Issue 62, July 2015.
See our mid-August Fantasy Magazine Rack here, and all of our recent Magazine coverage here.