Future Treasures: The Best Horror of the Year, Volume Seven, edited by Ellen Datlow
Future Treasures: The Best Horror of the Year, Volume Seven, edited by Ellen Datlow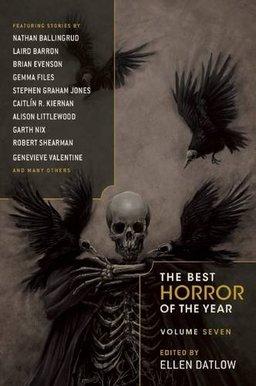 Last week I surveyed eleven upcoming Best of the Year anthologies, including books edited by Rich Horton, Jonathan Strahan, Paula Guran, Gardner Dozois, John Joseph Adams and Joe Hill, Stephen Jones, and others. All eleven will be published between May and October — a bumper crop for everyone who delights in excellent short fiction.
Night Shade Books used to publish two: Strahan's Best Science Fiction and Fantasy of the Year, and Ellen Datlow's Best Horror of the Year, but after the sale of Night Shade to Skyhorse two years ago, Strahan took his volume to Solaris.
Fortunately for us Night Shade have continued to publish the horror volume, and the seventh arrives in August of this year, with 22 short stories and novelettes from Garth Nix, Nathan Ballingrud, Genevieve Valentine, John Langan, Dale Bailey, Gemma Files, Robert Shearman, and many others.
James McGlothlin reviewed the Sixth installment in the series for us last year, saying it made a strong case that we're living in a Golden Age of Horror.
Here's the book description for the upcoming seventh volume.
For over three decades, Ellen Datlow has been at the center of horror. Bringing you the most frightening and terrifying stories, Datlow always has her finger on the pulse of what horror readers crave. Now, with the seventh volume of this series, Datlow is back again to bring you the stories that will keep you up at night.
Encompassed in the pages of The Best Horror of the Year have been such illustrious writers as:

Neil Gaiman
Kim Robinson
Stephen King
Linda Nagata
Laird Barron
Margo Lanagan
And many others

With each passing year, science, technology, and the march of time shine light into the craggy corners of the universe, making the fears of an earlier generation seem quaint. But this "light" creates its own shadows. The Best Horror of the Year chronicles these shifting shadows. It is a catalog of terror, fear, and unpleasantness, as articulated by today's most challenging and exciting writers.
The Best Horror of the Year, Volume Seven will be published by Night Shade Books on August 4. It is 412 pages, priced at $15.99 for both the paperback and digital versions. The cover art is by Noia Hokama.
See all of our upcoming books of interest to fantasy fans here.