Fantasy Scroll Magazine 5 Now Available
Fantasy Scroll Magazine 5 Now Available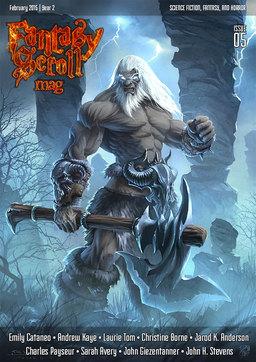 The fifth issue of the Kickstarter-funded online-only Fantasy Scroll Magazine is now available.
Fantasy Scroll was launched with an Introductory Issue #0 in January 2014, which was used as a proof-of-concept for a Kickstarter campaign. The campaign ended on April 23, 2014, raising $2,956 against a $2,500 goal, enough to fund a full year (four issues).
Fantasy Scroll has become a poster child for the right way to fund and launch a new fantasy magazine. All four issues were released last year, as promised, and the mag has been successful enough to self-fund issue #5. It's accomplished that by selling merchandise, launching a mobile app, soliciting donations — and additional funding drives, creating a Starlight Patrol of enthusiastic backers and supporters at Patreon who help keep the magazine going.
Fantasy Scroll has published original short fiction by Ken Liu, Mike Resnick, Piers Anthony, Cat Rambo, Rachel Pollack, Seth Chambers, and many others. The magazine is edited by Iulian Ionescu, Frederick Doot, and Michelle Muller. It's published quarterly, and the contents include all kinds of fantastic literature — science fiction, fantasy, horror, and paranormal short-fiction — and run the gamut from short stories to flash fiction to micro-fiction.
Issue #5 is cover-dated February 2015, and includes 10 short stories from Emily Cataneo, Laurie Tom, Jarod Anderson and others — including "How the Grail Came to the Fisher King," a new story by Black Gate author and blogger Sarah Avery.
Here's the complete table of contents.
Fiction
The City Dreams of Bird-Men by Emily Cataneo
Moksha by Andrew Kaye
The White Snake by Laurie Tom
Tempest Fugit by Christine Borne
Sticks and Stones by Jarod Anderson
The Thousand Year Tart by Charles Payseur
How the Grail Came to the Fisher King by Sarah Avery
Human Bones by John Giezentanner
Bandit by John Stevens
Graphic Story: Shamrock by Josh Brown & John Fortune
Non-Fiction
Interview with Author Jim Hines
Interview with Author Sarah Avery
Interview with Author Christine Borne
Interview with Award Winning Editor John Joseph Adams
Artist Spotlight: Todor Hristov
Book Review: Echopraxia (Peter Watts)
Movie Review: Rigor Mortis (Juno Mak)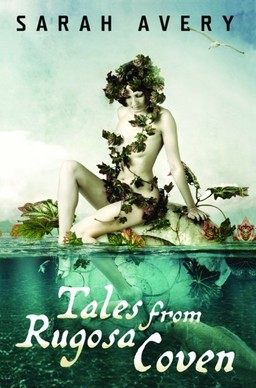 Here's a snippet from the interview with Sarah:
The obvious way my life in Wicca has affected my fiction is that the three novellas collected in Tales from Rugosa Coven are rooted solidly in a Pagan community. Those stories are about a recognizably real coven of Wiccans in a version of New Jersey that's far weirder and more supernatural than the New Jersey I used to live in. I love it that so many Pagan readers — not just Wiccans, but also Druids, Asatruar, and others — have delighted in seeing their social world on the page, warts and all. I also love it that non-Pagan readers, including some who knew almost nothing about Paganism, have enjoyed those stories as stories, about human beings who laugh and suffer and make choices they never expected to make. You don't need to know or believe any particular thing to get the stuff that's funny and the stuff that's deep in that book.

It's about the family you make. The first of the stories, "Closing Arguments," is about balancing the family of people you choose with the family you're born to. I think everyone can find something to relate to there.

I hope so, anyway, because it's one of my main preoccupations as a writer, no matter what kind of fantasy I'm working on. My sprawling epic family saga has a lot of thematic overlap with my wry contemporary fantasy novellas.
Read more about Tales from Rugosa Coven here, and read the complete interview here.
Fantasy Scroll Magazine is edited by Iulian Ionescu, Frederick Doot, and Alexandra Zamorski, and published bi-monthly in Mobi, epub, and PDF format; issues are also for sale through Amazon, B&N, Smashwords, Kobo, Weightless Books, and Google. Individual issues are $2.99, a 4-issue subscription is only $9.99. Learn more at their website.
See the complete contents of the issue here.
The cover this issue is "Lightning Champion" by Todor Hristov. We last covered the magazine with issue 3.
See all of our recent magazine coverage here.