The Art Of Retreat, a.k.a. "Run Away, Run Away!"
The Art Of Retreat, a.k.a. "Run Away, Run Away!"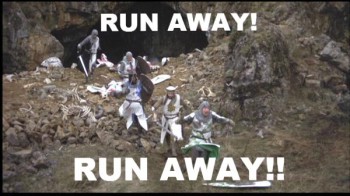 Over the last thirty-five years, I've enjoyed gaming (mostly D&D and its ilk) with something like ten different role-playing groups. Other than the blindingly obvious traits that all such gatherings share, such as a love of good company or having a pulse, the most salient characteristic exhibited by each band of gamers was a stunning inability to retreat in the face of bad situations or superior foes.
I find this mind-boggling. Fascinating, too.
Let me provide a couple of classic examples. Once upon a time, my friends Nick and Suzanne, playing a barbarian and a cleric, respectively, "went on ahead" of the rest of the group, which is to say, the rest of us couldn't make it that week. They came upon a lonely cave inhabited by creatures we later came to call graylocks. I don't recall the source or where the referee culled them, but that doesn't matter: they were mean and tough. Think ogres with spells.
Nick and Suzanne pressed the fight, even though they were outnumbered; they pressed the fight even though their opponents were winning; they pressed the fight even when it was hopeless. In short, they behaved as if they could not possibly lose. It took hours of painstaking work over the ensuing weeks to rescue them.
A year or so later, in a campaign that borrowed heavily from Greyhawk, the referee decided it would be fun to attack our party with a minor deity, a real piece of work (and evil, too!) called Iuz. Nasty old Iuz teleported in, launched a fearsome assault, and did some terrific damage. Then he blipped out again, 'cos hey, he was just dropping in for kicks and evil gods can do that sort of thing. Well, we were pretty steamed, and we had some sort of magical doo-hickey that allowed us to follow anyone who teleported away, so what did we do? We followed. We took the fight right to Iuz's doorstep — or whatever demonic sludge he employed that served as a doorstep. True, we did catch the referee by surprise, but while we got a few good licks in, we should not have done that. We got our tails whipped, and we had no exit plan. Even when it was time to retreat, we kept battling away, and as a result, we very nearly got wiped off the map.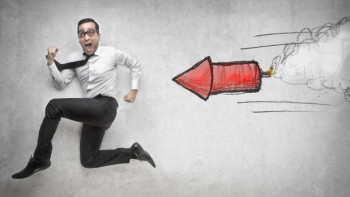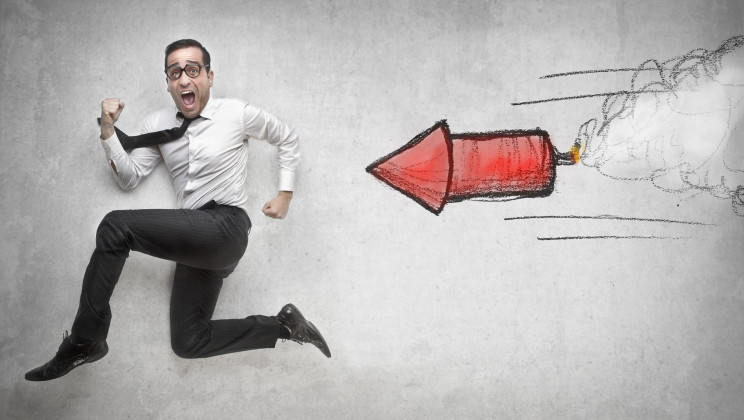 A final example: a few years ago, I had the pleasure of taking the ref's reins with a crew of gamers that included BG's very own Howard Andrew Jones, he who knows the uses of The Bones Of the Old Ones and other Great Magicks. I set up an ambush using a group of bounty hunters who'd come to haul one of the Jones Gang off to prison. I didn't make the bounty hunters overpowering, but I did make sure they had the advantage of surprise and the better position. I assumed Howard and Co. would retreat. They did no such thing. As with the two previous examples, they pressed the fight, they charged ahead, and they did not stop to reconnoiter or regroup. For their troubles, they very nearly got slaughtered.
In short, they employed as axiomatic the immortal if unsubtle words of Bruce Springsteen: "No retreat, no surrender."
So what is it that makes people (or at least gamers) so reckless?
Is it simply that the stakes are low? That we're dealing with characters made of graphite and cheap paper — or, now, binary code? I can't quite believe that, because my own pulse never fails to race when my character is in combat, or in any form of danger. I role-play in mortal fear that my avatar, alter-ego, or whatever you wish to call him, her, or it will die.
And yet, as with example number two, above, I, too, have succumbed to the will of the group.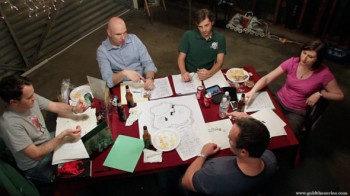 Therein, I think, lies the key. In a group, especially a group that enjoys its own company, the members egg each other on. They believe in the bromide of safety in numbers. They trust that their buddies will have their back.
Result? "Damn the torpedoes, and full speed ahead!"
(My apologies: I was hoping to make this an all-Springsteen post, but somehow Admiral Farragut has elbowed his way in. Ah, well. If the shoe fits.)
I'd also suggest that a significant contributing factor is the design structure of D&D and similar games. Characters "progress," they rise with experience; they gain power, prestige, and prowess. As a result, they have a track record behind them that's necessarily rosy: they didn't get where they are now by losing. After a while, success becomes expected. It takes a pretty severe shock to derail that sort of thinking.
Outright denial comes into play, most certainly, and here I mean at a human rather than at a systemic (gaming) level. Our innate failure to imagine our own demise affects our game strategies. The default existential position of "I'm living and breathing now, therefore this will forever be the case" applies to made-up characters as well as to our real and mortal selves. Thus fools rush in where angels fear to tread. (Thank you, Alexander Pope.)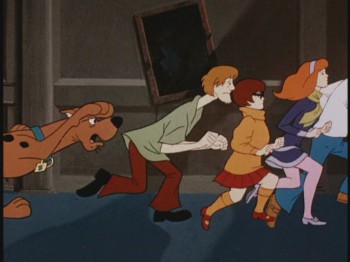 Finally, there's the difficulty, for even the most experienced, creative, and harsh referees, of posing a suitable challenge to large groups of clever, quick-thinking players. Shy of intentionally creating a meat-grinder scenario (think Gygax's Tomb Of Horrors module, discussed ELSEWHERE on this site), referees will always be outnumbered; it's one mind against the hive mind and the teamwork of the group. Again, the players become accustomed to success. On the day when they finally do meet an insurmountable challenge, it might take them a while to recognize (dare I say it) the reality of their situation.
I haven't done any gaming for about two years now, but I'll be dipping my toes in the water again in July, and I wonder: given my hard-won expertise, my interest in this problem, and the wisdom of my many (ugh) years, will I be able to spot a hopeless, disastrous situation if it arises? Will I be able to respond in a sensible manner before it engulfs our party?
Nah.
Full speed ahead, say I! No surrender, and damn the fearful treading angels!
'Til next time.
Onward.
---
Mark Rigney has published three stories in the Black Gate Online Fiction library: "The Trade," "The Find," and "The Keystone." Tangent called the tales "Reminiscent of the old sword & sorcery classics… once I started reading, I couldn't stop. I highly recommend the complete trilogy." In other work, Rigney is the author of "The Skates," and its haunted sequels, "Sleeping Bear," and Check-Out Time. His website is markrigney.net.