The New York Times on Andrew J. Offutt
The New York Times on Andrew J. Offutt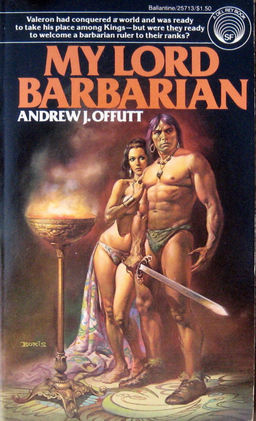 Andrew J. Offutt had a lengthy and successful career as a fantasy writer before his death on April 30, 2013 (which we reported on here.) He was one of the most popular writers in the Thieves World collective, with a trio of novels (Shadowspawn, Deathknight, and The Shadow of Sorcery), and his Conan pastiches, including Conan and the Sorcerer (1978) and Conan: The Sword of Skelos (1979), were highly regarded.
He also had an excellent reputation as an editor, in part due to his sword and sorcery anthology series Swords Against Darkness.
Offutt published fantasy under his own name, but the greater part of his output — chiefly early pornography — was written under a variety of pseudonyms. When he died he left his papers to his son Chris Offutt, who reports on his father's unusual career in the Feb 5 issue of The New York Times Magazine, in an article titled "My Dad, the Pornographer."
At 12, Dad wrote a novel of the Old West. He taught himself to type with the Columbus method — find it and land on it — using one finger on his left hand and two fingers on his right. Dad typed swiftly and with great passion. In this fashion, he eventually wrote and published more than 400 books. Two were science fiction and 24 were fantasy, written under his own name; the rest were pornography, using 17 pseudonyms… His primary pseudonym [was] John Cleve…

In the 1980s, John Cleve's career culminated with a 19-book series for Playboy Press, the magazine's foray into book publishing. The Spaceways series allowed him to blend porn with old-time "space opera," reminiscent of the 1930s pulps, his favorite kind of science fiction. Dad's modern twist included aliens who possessed the genitalia of both genders. Galactic crafts welcomed the species as part of their crews, because they were unencumbered with the sexual repression of humans and could service men and women alike. The books were popular, in part, because of their campiness, repeating characters and entwined stories — narrative tropes that later became standard on television.
Read the complete article here.