Firefly Friday – Firefly: The Game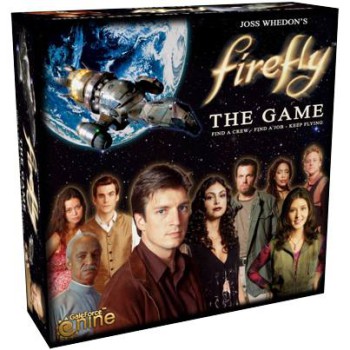 Ever want to just buy a ship and take off into the night sky, making your own rules and living a life that was truly free? Firefly: The Game (Amazon) gives you the chance to do just that, if you think you're up for it.
On the off chance that you've been in a coma for the last decade: Firefly was a tragically short-lived television series created by Joss Whedon. After his success on Buffy: The Vampire Slayer and Angel, he turned to science fiction, creating a series that can best (but simplistically) be described as "cowboys in space." The series centered around a spaceship crew living on the fringe of society, taking jobs of questionable legality while trying to stay off the radar of the government. It was cancelled before all 13 of the episodes even aired, but fan enthusiasm resulted in a feature film, Serenity, that gave some measure of closure for fans.
But, as so often happens in our little world of fandom, even that was not the end of the story. In a few short episodes, Joss Whedon had created a rich and dynamic universe of rugged heroes who traveled the expanse between worlds just trying to find a job, work the job, get paid, and keep flying. It has continued in a number of forms, from comic books to board games. As I've mentioned before, my shelves contain a number of these related materials. (More than I typically care to admit.)
It's hard to overstate how great this short television series was … And it's equally hard to overstate how well Firefly: The Game captures the feel of trying to make your way out in the black, even if that means you have to misbehave a bit.