Goth Chick News: Clive Barker Lets His Fans Back Into Hell… Finally
Goth Chick News: Clive Barker Lets His Fans Back Into Hell… Finally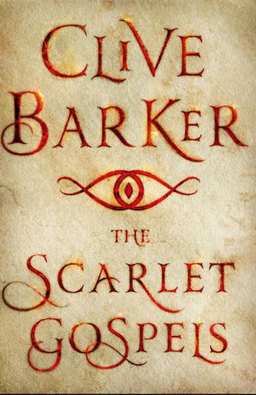 Waiting for a sequel for nearly two decades could be considered one of Satan's personal jokes, were it not for the fact that in  this case the irony would be too blatant even for the Prince of Darkness himself.
Clive Barker's The Scarlet Gospels has been teased for so long, and in so many incarnations, that it was beginning to look like one of the worst publicity stunts in publishing history. As far back as 1993, Barker talked about a new book of short stories that would include a sequel to The Hellbound Heart, the novella that introduced the world to the Cenobites.
Those rumors soon morphed into scuttle about a potential short novel pitting the most famous Cenobite, Pinhead, against another iconic Barker character, the occult detective Harry D'Amour.
However, as the story developed over the course of several years, Barker decided to expand the concept into a novel and the unrelated short stories were put aside.
Rumors of a release date were bantered about, sending Barker fans into repeated frenzies of speculation. But delays came in the form of Barker's several throat surgeries, and in 2012 his lapse into a coma for eleven days following a trip to the dentist that led to blood poisoning. Barker recovered, but his near-death experience left him with "many strange visions" (which may or may not have found their way into his work).
Finally on Sept 9, 2013, Barker announced via social media that although no date has been set for release, "The Scarlet Gospels are finished."
But it wasn't until a year later, in September, 2014, that Barker's official website declared:
Clive is delighted to announce that St Martin's Press has acquired world English rights to publish The Scarlet Gospels, his upcoming novel featuring Pinhead and Harry D'Amour. St Martin's Press anticipates a May 19th, 2015 publication date.
The Scarlet Gospels is Barker's first novel for adults since 2007 and is being touted as his return to the "pure horror" genre as opposed to his recent work which has been rooted in fantasy.
Mark Miller, Clive Barker's collaborator, confirms the potential gross-out factor in an interview with Ain't It Cool News:
There's something that happens to Harry D'Amour in flashback that I can't go into, but it's easily one of the most disturbing things I've ever read. I remember reading those handwritten pages and feeling my eyebrows raise in shock. Even as I think about it now, a stunned smile spreads across my face. Well, I saw the notes from his editor when they first came through. He didn't ask for Clive to change it. He simply wanted to know "do we have to go this far?" Clive's answer was an unequivocal "yes." And so we did.
Amazon, who is taking pre-orders now, offers the following publisher's summary:
The Scarlet Gospels takes readers back many years to the early days of two of Barker's most iconic characters in a battle of good and evil as old as time: The long beleaguered detective Harry D'Amour, investigator of all supernatural, magical, and malevolent crimes faces off against his formidable, and intensely evil rival, Pinhead, the priest of hell.

Barker devotees have been waiting for The Scarlet Gospels with bated breath for years, and it's everything they've begged for and more. Bloody, terrifying, and brilliantly complex, fans and newcomers alike will not be disappointed by the epic, visionary tale that is The Scarlet Gospels. Barker's horror will make your worst nightmares seem like bedtime stories. The Gospels are coming. Are you ready?
The Amazon pre-order page also confirms that Pinhead comes back to play on May 19, 2015.
The Scarlet Gospels will be published by St. Martin's Press. It is 352 pages, priced at $26.99 in hardcover.
Have a comment? Post it here or drop a line to sue@blackgate.com.