New Treasures: Neil Gaiman's The Graveyard Book, Volume Two, Adapted by P. Craig Russell
New Treasures: Neil Gaiman's The Graveyard Book, Volume Two, Adapted by P. Craig Russell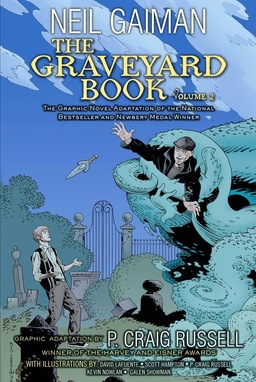 Back in August, I reported on the arrival of Neil Gaiman's The Graveyard Book, Volume One, the first half of a handsome hardcover graphic novel adapting Gaiman's famous contemporary fantasy.
I'm very pleased to report that the second half has now arrived, and it looks just as sharp as the first. Volume Two includes the last three chapters of Gaiman's novel, skillfully adapted by Russell and illustrated by several of the top artists in the field.
The second volume of a glorious two-volume, four-color graphic novel adaptation of Neil Gaiman's #1 New York Times bestselling and Newbery and Carnegie Medal-winning novel The Graveyard Book, adapted by P. Craig Russell and illustrated by an extraordinary team of renowned artists.

Inventive, chilling, and filled with wonder, Neil Gaiman's The Graveyard Book reaches new heights in this stunning adaptation. Artists Kevin Nowlan, P. Craig Russell, Galen Showman, Scott Hampton, and David Lafuente lend their own signature styles to create an imaginatively diverse and yet cohesive interpretation of Neil Gaiman's luminous novel.

Volume Two includes chapter six to the end of the book.
Once again the colorist is Lovern Kindzierski, who brings a solid cohesiveness to the project, tying together so many disparate art styles with a unified look.
The Graveyard Book, Volume Two was published by Harper Books on July 29, 2014. It is 164 pages, priced at $19.99 in hardcover and $12.99 for the digital edition.