Black Static #41 now on Sale
Black Static #41 now on Sale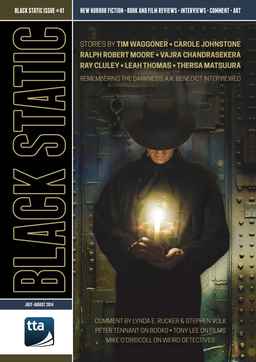 Last month, I reported on the first issue of Black Static magazine I ever purchased, issue 40. I was very impressed.
Good thing, too, because I took a chance and bought issue #41 at the same time. I have no idea why two issues of the same magazine were simultaneously on the stands, but I'm glad they were.
On the magazine's website is this friendly but blunt request:
Magazines like Black Static cannot survive without subscriptions and always needs more support than it gets. If you enjoy it please blog about it, review it, tell your friends, and encourage other people to subscribe. Thank you!
Truer words were never spoken. Magazines like Black Static are completely dependent on fans and readers to keep them alive. I hope this magazine survives for a good long time — but it won't without reader support. In that spirit, I am very happy to shine a spotlight on Black Static here on the blog. If it sounds intriguing, I hope you'll consider buying an issue next time you find yourself browsing the magazine rack.
Black Static is a British magazine of dark fantasy and horror, edited by Andy Cox. It used to be called The 3rd Alternative, until that magazine went on hiatus in 2005. It was acquired by TTA Press, the publishers of Interzone and Crimewave, and in 2007 it was relaunched as Black Static.
It has won the British Fantasy Award for Best Magazine and published fiction from many top writers, including Christopher Fowler, Aliette de Bodard, Steve Rasnic Tem, and many others. Just last month, we reported that Carole Johnstone's short story "Signs of the Times," from Black Static #33, won the 2014 British Fantasy Award for Best Short Story.
Issue 41 is nearly 100 pages and comes packed with new horror and dark fantasy fiction by Tim Waggoner, Vajra Chandrasekera, Ralph Robert Moore, Carole Johnstone , Leah Thomas, Ray Cluley, and Thersa Matsuura. There's also columns by Stephen Volk and Lynda E. Rucker, book reviews by Peter Tennant, DVD/Blu-ray reviews by Tony Lee, and "TV Noir" reviews by Mike O'Driscoll.
Once again, the interior art is excellent and adds enormously to the professional look of the magazine. Here's the opening spread for "None so Empty" by Tim Waggoner (art by Vincent Sammy):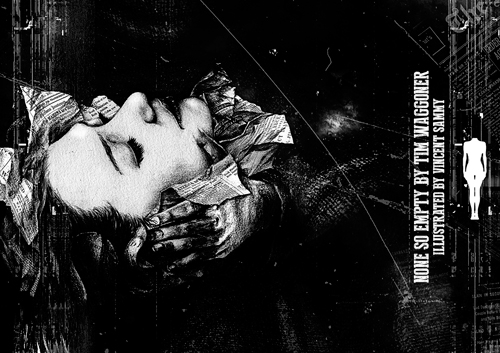 And here's "The Driveway" Leah Thomas: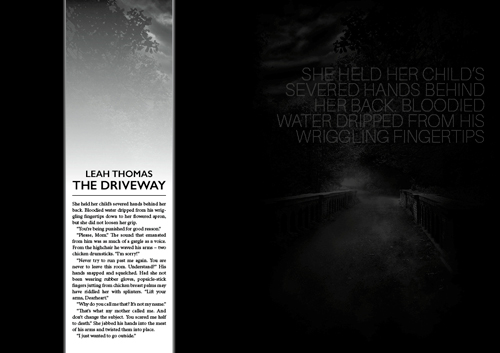 And here's "The Spider Sweeper" by Thersa Matsuura (art by Richard Wagner)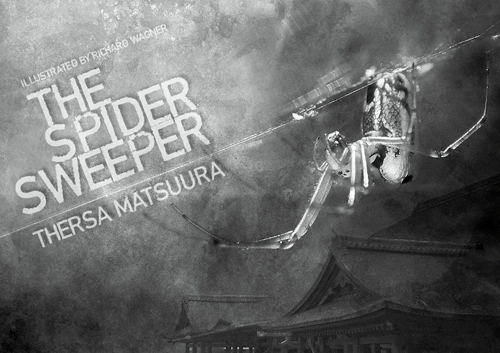 See more details and excerpts from issue 41 at the TTA website.
We last reported on Black Static with issue #40.
Black Static is edited by Andy Cox, and published by TTA Press. Issue #41 is cover-dated July-August 2014, and the next issue officially went on sale Sept. 2, but I expect you can still find copies on the stands. The cover is by Richard Wagner, with interior illustrations by Vincent Sammy, Joachim Luetke, and Richard Wagner.
Issue 41 is 96 pages, priced at £4.99. I paid $9.99 here in the US. A six-issue subscription is £27 (UK) and £33 in the US. Order right from the TTA Press website.