Black Static #40 Now on Sale. Maybe, if You Move Quickly
Black Static #40 Now on Sale. Maybe, if You Move Quickly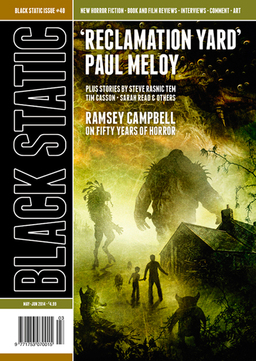 On my way home from work yesterday, I dropped by Barnes & Noble to pick up the latest issues of Asimov's SF and Fantasy & Science Fiction. I couldn't find them at my local B&N here in St. Charles, Illinois, so I made a special trip all the way to Schaumberg.
No dice. After poking behind all the knitting and puzzle magazines for nearly 10 minutes, all I managed to come up with was last month's Asimov's and Analog. Both clearly stated "On sale until 9/2" in the bottom left corner, which tells me the new issues are more than a week overdue.
Come on — what's a guy gotta do to buy a science fiction magazine around here? It's almost enough to make me give up and buy Health Magazine instead. Maybe I can get some suggestions on how to reduce all this stress in my life.
Now, it's not strictly true that all I found was Asimov's and Analog. Just a few inches over, hidden behind the latest issue of McSweeney's, I discovered something unusual: issue #40 of British horror magazine Black Static.
Well, this is timely. Just last week, as I was formatting the article on the British Fantasy Awards and looking for pics to go with it, I stumbled on the cover of Black Static #33 (containing Best Short Story winner "Signs of the Times," by Carole Johnstone), and I thought, "Damn, that's a mighty fine cover, with that creepy subway, and floating vapor, or whatever the heck that is. I should really get a copy of this magazine. I bet I'd like it."
Also, it's timely because the cover has a giant green, vaguely Cthuloid, monster stomping around in the background, and we all know the correct time to buy magazines with giant monsters on the cover is, um, always. So I bought it.
And I was right — I do like it. The magazine is gorgeous, with the excellent design I've come to expect from TTA Press (who also publish Interzone). Issue 40 is nearly 100 pages and comes packed with new horror and dark fantasy fiction by Steve Rasnic Tem, Tim Casson, Chris Barnham, Sarah Read, Stephen Hargadon, and Paul Meloy. There's also a lengthy interview with Ramsey Campbell, book reviews by Peter Tennant, DVD/Blu-ray reviews by Tony Lee, and columns by Stephen Volk and Lynda E. Rucker.
The interior art is excellent and adds enormously to the appeal. Here's the opening spread for "The Crone at the Meadow Gate" by Tim Casson, with art by Richard Wagner: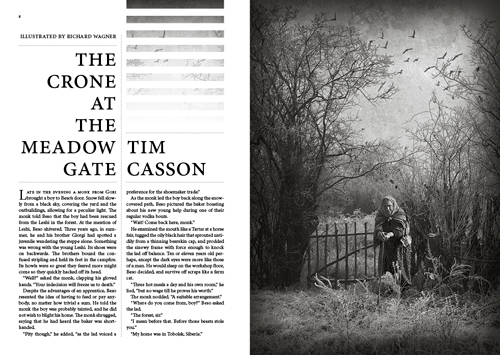 Here's "Ravello Steps" by Chris Barnham: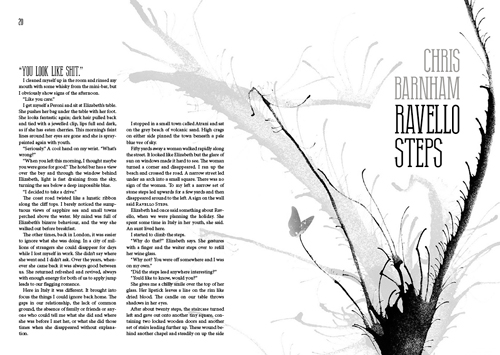 And here's the interior illustration for cover story "Reclamation Yard" by Paul Meloy (illustrated by Ben Baldwin):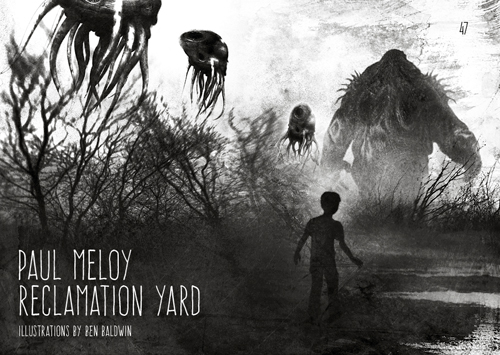 Beautiful stuff. I was sold the moment I started flipping through the issue. See more details and excerpts from issue 40 at the TTA website.
Black Static is edited by Andy Cox, and published by TTA Press. Issue #40 is cover-dated May-June 2014, which means you may have to hunt a little bit to find it. (I found the next issue, Black Static #41, on sale date July 7, on the shelves next to it, and issue #42 officially goes on sale Sept 2.) The cover is by Ben Baldwin, with interior illustrations by Ben Baldwin, Richard Wagner, and David Gentry.
Issue 40 is 96 pages, priced at £4.99. I paid $9.99 here in the US, which isn't too bad when you consider that it had to make the long journey across the Atlantic on a submarine or whatever just to get here. A six-issue subscription is £27 (UK) and £33 in the US; I have no idea what that is in real money. Order right from the TTA Press website.